Fast, secure and reliable WordPress
The right WordPress for your project
No matter what you've got planned, we have a WordPress package to suit you.
See packages
WordPress tailored to you
With two feature-packed WordPress solutions, we've got all your demands covered.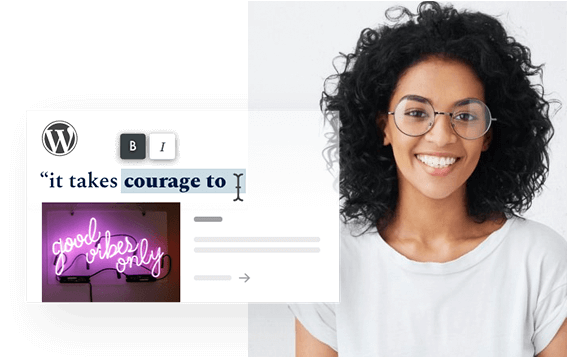 WordPress Hosting
The easiest way to get a perfect WordPress website
Simple, secure and great value, WordPress Hosting has everything you need to get started. With over 5,000 themes and 40,000 plugins to choose from, you can create a site that's all yours. The latest technology and SSD storage mean your site is fast, secure, and can grow with your project.
Learn more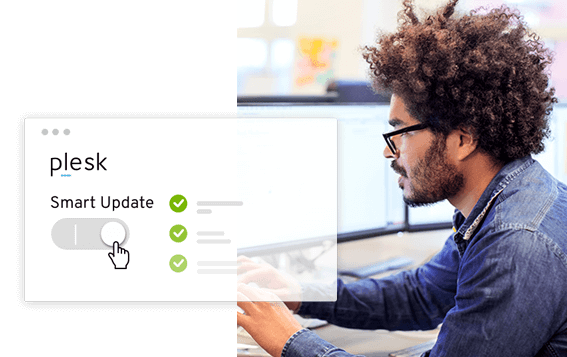 WordPress Pro
Dedicated resources for demanding projects
Keep up with the best of them with Wordpress Pro. Experience maximum performance on cloud server infrastructure with NGINX and state-of-the-art caching technology. You'll also get pro-level features like staging and Smart Updates, plus a professional development environment.
Learn more
Host with the WordPress experts
Get the best of WordPress for your project.
We develop our own WP infrastructure, are active in the WP community and regularly sponsor events like WordCamps.
Benefit from extensive in-house WP expertise and over 30 years' experience in the web hosting industry.
Our ISO-certified European data centres are GDPR-compliant and guarantee maximum security and data privacy.
We want to do our bit for the environment. That's why all IONOS servers are 100% powered by renewable energy.
Get expert WP support, 24/7/365. Our friendly team will be happy to help whenever you have a question.
We're proud to have helped create over one million WP websites for all kinds of use cases across a huge variety of industries.
WordPress Hosting
WordPress Hosting is for you if you need a website or blog – either for yourself or your small to medium-sized business. IONOS also equips you with a first-year domain, email, SSD storage, an SSL certificate and MySQL databases.
Easy to set up
Install your WordPress with one click. Our WP Assistant will then guide you through the setup process with simple instructions. Tell the Assistant what the purpose of your site is, and get suggestions for designs that suit your project.
Make it yours
The sky's the limit with IONOS WordPress Hosting. Choose your favourite from thousand of themes and plugins to lay the foundation for a WordPress site that your visitors will love. The most important plugins as well as the new Gutenberg Editor for more customisable content design are preinstalled.
Hosting optimised for WordPress
Wordpress Hosting is great value, with super fast SSD drives, OPcache, enhanced memory and CPU resources. If you choose the Managed option, you'll work in a protected environment which helps prevent accidental damage and malware.
Learn more
WordPress Pro
Experts need expert tools. IONOS WordPress Pro is ideal for developers, designers, agencies and large companies. You'll get highly flexible dedicated infrastructure, super fast loading times and pro features in the WordPress Toolkit.
Dedicated resources for peak performance
Your WordPress project will run on your own powerful cloud infrastructure. This means that at peak business times, you continue to get peak performance. Benefit from NGINX server technology as well as MariaDB, running on a full-SSD server with state of the art CPUs and RAM.
Outpace the competition
We use a range of cutting-edge technologies to accelerate your server responses, giving your projects a speed increase of up to 300%. Automatic image optimisation and advanced varnish based caching technology combine with a content delivery network that reroutes data to the nearest of 40 locations to guarantee the fastest page loading times.
Tools for professionals
Manage user accounts and updates for multiple WordPress sites with one powerful dashboard. A staging mode allows you to test changes before release. The Smart Updates feature automatically tests your project for potential bugs before a new update is installed. One-click malware protection to clean up, scan and remove malicious code is also included.
Learn more
Package overview
Hosting optimised for WordPress
Prices excl. VAT may be subject to change dependent upon your country of residence. Terms and conditions
apply
.
Compare WordPress options from IONOS
All packages include a free domain, a Wildcard SSL certificate and 24/7 support.
| | WordPress Hosting | WordPress Pro |
| --- | --- | --- |
| Type of hosting | Shared hosting (Linux) | Dedicated cloud server resources (managed) |
| Performance | CPU and RAM shared by multiple customers | From 1 vCore with 2 GB RAM |
| Traffic capacity | Suitable for low- to mid-traffic websites | Suitable for mid- to high-traffic websites |
| Server technology | Apache | NGINX |
| Caching | OPcache | Varnish caching incl. CDN |
| Database type | MySQL | MariaDB |
| WooCommerce compatibility | Low | High |
| Updates | Automatic updates available for core, plugins, themes and PHP | Smart Updates with staging and AI-controlled QA |
| Other features | WordPress Assistant, daily backups | WordPress ToolKit by Plesk (staging, automatic and manual backups, migration tool, multiwebsite dashboard, image compression), Plesk Web Host Edition |
| | Learn more | Learn more |
Get exclusive benefits with the IONOS Partner Program.
Calling all WordPress professionals
Developed for agencies, resellers and freelancers, the IONOS Partner Program gives you access to special infrastructure and software solutions tailored to web professionals. You'll also get exclusive partner benefits, e.g. free trials, starting credit, individual support and the chance to get found by clients in the Partner Network.
Learn more
Couldn't find what you're looking for?
We may still have the ideal solution for you.