Almost two thirds (63%) of SMEs say pandemic has positively impacted their digitalisation
New research from Europe's largest cloud and hosting services provider, IONOS, has found that in total 63% of UK SMEs believe COVID-19 has strongly (34%) or very strongly (29%) impacted their company's digitalisation.
Manchester, 8 March 2021
However, surprisingly, 22% don't believe digitalisation is required for their company, despite its known benefits of creating efficiencies, increasing revenue and helping reach wider audience bases, amongst many more.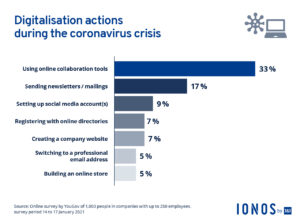 The survey, which was conducted by YouGov on behalf of IONOS, polled 1,003 UK SMEs, looking at the impact of COVID-19 on digitalisation efforts, exploring which elements have been fast-tracked or implemented because of the pandemic, and attitudes towards the topic in general.
Of those that have taken measures towards digitalisation during the pandemic, almost one in four (39%) said it has helped them win new customers. 64% of respondents said they have received positive feedback, with almost three quarters (74%) feeling better prepared for future crises because of the technology they've put in place.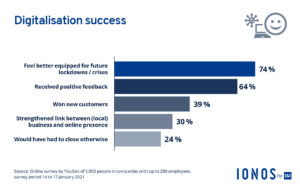 As expected, solutions that facilitate digital communication have increased in demand as a result of the coronavirus, with one third (33%) of respondents making greater use of collaboration tools such as Google Workspace or Office 365. In addition, 17% of SMEs have begun email communications and digital newsletters during the pandemic to help keep current and potential customers better informed of their activities during this turbulent time.
"It's clear that in the UK, small businesses are taking significant strides in their digitalisation efforts, and our survey results demonstrate the accelerating impact the pandemic has had on this process," says Achim Weiss, CEO of IONOS. "However, it's worrying to see that more than a fifth don't actually think transformation is required. This shows a real gap in knowledge of the benefits for these businesses – something that the tech industry needs to work together to plug, and to ensure SMEs are as supported and well-informed on the topic as possible."
The survey, which was also conducted in Spain, France and Germany (517, 1,000 and 945 respondents), generated similar results in all countries when it comes to those who say that the pandemic has had low impact on their company's digitalisation. Over a quarter in each market (28%, 31% and 26%) don't believe digitalisation it's required for their business.
However, the multi-market results showed that UK SMEs are ahead of other European markets when it comes to seeing the benefits of a business being online. For example, pre-pandemic, the majority (61%) of UK SMEs were present online, whereas a surprising 39% of French SMEs, and not even half of Spanish SMEs (44%) had their own website set-up. This improved during the COVID-19 crisis, with over one fifth (21% in Spain and 22% in France respectively) creating one for their business.
"Our survey confirms what we've seen over the past twelve months in the demand for our products: many small companies have realised that digitalisation can help them to get through the crisis. With our world becoming increasingly digitalised, it is more important than ever to position one's company in such a way that it is both present online and able to work remotely to ensure long-term sustainability", Achim concluded.