IONOS Group announces Climate Strategy 2030
IONOS Group has announced its Climate Strategy 2030. The new strategy includes a long-term plan for the future of data centres and office targets.
Karlsruhe / Berlin, 25 July 2023. IONOS Group, the leading European digitalisation partner for small and medium-sized businesses, has announced its Climate Strategy 2030. While IONOS has long been committed to environmental sustainability, the new strategy for the first time includes a long-term plan for the future of data centres and office targets.
Further reducing data centre emissions
IONOS aims to reduce data centre carbon emissions by 55% from 2019 levels by 2030, actively working to reduce Scope 1 emissions from diesel by switching to biofuel-powered generators where possible. The company is also committed to continuing to source 100% renewable electricity longer-term, which is its  most significant lever for minimising Scope 2 carbon emissions under the Greenhouse Gas (GHP) Protocol. In addition, IONOS plans that 50% of it's own data centres will have on-site generation of renewable energy, such as photovoltaics. While the company currently uses trusted carbon offsets (Scope 1 & 2) as a final step, its primary goal is to reduce reliance on these through proactive carbon reduction measures.
Measuring and reducing the value chain
IONOS will also look beyond its direct operations. The company commits to measuring and reducing carbon emissions from its value chain (Scope 3), will establish a carbon footprint in 2024, and will explore actions in likely high impact areas such as server lifecycle and data centre construction. As a first step, IONOS will engage 90% of its key tech-ops suppliers by spend to set supplier climate targets.
While data centres account for the majority of IONOS' impact, the company will target 100% renewable electricity in its global offices, adding up to 100% renewable electricity use overall. Additionally IONOS will target 100% electric vehicles in its company car pool.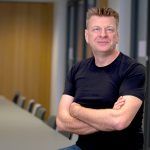 Achim Weiss, CEO of IONOS, said: "We are proud of our environmental sustainability achievements so far. Our new 2030 Climate Strategy will build upon our previous initiatives and target 100% renewable energy across all operations, as well as further reducing our carbon footprint and push our suppliers to follow suit. The next step towards this strategy is evaluating the use of waste heat from our data centres."
Worcester data centre as a blueprint
In October 2022, IONOS opened its most sustainable data centre to date in Worcester, UK. This will serve as a blueprint for how the group will build and design data centres in the future. Some of the sustainability design features incorporated include:
10% of total energy from on-site solar power
Backup generators powered by biofuel, reducing carbon emissions by 90%
Carbon neutral (offset) steel used in construction
On-site bee & bug hotels to improve local insect biodiversity
Best in class energy efficiency
Progress to date 
In addition to the new initiatives, IONOS has implemented many past and current environmental sustainability initiatives . These include:
Since 2021, Strato offices have been powered by renewable electricity
Since 2022, the new IONOS US Philadelphia office has been powered by renewable electricity
In 2021, 50% of electricity in offices was renewable, rising to 66% in 2022. This already represents 99.5% renewable electricity in total across all operations data centres & offices
IONOS has been purchasing 100% renewable electricity for many years. This is and will remain the biggest lever for reducing direct carbon emissions from the data centres.
Despite growing more than 50% (revenue) as a business since 2018, IONOS has reduced its absolute energy consumption by 9.6% since 2018, thanks to dedicated energy management teams and a certified ISO 50001 management system.
IONOS has recycled and refurbished over 510 tonnes of servers and IT equipment since 2018.
In addition to its latest UK data centre, IONOS has two further solar installations planned for 2023.
Developing a liquid cooling system to support reusing heat energy from new data centres for extended district heating networks.
Investigate options for reusing waste heat to heat office buildings and conduct a feasibility study.