What's OX App Suite?
OX App Suite is a comprehensive email and online office suite created by our trusted partner Open-Xchange, a leader in creating an open, free and safe internet.
OX Mail
Easy-to-use, clever and innovative email application.
Professional mail account with 50 GB of storage
Overview of social and business accounts with unified inbox
Feature-rich sorting, searching and flagging
View all received and sent files in a central attachment view panel
iOS and Android mobile app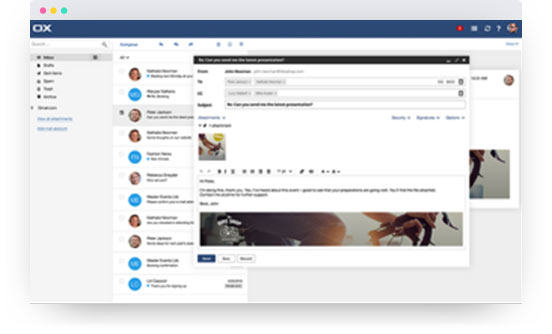 OX Drive
Simple cloud-based storage.
Effective admin of files
Compatible with Mac OS, Windows, Android and iOS
Share files and folders
Easy integration with a range of back-end storage options
OX Documents
Build your office on collaboration.
Includes OX Text, OX Presentation and OX Spreadsheet
Integrated functionality across all OX Suite Apps
Supports numerous formats such as .docx, .xlsx, and .pptx to name a few
Edit and share content in real time, from any location
OX Contacts
Streamlined contact management.
Complete control over shared and public address books
Automatic contact gathering
Easy sync with other devices and contact lists
Direct access to shared/personal mailing lists and appointments
OX Calendar
Keep your private and work life organised.
Personal, shared and public calendars
Resource management (for conference calls, cars, etc.)
Schedule team and group meetings
Takes time zones and visualisation aspects into consideration
Schedule on behalf of others
More
Problem-free time management with a personalised dashboard
Tailor and extend with functions that match your needs
Plan and create projects
Easy delegation of tasks with multi-user feature
Package overview
Buy the starter package now with a free domain and add as many users as needed during setup.
---
3

months
£
0
/month

excl. VAT
then
£3
/month

excl. VAT
6

months
£
0
/month

excl. VAT
then
£15
/month

excl. VAT
3

months
£
0
/month

excl. VAT
then
£30
/month

excl. VAT
Professional business email
50 GB online storage for all your mails and data

Online office tools OX Text, OX Spreadsheets, OX PresentationClose

Team collaboration tools OX Contacts, OX Calendar, OX TasksClose

Premium Virus Protection and Spam Filter

Free domain Included free domain extensions: .co.uk, .uk, .com, .net, .org, .info, .me, .biz, .online.Close

Prices excl. VAT may be subject to change dependent upon your country of residence. Terms and conditions
apply
.
Our personal consultant service won gold for Best Customer Engagement Initiative at the European Contact Center & Customer Service Awards, the largest awards programme in the customer contact industry.
Tailored advice. Tips for online success. Technical support. Available via a direct phone number, chat and email. Free of charge for all IONOS customers.
Why choose OX App Suite for your business?
It's secure, packed full of features and an absolute bargain. What more do you need?
Secure
As OX App Suite is hosted in European data centres, you can rest assured that you're protected by the highest standards in data privacy, and are compliant with European laws.
Unbeatable prices
There's no need to invest a lot of money in the ideal all-round solution for your productivity needs. All packages also include a free domain.
All-in-one
With OX App Suite, you'll have all the office tools you need in one handy place.
Private and small business users will both benefit from having everything at their fingertips.
OX means better business
Creation and collaboration made easy
Easily create and edit documents, spreadsheets and presentations with OX Documents. Tools such as OX Text, OX Spreadsheet and OX Presentation help support private and small businesses with everyday office tasks. But the real winner is how easy it is to collaborate with others in real time. The finished documents will scream out to be shared and admired – luckily the product helps with that too.
Unlike other online office suites, OX App Suite even allows external partners and clients not using OX App Suite to access and edit documents when they have been shared by the owner.
Available everywhere
Files created with OX App Suite look fantastic on any device thanks to its responsive design, while OX Mail and OX Drive can be accessed via both a mobile app and desktop.
Synchronising contacts, appointments and tasks across multiple devices has never been easier thanks to CalDav and CardDav extensions, and a dedicated Sync app for Android.
Customers choose IONOS because, as Europe's largest web hosting company, we not only provide everything you need to be successful online, but also best-in-class service through a free personal consultant.
Looking for other premium productivity solutions?
G Suite
G Suite is developed with the needs of business customers in mind
Improve collaboration and communication at your business with Google's G Suite office platform.
Learn more
Microsoft Office 365
The ideal productivity suite to help run your business
The possibilities are endless with the market-leading productivity software from Microsoft. Includes all the popular applications such as Excel, Word, Outlook, and PowerPoint.
Learn more
OX App Suite
FAQ – Frequently asked questions
The latest offer from Open-Xchange, OX App Suite is a multi-function platform, focusing on easy-to-use apps that encourage productivity and collaboration. OX App Suite provides users with numerous productivity apps to help them stay focused and make the most of their time. The platform is considered a good Office 365 or G Suite alternative, standing out in particular for its collaboration capabilities. OX App Suite is cloud-based, making access easy no matter where you are.
Open-Xchange AG, a company of over 270 employees (as of July 2019), develops email and productivity software. The company was founded in 2005 and is headquartered in Cologne, Germany. Open-Xchange solutions are distributed through over 100 internet service providers as well as hosting, telecommunications and cable providers, which make them available to their customers as a Software-as-a-Service (SaaS). More than 200 million users already use Open-Xchange's open source software for their private and business communications. The United Internet Group, to which IONOS also belongs, has had a stake in Open-Xchange AG since 2013.
OX App Suite offers a wide range of modular services to help streamline your business processes. The range of apps focuses on increasing all areas of productivity, in addition to applications for spreadsheets, presentations and word processing. Documents can also be stored online, and email traffic can be merged. Customers can select which apps are the most suitable for them and bundle them appropriately. Available apps include OX Mail, OX Calendar, OX Contacts, OX Portal, OX Tasks, OX Drive, OX Text, OX Spreadsheets, OX Presentation and OX Presenter.
OX Mail can sync with your existing email accounts to provide you with an all-in-one email solution. Folders and tabs are easy to create, and there are sorting, searching and flagging functions to help you organise your emails. OX Mail is available as a mobile app for iOS and Android. The perfect complement is OX Calendar, which allows you to create private and public calendars (with permission control) that are easily shareable, and also features a handy meeting-scheduler so that you can arrange team meetings easily. OX Calendar has built in time-zone integration and visualisation, and also permits scheduling on behalf of others.
OX Contacts provides a centralised database for your contacts, and can be synchronised with other devices and native lists. You will also have easy access to mailing lists and appointments directly from the contacts app. OX Portal is the OX App Suite's dashboard, which can easily be personalised by the individual user thanks to its widget-based setup. The portal is easy to configure and extend, while the customer can create their own specific functions, as well as having an overview of their email inbox, appointments, different tasks and files. OX Tasks is an app in OX App Suite that helps you manage your time effectively. OX Tasks helps with scheduling and task creation (both single and multi-user), it allows you to delegate your tasks to others, create to-do lists and provides a clear overview of how your tasks are progressing.
Since OX App Suite prioritises productivity and easy collaboration, you can easily import and edit files from other productivity solutions and programs using OX App Suite. OX Documents fully supports editing and reading .docx, .xlsx and .pptx files, among others. What's more, if a document contains an unrecognised element, then OX Documents creates a placeholder, so that once you have finished editing, you can open your document in the original editor and the original format will be intact, with your new changes visible alongside the original content and formatting.
OX App Suite is available through IONOS as a SaaS cloud-based service. You can easily set up an account in the IONOS control panel. Here you will be asked to input basic information and select a password. Once you have set up your account, you will be able to download apps manually or using a wizard from the dashboard. Apps can be installed manually on iOS or Android. To download apps manually, simply go to Google or Apple's app store and download your chosen apps directly.
You can set up your OX Mail app to sync with your existing email accounts. To add email accounts to your OX Mail overview, simply click on Add mail account when you are in the folder view – this will open a window. Click on one of the icons and a new browser tab will open. Simply provide your credentials and grant permission for data access (if prompted) to provide access to the email account. If the window doesn't appear, you can manually input the information by clicking Manually. You will then be able to see your email account in the folder view. Should you wish to view emails in the Unified mail folder, simply select Use unified mail for this account.
Yes. OX App Suite is fully compliant with GDPR security regulations all the data is hosted on servers located in Germany and is in complete compliance with European data protection laws.
OX App Suite holds its own among competitors and is considered a good alternative to G Suite and Microsoft Office 365. A hot topic issue at the moment is online security, and the Open Xchange App Suite excels at this. Thanks to the European provider, which hosts the program from Germany, you can be assured that your data is being held to the utmost security standards, complying with both the GDPR and Germany's own high standard of data security legislation.
OX App Suite's goal is to provide users with the essentials they need for their daily lives, rather than weighing users down with a multitude of unnecessary options. OX App Suite has a high level of functionality, while still being a simple, streamlined tool to use. The OX App Suite is easy to integrate with other email accounts, allowing external accounts to be displayed in OX interface folders. As well as this, the email inbox has numerous advanced features missing in other office solutions: Users can mark, move and convert emails into meetings requests and much more.
OX App Suite also shines when it comes to working with documents. Users can use OX Documents to read and edit documents from Microsoft Office and OpenOffice, and formatting will be preserved when saving. OX Documents also allows users to easily save documents in OX Drive, download them or send them by email, as well as print directly from the web browser. An additional benefit of OX App Suite is that users can share documents online with others, even if they do not have OX. Anyone is able to receive documents, view them and even edit them if editing rights are provided by the sender – this gives OX Documents full collaboration functionality, something missing from many competitors' offers.
Do you have a big presentation coming up at work, university or even a party? OX Drive allows you to produce a presentation over the internet without requiring any additional software, saving you time and worry.
Overall, there are many areas where OX App Suite stands out in terms of functionality and collaboration capabilities, and the final major benefit is the low-pricing options available. The Open Xchange App Suite should be seriously considered by anyone thinking of migrating to Office 365 or G Suite.
All files can be uploaded to the suite's online storage and shared with others. The Basic package has a total storage capacity of 50 GB per user account.
Collaboration is a key concept behind OX App Suite, and team members can be easily invited to edit a specific document so that they can make changes or additions.
Still looking for the right product?
We may have the ideal solution for you
Questions?
We'd be happy to help you choose the right product or provide support for existing customers.
Live Chat
Chat with one of our IONOS experts.
Start chatting