Free Server Hosting
Try free server hosting for your website now
At IONOS, we pride ourselves in our 30-day money-back guarantee that enables you to try out Managed Servers and Virtual Private Servers (VPS) for free. Our Cloud Server packages include starting credit for the first month.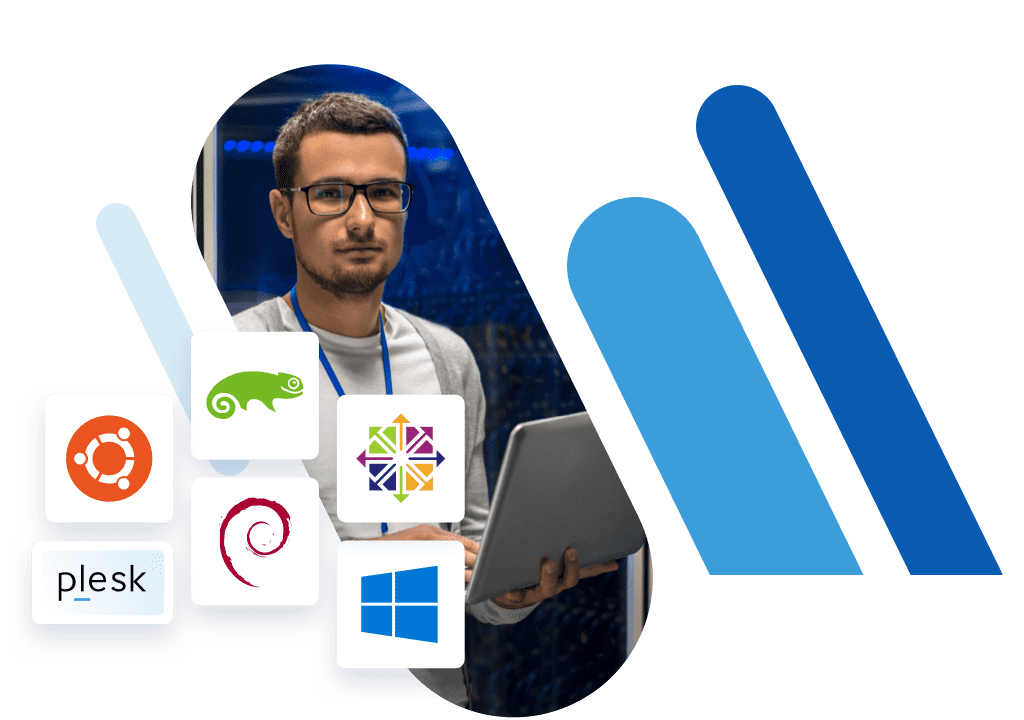 Server hosting for free: Select from 3 models
VPS Hosting
This model ensures the server is always available. Its dedicated and virtual capacities make it a great choice for any project. Your data is always safe thanks to our highly secure European data centres.
Cloud Server
Suitable for simple websites as well as intricate IT infrastructures, Cloud Servers can be flexibly scaled and configured exactly to the needs of your project.
Managed Server
With our Managed Server model, we do all the administrative work for you. You benefit from high performance servers with none of the extra work, leaving you more time to concentrate on what really matters.
Free server hosting 24/7 while saving money
Imagine free server hosting for your sites. IONOS makes that a reality with our two different discount models.
The 30-day money back guarantee
Trial a Managed Server and VPS
You can test our Managed Server and VPS for a whole month for free without any strings attached. If, after 30 days you choose to cancel our free server hosting service, we will refund you your money because your satisfaction is what matters to us the most.
You won't find many other hosting providers offering the same.
Starting credit for the first month
Experience the Cloud Server
In order to make our Cloud Server package even more appealing, we are offering you starting credit for the first month. This means you can enjoy free server hosting for 30 days, depending on the resources you use.
If you exceed the credit amount, you simply pay the difference. There are no downsides to this offer.
Tailored advice. Tips for online success. Technical support. Available via a direct phone number, chat and email. Free of charge for all IONOS customers.
We're always working to improve our customer support, and we're proud to have won several awards. These include Best Customer Engagement Initiative and Best Use of Customer Insight.
What to expect from the best free server hosting
Performance
There's no limit to how much CPU, RAM, and bandwidth you use while you're enjoying free server hosting. When it comes to the Cloud Server, just make sure that the booked resources do not exceed the available starting credit.
Storage
With IONOS server packages offering between 10 gigabytes and several terabytes of storage, you will never have to worry about running out of webspace. SSD or HDD is available to you, depending on the server you choose.
Operating systems
Free server hosting is possible with Linux and with Windows. For VPS and Cloud Servers, you can decide which of the two operating systems suits your project the most. With Managed Servers you don't have to choose since IONOS does all the administration for you.
Support
Our customer service is on hand 24/7 for any free server hosting questions that might arise. The support is included in the server offers so you don't have to pay any extra for our help.
Security
Your data is important to us, which is why we invest in the best IT security to ensure your data remains safe in our secure data centres. You wouldn't expect any less from one of the best free server hosting services.
Data protection
We have data centres available in the UK, US, Germany, and Spain. You can choose where your free online server hosting should take place. If you opt for the EU, we promise that our data centres adhere to the GDPR.
Additional attractive options
You already know that IONOS promises a 30-day money-back guarantee if you opt for the aforementioned products, and this is also the case with web hosting and Nextcloud hosting offers.
Web hosting
The perfect solution for your website. In this package, you get more than enough webspace as well as your own domain so you can get started on the Internet straightaway — it couldn't be easier.
Nextcloud hosting
Nextcloud hosting gives you your own cloud, tailored to your exact requirements. You benefit from being able to access your files from wherever you are.
Free Server Hosting – FAQ.
The dedicated servers from IONOS are especially suitable if very high performance is one of your main criteria. For large companies, high performance and flexibility are especially appealing, and the added benefit that you can structure the dedicated server to your requirements doesn't go amiss. Here are some packages we have created that may appeal to you:
AMD Servers: If you have quite demanding tasks, an AMD Server with CPU could be the answer. They provide high single-thread and multi-thread performance.
Intel Servers: Intel CPUs are known for their impressive processors and innovative technology so if this is what you're looking for, you've hit the jackpot.
Storage Server: These servers can store very large amounts of data and at the same time ensure that all your data remains secure.
Thanks to our pay-as-you-go principle, you only ever pay for what you actually use with our dedicated server models.
Both products can be tested for a month and if you decide to cancel, you will have your money refunded. This is made possible thanks to our 30-day money-back guarantee. If you want to cancel within the first two weeks, you can make use of the 14-day objection period and withdraw from the contract.
IONOS contracts can be cancelled at any time although you should bear the possible minimum contract term in mind. For these products, the cancellation period is one month. Let us know in good time if you want to cancel.
You can use your right of objection within the first 14 days to withdraw from your contract with IONOS.
If this two-week period has passed, you still have the option to end the contract because the Cloud Servers aren't bound to a minimum contract period. It doesn't matter if you chose free Windows server hosting or the Linux option, when you delete the Cloud Server, you won't be charged any additional costs. This also applies even if you have used up all your starting credit.
Cloud Servers from IONOS are billed to the minute and you only ever pay for what you've used thanks to the pay-as-you-go principle. This means that you don't have to terminate the entire contract — you simply have to delete the server to ensure no more costs are incurred. If you happen to start using the resources again, you will be billed for this use.
IONOS – your web host and cloud partner
Scalable web hosting, server and cloud products for all the stops along your digital journey.