In this article, we'll explain the different methods of verifying your domain's contact details.
For the registration of a .uk domain, you may receive an email from IONOS asking you to confirm your registrant contact data. Please review and update your data in your IONOS account or send us documents verifying the accuracy of your data currently assigned to your domain name.
Reviewing Your Data
Nominet, the .uk domain Registry, will check the validity of the registrant contact data assigned to your domain name at the point of registration, transfer into IONOS or following any updates to the data.
If Nominet cannot validate the data, you must check and update it using the guidelines below.
Review your address data. Pay special attention to elements such as your flat number, sub-building name, and P.O. box.
Enter your telephone number in the correct format: Begin with a "+", followed by the country code and the digits (e.g. +44 20 12345 5678).
Check for spelling errors.
Ensure that you have not mixed up first and last name.
Enter the correct type of business entity (e.g. Ltd., LP, LLP).
If you have ordered a package as a private client with a company name, please use your private name.
Check for spaces before/after the @ sign in your the email address.
Editing Data Through Your IONOS Account
Log in to your IONOS account.

Click on the Domains & SSL tile.
Click the

gear icon

in the

Actions

column to the right of the desired domain and select

Privacy & Contact Details

.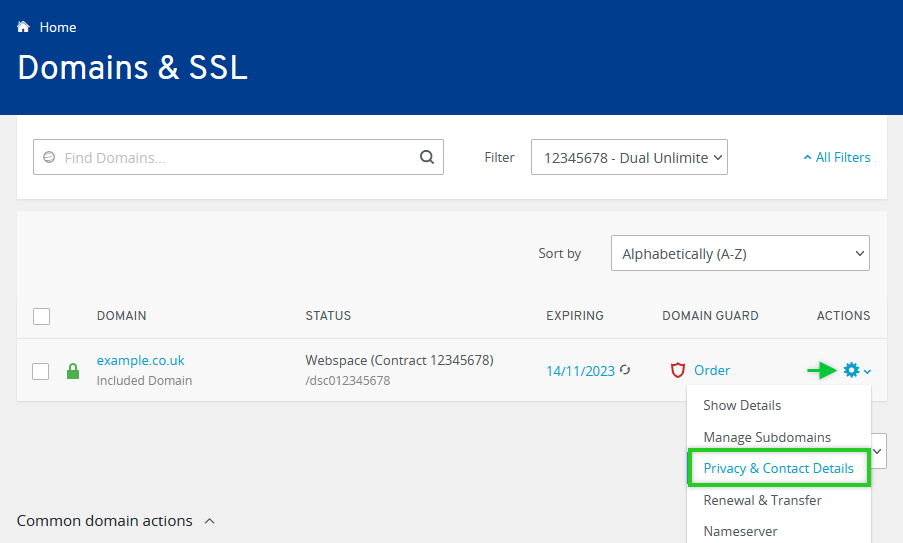 Scroll down to the

Domain Contact Details

section and click

Edit Reg-C

.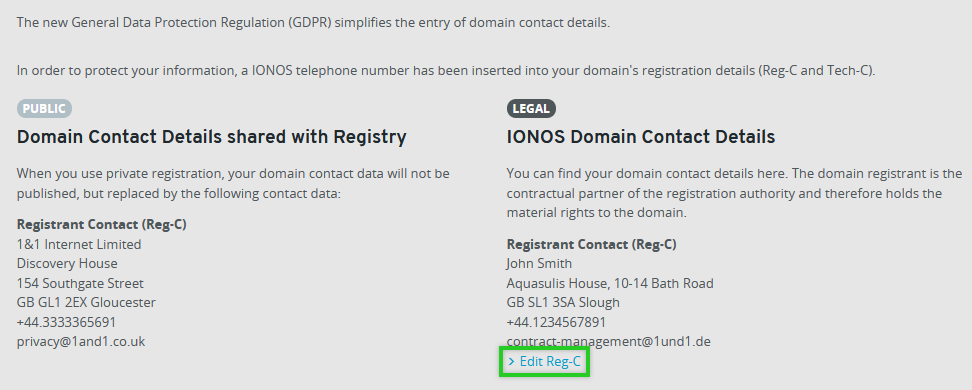 You can now make any necessary changes. Once you are finished, click

Save

.
Data Validation Example
Contact Type
First name, Last Name
Company / Trading Name
Address Format
Address
Individual

Registered Company

Sole Trader
[Mr] John Smith

[Mr] John Smith

[Mr] John Smith
n/a

John Smith Ltd

Mr John Smith t/a JS & Sons
(Required) Building or House Number and Street Name
(Required) Town or City
(Required) Postcode
(Required) Two letter Country code
(Optional) Building/House name, County
10 Valley Road
Oxford
OX4 6DA
GB
Minerva House, Oxon
Verifying Your Details Through Documentation
Once an update has been made, Nominet automatically restarts the validation process. You may check the progress of the validation process here:
If the update is successful, the suspension will be lifted, and the whois status will display the following:
Data validation:
Nominet was able to match the registrant's name and address against a 3rd party data source on [xx-xxx-20xx]
If Nominet is unable to verify the domain's registrant data following your update or you wish to keep the details currently in use with the domain name, IONOS can manually verify them if provided with valid documentation matching those details. Simply email one current proof of ID and address from Nominet's validation list to transfers@ionos.co.uk. For example, you can submit a valid UK driving license, passport, and/or current utility bill.
---