Free email providers | 8 best free email adress 2023
Sending and receiving emails should not have to cost anything, which is why free email providers are particularly popular among private users. Our overview gives you tips on where to get the most storage space, the highest security standards, as well as explaining what other features are offered by these 8 free email providers.
All information is current as of July 2023.
Professional Email Address & Personal Domain Name
Give the right first impression with a custom email address and a free matching domain name!
Address book
Calendar
Virus protection
The best free email providers in the UK in direct comparison
| Provider | Mail.com | Gmail | Yahoo Mail | Outlook.com | GMX | AOL Mail | ZOHO | Proton Mail |
| --- | --- | --- | --- | --- | --- | --- | --- | --- |
| Inbox size | 65 GB | 15 GB incl. Cloud | 1 TB | 1 GB | 65 GB | 250 GB | 5 GB (all Cloud) | 500 MB |
| Cloud storage | 2 GB | 15 GB incl. Inbox | Only via external service | Further 5 GB | from 2 GB | 5 GB | See above | In beta (5G for Plus users) |
| Max. size of attachments | 30 MB/100 MB | 25 MB | 25 MB | 34 MB | 50 MB | 25 MB | 25 MB | 25 MB |
| POP3 | ✔ | ✔ | ✔ | ✔ | ✔ | ✔ | ✔ | ✘ |
| IMAP | ✔ | ✔ | ✔ | ✔ | ✔ | ✔ | ✔ | ✘ |
| Server location | USA | Worldwide | Worldwide | Worldwide | Germany | USA | Worldwide/Europe | Switzerland |
| Apps | Android & iOS | Android & iOS | Android & iOS | Android & iOS | Android & iOS | Android & iOS | Android & iOS | Android & iOS |
Mail.com
The big advantage of Mail.com is the many domains you can choose from. Instead of only using the brand name as the second part of the free email address, as is the case with most free email providers, Mail.com lets you choose from over 100 different domains. There are also some domains that refer to specific industries, making free mail addresses from Mail.com even suitable for professional communication.
With Mail.com, you have up to 65 GB of free storage space in your mailbox. In addition, you can send attachments with a size of up to 30 MB. If needed, you can store larger files in the cloud and then just send a link via email. Here you have 2 GB of storage space included. What's also interesting is that you can connect up to 10 email addresses under one account. Mail.com also offers the possibility to create a professional account, which is also free. Here you have the same features, but the maximum size for file attachments is 100 MB.
Mail.com uses a variety of techniques to ensure the best security. On the one hand, your inbox is protected against threats by an antivirus scan. On the other hand, an effective spam filter ensures your inbox doesn't get filled with junk mail. To prevent unauthorised third parties from gaining access to your account, access is secured with two-factor authentication.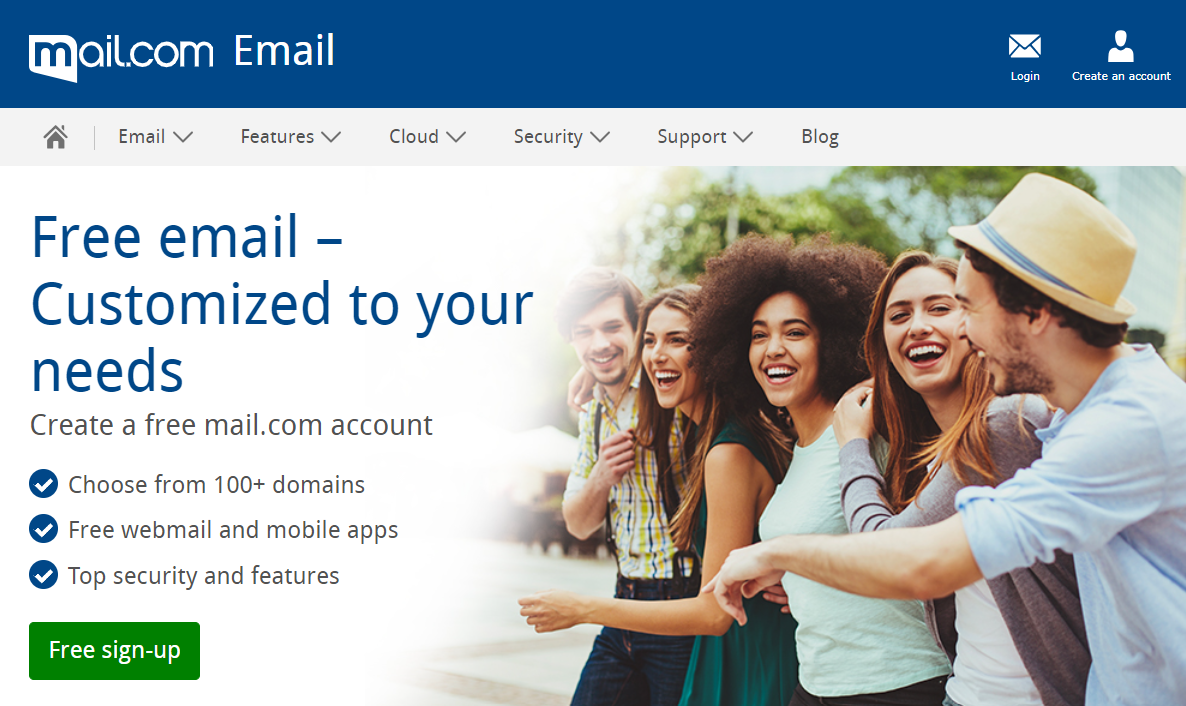 | Advantages | Disadvantages |
| --- | --- |
| ✔ 65 GB storage space | ✘ Slightly unclear user interface |
| ✔ 2 GB included cloud storage | ✘ Features advertisements |
| ✔ Over 200 available domains to choose from | |
| ✔ Apps for Android and iOS | |
Gmail
Gmail offers a total storage capacity of 15 GB across all the connected Google services, including Gmail, Google Drive, and Google Photos. The maximum size of email attachments has also increased in proportion to this growth, and now stands at 25 MB. Alternatively, the provider lets users send large files via Google Drive.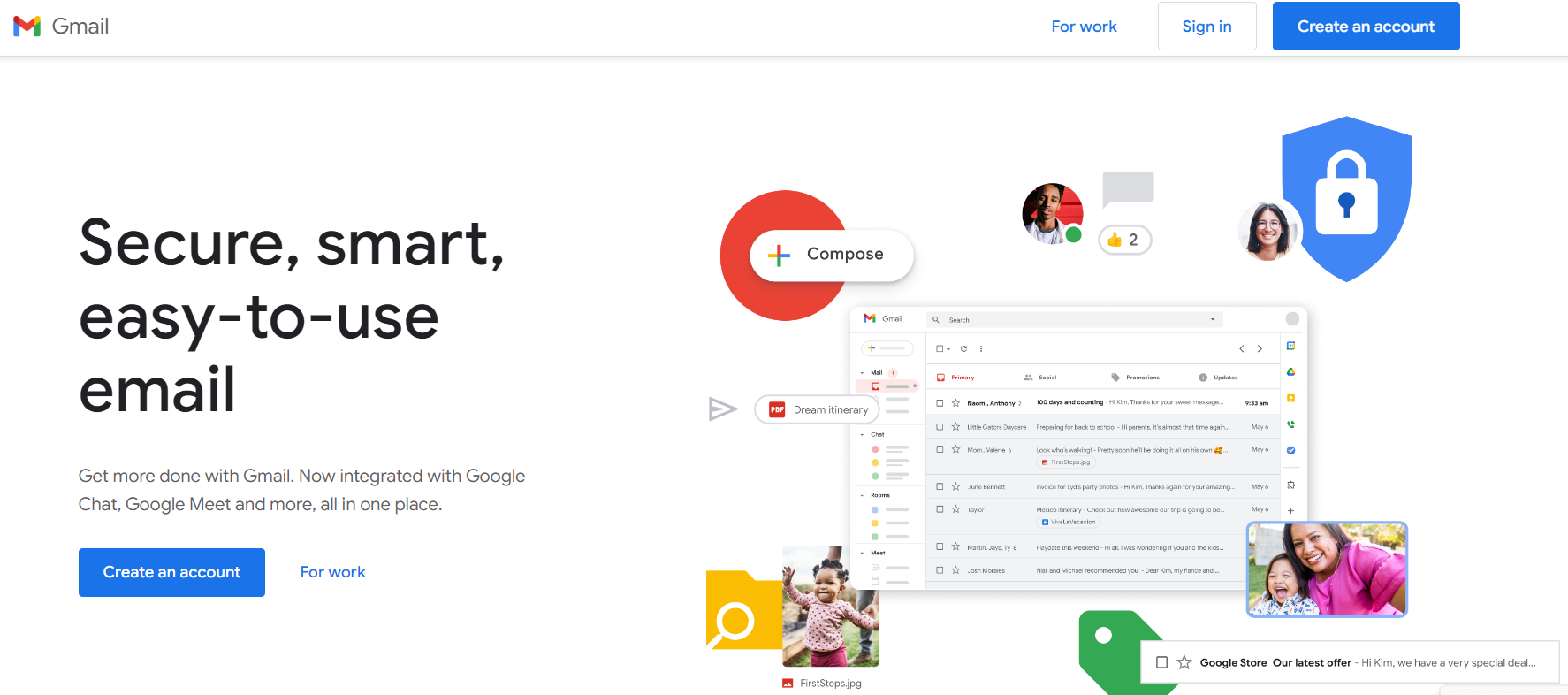 In terms of layout and ease of use, Gmail has an interface with a very similar orientation to other email providers like Outlook and Thunderbird. This has been the case since it first came about, despite it being browser-based. It is now possible to individualise the interface by designing it with personal photos, for example. In addition to this, tabs can be adjusted as required.
A further advantage of Gmail is its perfect integration into the Google universe. Alongside Google Drive, Google Meet is also very handy. With this you can chat with friends within Gmail and have video conversations with up to 100 people and this across multiple devices as well.
One of the main downsides of Gmail is data protection. Google is often criticised when it comes to data protection, due to the alleged blurring or even softening of their own guidelines. It currently scans the contents of emails received and sent via Gmail. Through this it can help them to deliver target advertising to Gmail users. Google claims that this scanning also helps to identify and sort spam mail and display personalised advertising.
But according to the company, a SSL/TLS encryption will protect emails better in the transfer between a browser and the Gmail servers. However, this does not mean that your emails will be encrypted end-to-end, just as the content of the emails will not be protected – only during its transit to the server. This is fairly normal for the free email providers listed in this comparison.
| Advantages | Disadvantages |
| --- | --- |
| ✔ 15 GB storage space | ✘ Data protection policies vague |
| ✔ Integration into the Google universe | ✘ Server locations unclear |
| ✔ Many possibilities re. settings and personalisation | |
| ✔ Clear and well-organised user interface | |
| ✔ Apps for Android and iOS | |
Google Workspace by Google with IONOS
Working together just got easier! Configure Gmail for your domain and benefit from the familiar Google tools all in one place.
File sharing
Video conferencing
Mobile working
Yahoo Mail
Just like Gmail, Yahoo Mail is another free email provider with huge amounts of storage space – a record-breaking 1,000 GB (i.e., 1 TB). This has meant that deleting emails is very much a thing of the past. The flip side, though, is that there is no cloud storage service offered. Connecting to external services like Dropbox or Google Drive is possible although a separate account is required.

In addition to this, Yahoo Mail offers many options when it comes to personalisation. Layout, order, and the email preview function can all be adjusted, as well as the design of the inbox. Alongside features like a messenger, and apps for both iOS and Android, there are also POP3 and IMAP protocols, as well as an 'adaptable' spam filter. In terms of data protection, Yahoo Mail has similar shortcomings to Gmail. For the transfer of mails between the browser and the Yahoo server, SSL/TLS encryption is used.
| Advantages | Disadvantages |
| --- | --- |
| ✔ 1 TB storage space for emails | ✘ Cloud storage is only available by linking to external services such as Dropbox or Google Drive |
| ✔ Easy implementation of a 'disposable' email address | ✘ Content of emails analysed for advertising purposes |
| ✔ Integrated spam filter | ✘ Locations of servers unclear |
| ✔ Apps for Android and iOS | |
Outlook.com
For a long time, 'Outlook' was the name of the Personal Information Manager (PIM) developed by Microsoft. It is part of the whole Microsoft 365 package. But since early 2013, the very similar sounding web email service 'Outlook.com' has replaced Microsoft's previous free email software 'Hotmail'. With Outlook.com, Microsoft now provides serious competition to the free email providers such as Yahoo and Google.
The first and most important advantage is its perfect integration into the Microsoft universe. By simply registering on Outlook.com, you will have access to other services offered by Microsoft. These include the video call and chat service Skype, the cloud storage service OneDrive, the online version of Office, and OneNote. Thanks to the included office interfaces, Outlook.com is also suitable for more complex work environments, and even comes with a similarly intuitive and trustworthy user interface.
With regards to storage space, Outlook.com is on a similar level to Google's Gmail service. With over 15 GB, there is more than enough space for all emails. Additional storage is available for files of a different kind with Microsoft's integrated cloud storage solution OneDrive, which is available for free. Attachments can be up to 34 MB in size.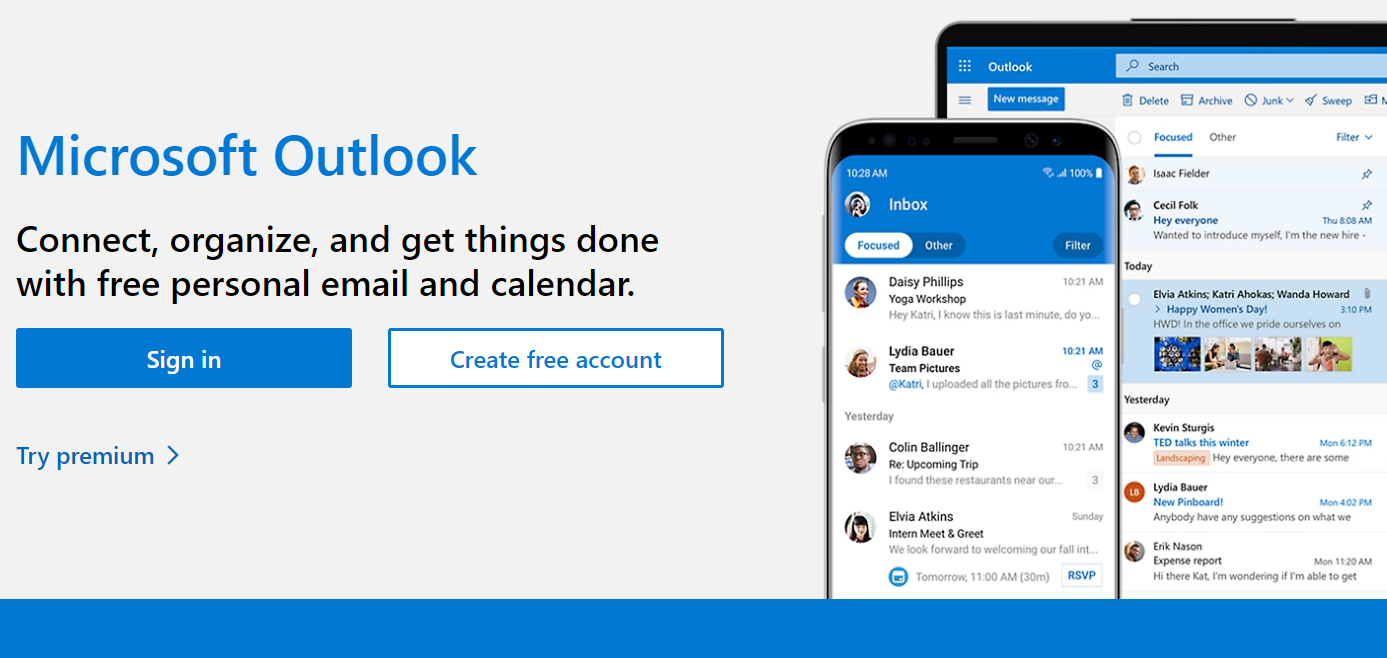 The advertisements that do appear are not personalised based on the content of emails according to Microsoft's privacy policy. Instead, the software uses data like your location, or your internet surfing habits based on cookies.
Something that is still unknown, however, is the server location. Similar to the previous free email providers outlined above, Microsoft maintains its server worldwide. This means that the exact location of the files is as unclear as with Google and Yahoo.
| Advantages | Disadvantages |
| --- | --- |
| ✔ 15 GB email storage space | ✘ Server location unknown |
| ✔ 5 GB cloud storage space with OneDrive | |
| ✔ Clear and accessible design | |
| ✔ MS Office interface – perfect integration into the Microsoft universe | |
| ✔ Apps for Android and iOS | |
Microsoft 365 for Business with IONOS!
Powerful Exchange email and the latest versions of your favourite Office apps on any device - get started with our free setup assistance.
50 GB Exchange email account
1 TB OneDrive cloud storage
24/7 expert support
GMX
GMX is not as well-known as the free email providers presented above, but still conveniently manages to meet all your basic email requirements. When emails are transmitted to the GMX server, they are exclusively SSL/TLS encrypted. The data transfer between the servers of individual providers is also encrypted. Two-factor authentication provides even more security.
One of the biggest selling points for GMX is its 65 GB of storage space, which is around 500,000 emails. Your attachments can be up to 50 MB in size. If you need to send larger files, you can turn to the in-house cloud. Here you have 2 GB of storage space at your disposal.
Another major upside of GMX is its Online Office feature. Without installing additional software, you can easily edit Word documents, Excel spreadsheets or PowerPoint presentations in the browser. GMX offers apps for Android and iOS. Thanks to this wide range of apps, all emails and mailbox folders are always available, even when you are on the move. Additionally, GMX offers MailCheck, a browser extension for Chrome and Firefox that ensures you never miss an incoming email again.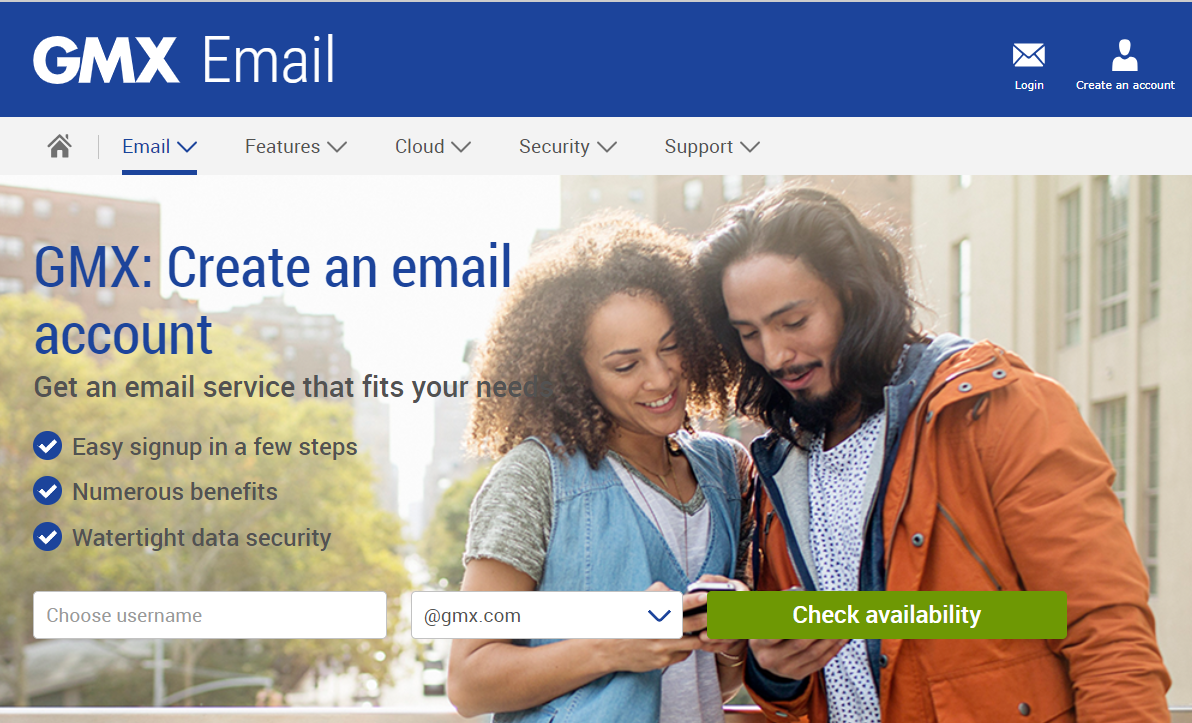 GMX's default interface is blue. Alternative designs can be selected and saved in the settings. You can navigate around using the menu bars at the top and left. While the upper tab allows a quick change between the standard features such as mailboxes, cloud, calendar or address book, you will also find advertisements and links to other GMX products on the left, which are used to finance the free email service.
| Advantages | Disadvantages |
| --- | --- |
| ✔ 65 GB storage space | ✘ Slightly unclear user interface – also features advertisements |
| ✔ 2 GB included cloud storage | |
| ✔ Up to 50 MB attachment size | |
| ✔ Apps for Android and iOS | |
AOL Mail
Many years ago, America Online was one of the biggest email programs, but it has since slipped down the ranks and is no longer one of the most prominent email services. However, this does not mean that it isn't an adequate free email provider. A while back, AOL realised the need for it to offer more and gave itself a makeover in 2022. Today, the web portal offers 250 GB storage space and up to 25 MB attachment size.
AOL Mail gives you the option of choosing the strictness level of your spam filter: Low, Medium, or High. AOL themselves recommend setting it to 'Medium', as they find that that is the right level of security without the risk of losing any important emails to your spam folder.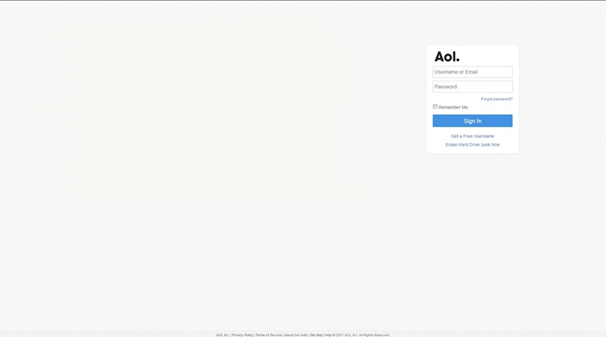 The free email provider also offers an integrated calendar so the user can manage schedules and appointments easier. AOL Mail also offers customisable themes so users can design their inbox to their liking. Additionally, users can create folders to organise their emails and easily search through the inbox using keywords.
| Advantages | Disadvantages |
| --- | --- |
| ✔ Choose level of spam filter – Low, Medium, or High | ✘ No importing contacts from social media |
| ✔ 250 GB storage space | ✘ App not specific to email |
| ✔ Apps for Android and iOS | ✘ No cloud storage |
Zoho
Zoho is an email service aimed at both private users and businesses. The free package is therefore aimed at individual users, and while being quite basic, still manages to cover all the major criteria that you might look for in a free email provider.
Zoho, similarly to Microsoft, offers a whole range of software programs. Alongside email, it also offers instant messaging, a writer, calendar, document sharing, as well as several other features. Together these are known as the 'Zoho Workplace'.
One major upside of Zoho is that it is completely ad-free, boasts an uptime of 99.99% and uses an advanced set of administrative tools that help you protect your data against phishing, spam, viruses and malware. The software also requires two-factor authentication for extra security.

In terms of storage space, it offers 5 GB space and a maximum email attachment of 25 MB. The storage is all cloud-based and there is also the option of Dropbox integration. Fundamentally this is a free email provider but given that it also has a range of fee-based services, the basic, free of charge version will be restricted in certain ways. Unfortunately, none of the packages offer the possibility of automatically integrating contacts from a social media account or accounts. This must be done manually.
| Advantages | Disadvantages |
| --- | --- |
| ✔ Access to whole Zoho workplace | ✘ Limited storage space in the free version |
| ✔ Two-factor authentication | ✘ Contact list – no social media integration |
| ✔ No advertisements displayed | |
| ✔ No scanning of email content | |
| ✔ App for Android and iOS | |
ProtonMail
ProtonMail is a great email option for the security-conscious user. It's an open-source, encrypted provider based in Switzerland. It boasts end-to-end encryption and its PGP encryption standards are said to be fairly robust. There is also the option of two-factor authentication to keep your account extra safe. It's also possible to link ProtonMail with a custom domain.
With a free plan, users get 500 MB of storage, which isn't a lot compared to other providers like Gmail. But users can upgrade to a paid plan if they require more storage space. A free plan includes one free email address but has a limit of up to 150 messages a day to avoid spam. This may sound like a lot of emails, but bear in mind that an email with 10 recipients counts as sending 10 emails.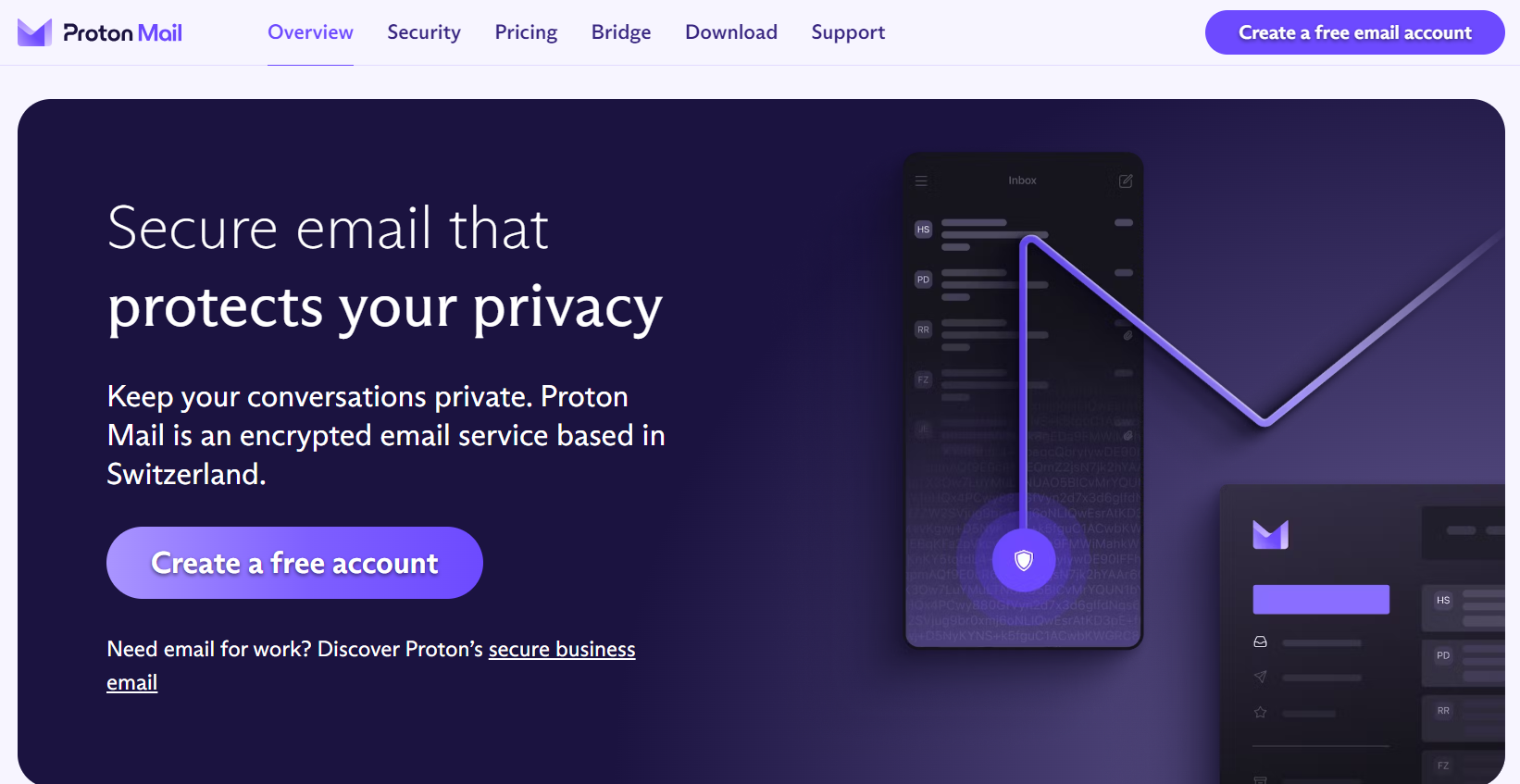 Other features include three calendars to keep on track of appointments. A medium-speed VPN connection, and 10 hide-my-email aliases, enabling you to protect your identity and hide your real email address, but still receive emails sent to your real address.
| Advantages | Disadvantages |
| --- | --- |
| ✔ End-to-end encryption | ✘ Limited storage space in the free version |
| ✔ No advertisements displayed | ✘ Number of daily emails limited |
| ✔ App for Android and iOS | ✘ Does not support POP3 or IMAP in the free version |
Tip
Anyone looking to secure their communication even further should also consider installing the email encryption via PGP. This will also protect the content of emails. With the help of browser add-ons (e.g., Mailvelope), it is possible to achieve end-to-end encryption.
Who are professional solutions best suited to?
At first glance, what these free email providers offer seems to be perfect. With their strong functionality and various security mechanisms such as SSL/TLS encryption, DKIM signatures and authenticator logins, the free email services are a popular choice in the private sector.
However, free services are not always the right choice. With free email providers, you are more often than not tied to the brand-specific domain name, which is rather impractical, especially in the business sector, and is often seen as spammy. Email addresses like 'firstname.surname@yahoo.com' look less professional, especially if you run your own website and could actually use its domain.
So, if you primarily want to handle business communication using this email address, you need a professional solution to create the right impression. This may mean having to forego an address from a free email provider if the address is to represent the company or the profession.
Email hosting services tailored to your needs
Increase your credibility with an email address that matches your business name!
Ad-free email
Spam filter
Secure
The advantages of professional email services compared to free email providers
Even if professionalism is often the reason for a company choosing a professional email provider, the self-employed and the like, there are also other benefits:
Free choice of name: Free email providers usually have several million customers registered under the same subdomain. The most common first and last names are therefore quickly snapped up, which is why you sometimes have to resort to complicated alternative solutions (e.g., including numbers in the address). Customers using fee-based email services do not have this problem and can therefore create memorable and precise contact addresses.
No advertising or spam: Free email providers usually use advertising to fund the service. Using a professional service, on the other hand, rids you of annoying advertisements and means you can work without distractions. In addition, fee-based options are less susceptible to advertising spam. This is because free email addresses are relatively similar to one another, it's easy for spammers to 'guess' different addresses.
Increased protection: Not only are professional mailboxes less likely to be targeted by spam, phishing, etc., but they are also the safer choice in case your computer gets infected with malware. An account that is getting spammed too much is likely to be blocked by the provider. While the chance of getting your account back with a free email provider is practically zero, just describing the problem is usually enough to regain access with a fee-based provider.
Planning security: If you use a professional email address, you get a lot of independence from your provider. If the provider makes changes to the product range or terminates the service, the contact address usually remains unaffected. You often just need to move to another provider. If a free email provider discontinues its services, the user has no choice but to register a new address.
Resistance to typos: Another advantage of having your own email domain instead of a free email subdomain is the catch-all function. This ensures that all incoming messages to a domain are redirected to a main mailbox, even if the local part of the address (before the @ sign) cannot be assigned to a specific mailbox due to a typo. This way, professional email solutions reduce the likelihood of important messages being lost.