Website Design Service
We'll build the perfect website for your business.
Special offer
Save £399 with no setup fee!
Start your project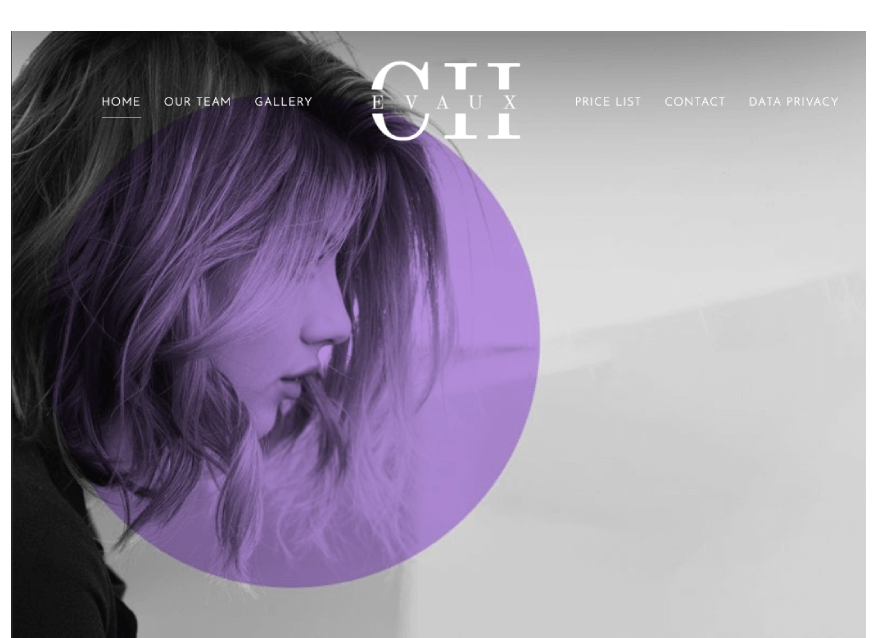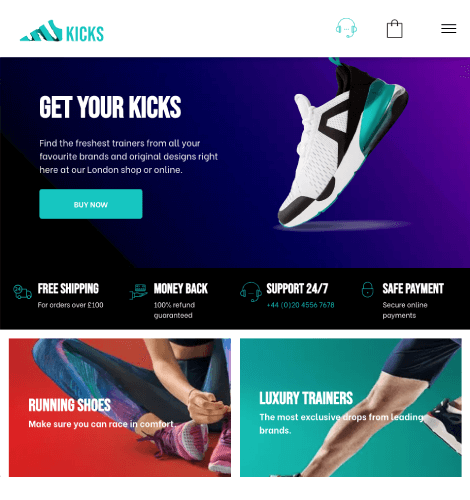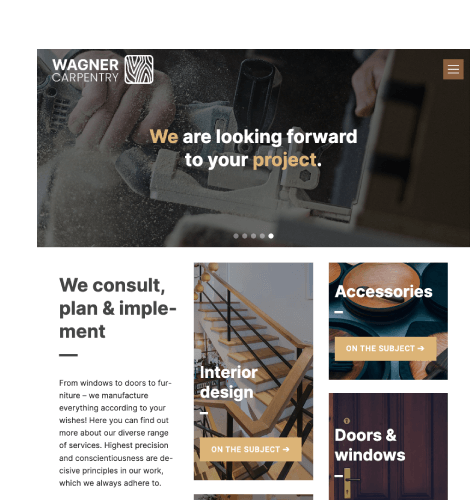 Why get your website built by IONOS?
You won't just save time and money. Our design service gives you all the benefits of an agency, plus the reliability of a big tech company.
A team of experts with a direct contact person
We're here for you throughout the building process and beyond. You'll get free support whenever you need it – even at the weekend.
Over 25 years' experience and 8 million customers
An established company means more stability. Small website design agencies could stop their services, but we're here for you long term.
Everything in one place, with room to grow
Thinking big? Great! We've got products for every stage of your digital journey, from domains to cloud solutions.
Maximum security for your website and customer data
We operate data centres in the UK and EU with a groundbreaking security concept and the highest level of data protection.
Optimisations after your site is online
Simple web analytics are integrated so you always know how well your website is performing. We'll also help you with text and visual updates after the initial launch.
Still unsure? Check out...
You call it, we implement it
Tell us what you want to achieve – we'll recommend the best options
With our web design services, the possibilities are endless. Let us know what your website should do, and we'll put together all the features you need.
What our customers say
"The experts listened to my needs and incorporated ideas which helped design a website that's above and beyond my expectations. They were also super quick with any alterations.
I couldn't be more pleased with the outcome. I have had numerous book sales and a massive boost in the number of clients accessing the counselling services I provide."
Janet Linton, Counsellor, Survivors of D&R
Why host with IONOS?
Environmental and social responsibility is a core value at IONOS. We're talking about corporate digital responsibility here, and as Europe's biggest hosting provider it goes without saying that we have a key role to play.
Stefan Mink, Head of TechOps Hosting at IONOS
A few things we've already achieved
226.85 tons of CO₂

In 2021, we saved more than 226 tons of CO₂ through the responsible reuse and recycling of old servers and equipment.

100%

All IONOS data centres in Europe and our largest in the US are all powered by 100% renewable energy.

Our energy management systems are certified to ISO 50001 standards and are regularly checked by sustainability experts.

by experts
Start your project
Talk to our team
Special offer Save up to £399 with no setup fee on the M and L packages!
Thanks for getting in touch
We're looking forward to talking to you about our services.
Get started with one of our most popular packages
Special offer
Save up to £399 with no setup fee on the M and L packages!
Website Design Service S

Ideal for a straightforward website with minimal edits

---
Only
£
40
/month

excl. VAT
Setup
£199
Continue
Design consultation and a website with 3 customised pages

1 website edit per quarter 1 website edit made by the design team per quarter.

1 free domain and 5 email accounts Choose from the following domain extensions: .co.uk, .uk, .com, .net, .org, .info, .me, .biz, .online.
Website Design Service M
Everything you need for a medium-sized website with regular edits

Continue
Design consultation and a website with 5 customised pages

1 website edit per month 1 website edit made by the design team per month.

1 free domain and 5 email accounts Choose from the following domain extensions: .co.uk, .uk, .com, .net, .org, .info, .me, .biz, .online.

Website Design Service L

The best choice if you want a large website and frequent edits
Continue
Design consultation and a website with 7 customised pages Request more pages any time.

Unlimited website edits Unlimited website edits made by the design team.

1 free domain and 5 email accounts Choose from the following domain extensions: .co.uk, .uk, .com, .net, .org, .info, .me, .biz, .online.

Website Design Service contract details
Contract and cancellation
The initial contract term is 12 months.
Cancel at the end of the minimum contract term, then anytime afterwards.
Setup fee
The setup fee depends on which package you choose. Benefit from our current special offers:
Save £299 and pay no setup fee on the M package
Save £399 and pay no setup fee on the L package
All prices exclude VAT charged at 20%. VAT may be subject to change depending on your country of residence. Terms and conditions
apply
.
Websites designed by IONOS
FAQ – Frequently asked questions
Our prices are very individual and depend on the complexity of your website.
A simple website with only a few pages of content can be created for as little as £199 plus a monthly fee for hosting and maintenance. This includes your own domain and email account.
Get in touch and we'll find a solution that fits your needs and your budget.
Of course, your website will look great on any device. More and more people are accessing the internet on smaller devices, so we use responsive design to give everyone a great user experience.
Yes, we can also build an online store for you, including copywriting, search engine optimisation and more. We'll also help you with maintenance and teach you how to manage your site with free 1:1 training.
It's simple:
You save a lot of time and creative energy: Both are resources that can both be invested in other gainful areas of your business. Our Website Design Service is particularly geared towards the self-employed, freelancers, small business owners, and medium-sized businesses. So, anyone who wants professional help due to a lack of time or employee capacity.
More than 20,000 projects completed: Our website team is made up of experts in every area, web designers, developers and content managers as well as project managers. You benefit from the experience of over 20,000 completed projects.
Personalised websites to the newest standards: We create your personalised website using the newest technology and standards. Not only do we design the website, but we also create professional copy and integrate your logos, colours and images.
Domain, SSL and email are included: Every package includes a domain of your choice, an SSL certificate for data protection conformity as well as five email addresses based on your chosen domain.
Professional search engine optimisation (SEO) for your website: As well as a modern design, metadata and optimised texts for search engines will help your website stand out.
Choose a suitable package and order directly through our website. Afterwards, you arrange a meeting with one of our experts from the Website Design Service to discuss your wishes and ideas for your new website.
Not only do our professional web designers create your website, we also advise and support you before, during and after your website goes live on the internet.
An overview of the process
If you order through our website, you can make an appointment with one of our website experts directly afterwards. As an alternative to ordering online, you can also use our callback service.
Our next touchpoint with you will be an onboarding call, where an expert will explain step by step how to proceed. We will record your wishes and requirements for your new website.
Based on these ideas, our website team will then create your new website.
As soon as it's ready, we will discuss it with you and make any necessary minor changes and adjustments.
Our goal is always to design a website that fits perfectly with your wishes. As soon as you tell us that you are happy with the website, we will put your site on the internet and make it visible in search engines like Google and Bing.
The creation and publication of your new website by one of our design service experts is the first step towards your online success.
Depending on your chosen package, we will adapt your website at regular intervals according to your wishes and ensure that you continue to be successful online.
As Europe's largest hosting service, we offer all customers:
Basic search engine optimisation (SEO): Your company gets more visibility on search engines like Google and Bing so customers can find you.
Domain, email and SSL: A domain of your choice, an SSL certificate for GDPR-compliant encryption and up to five email addresses to match your chosen domain.
Updates: Your personal contact person is always available from the start and for long-term support of your website. Regular adjustments to your website are included in every Website Design Service package.
Free expert advice: Our website experts will personally advise you on the phone at any time without an appointment. They will help with optimisation or marketing measures (social media presence, business directory, reputation management).
Website maintenance: We offer to maintain your website according to the package you have purchased, including a personal consultation to find the best solution together with you.
How quickly we create your website in the end depends on you. The faster you provide us with all important information, approvals or your own images, the faster our web experts can build your website and successfully take it online.
Even if you already have a website, you are in good hands. Simply send us all existing content, images and the URL of your old website, and our experts will take these materials and templates into account when creating your new web design, but only if you want to. We are also happy to assist you in moving your domain, so that not too much time passes until the move can be carried out.
We have created your IONOS website and made it visible on the internet. Now the exciting phase begins – expanding your online presence and further developing your website. Your contact person will be happy to advise you personally on the phone.
Couldn't find what you were looking for?
We may still have the ideal solution for you.
Live Chat
Chat with one of our IONOS experts.