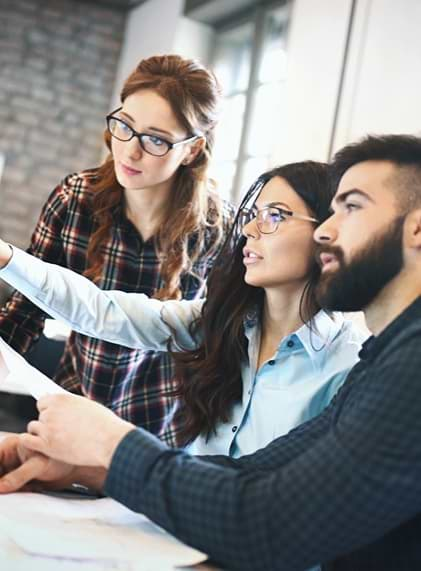 Website design for small businesses
Choose the easy way to get a professional website with the MyWebsite Design Service.
See pricing
Invest in your digital future
A unique and professional online presence is as crucial for startups and small businesses as it is for large companies. A web presence is a company's online business card and a central point for product information and communication. So it's vital for any business to have its own website.
Budget limitations can be a barrier to getting a great site, but the experts at IONOS will build you a professional website on a small budget.
Start small and think big with a highly scalable website that grows with your business. Whether you've launched your own startup or you've got a small or medium-sized company, the IONOS web design service gives you room to expand online.
See features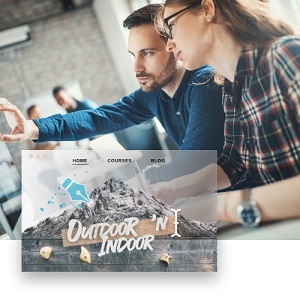 Build your digital legacy
Customer behaviour is changing rapidly in favour of online solutions. This makes having an online presence more essential than ever. By focusing on interaction with your customers, you can create the best possible user experience.
Having an optimised and attractive website also helps establish your brand and build your company's reputation.
The IONOS web design service will take care of all technical aspects, including programming. Responsive web design makes sure your content looks great on any device, while search engine optimisation (SEO) helps increase your site's visibility.
Why create a website for your startup?
Get found, grow your customer base and boost sales.
Reach new audiences
Your website is always accessible from anywhere that has an internet connection. This means you can reach potential customers more cheaply and efficiently than with offline methods.
Engage with customers
A website makes it easy to get in contact with customers, understand their requirements, and interact with them. You can also give information about products and services directly, get feedback and provide support.
Increase your sales
Your web presence is not just an additional touchpoint for existing customers, but also your company's digital shop window for new customers. By generating leads, your site will help you increase your sales.
MyWebsite Design Service
You build your business while we create your website.
Web design and text from experts
Save up to £200 on the setup fee
MyWebsite Design Service S
Ideal for a straightforward website with minimal edits
---
£
40
/month

excl. VAT
Setup
£199
Continue
Design consultation and a website with 3 customised pages

1 website edit per quarter
MyWebsite Design Service M
Everything you need for a medium-sized website with regular edits
---
£
55
/month

excl. VAT
Setup
£199
Continue
Design consultation and a website with 5 customised pages
Reduced setup fee:
£199 instead of £299
MyWebsite Design Service L
The best choice if you want a large website and frequent edits
---
£
70
/month

excl. VAT
Setup
£199
Continue
Design consultation and a website with 7 customised pages

Integrated video with autoplay
HTML/CSS code adjustments
(2 hours' worth) Website adaptations that require programming, as these can't be implemented using the website builder.Close

Reduced setup fee:
£199 instead of £399

Prices excl. VAT may be subject to change dependent upon your country of residence. Terms and conditions
apply
.
Web design for startups
FAQ – Frequently Asked Questions
Before the IONOS design service team can start the custom web design for your small business, we will ask you for some basic information. This includes information about which industry your company operates in and how many pages you want your website to include.
Together we will then define the framework for web development. As soon as all the important points have been clarified, our web designers will create a website based on one of our modern design templates, which are available for a wide range of industries so that they perfectly complement your project. And thanks to the implementation of responsive web design, your online presence will look perfect on tablets, smartphones and PCs alike.
Yes, because SEO and professional web design are intertwined. Our web design services also take this into account. Search engine optimisation (SEO) is one of the most important success factors on the internet and is essential for everyone who wants their company to be found on the net. This is all the more true for companies that want to build up an online reputation and generate sales. That's why we rely on the appropriate technical setup for web design and web development for our customers, but this doesn't just apply to web design for entrepreneurs and startups.
A search engine friendly framework for your content and products makes it easier for search engines like Google to catalogue your digital content and make it findable for users. So if you neglect to make your URLs, sitemaps, etc. search engine friendly, you are throwing away a lot of potential. We make sure that your new website is ideally set up in this respect.
However, the basic technical framework we offer is only one aspect of holistic SEO. We also recommend that your website is search engine optimised so that it is ranked as highly as possible by Google and other search engines. And that it leads potential customers to your products and services. We would be more than happy to help you achieve this as well – with the IONOS rankingCoach, for example.
Free advice for entrepreneurs
Starting a business and becoming self-employed can be a big challenge. That's why we've compiled a comprehensive Startup Guide for entrepreneurs and new businesses. The guide offers advice and detailed information on business planning, legal aspects and finance, plus practical tips for efficient day-to-day operations.
Visit Startup Guide