Award-winning support
Your personal consultant
Expert advice from a single point of contact

Reach your consultant directly by phone, email or chat

Free, award-winning service for all IONOS customers
Learn more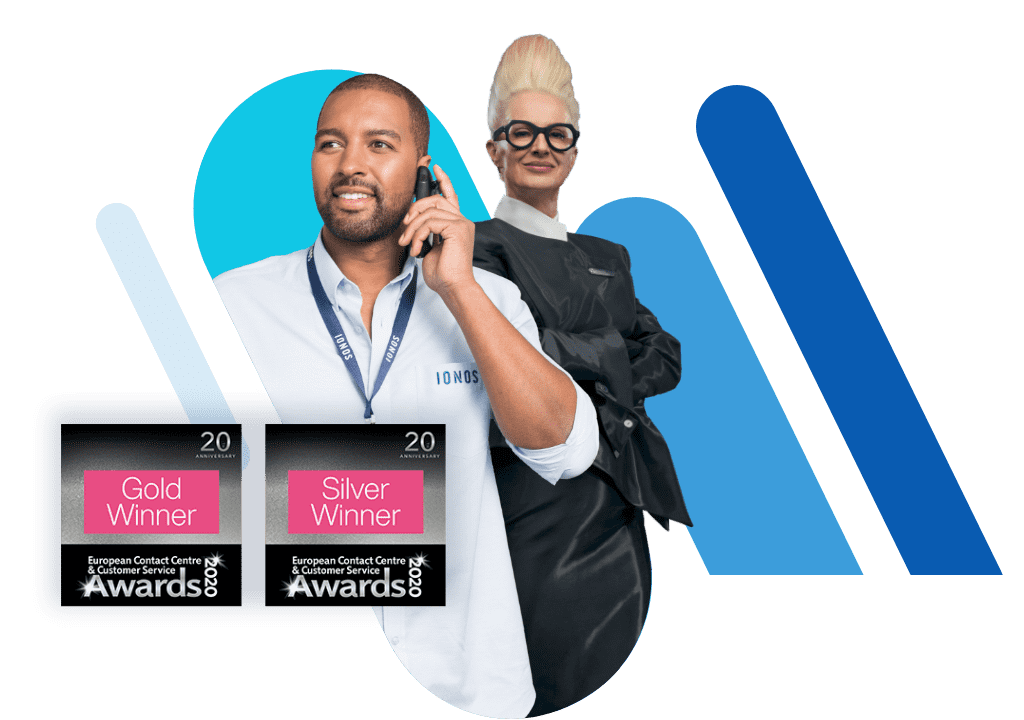 Best Customer Engagement Initiative
Your personal consultant is here to help you succeed online – you'll get direct access to the support you need. The service is free for all IONOS customers and has won two awards for Best Customer Engagement Initiative at the European Contact Centre & Customer Service Awards.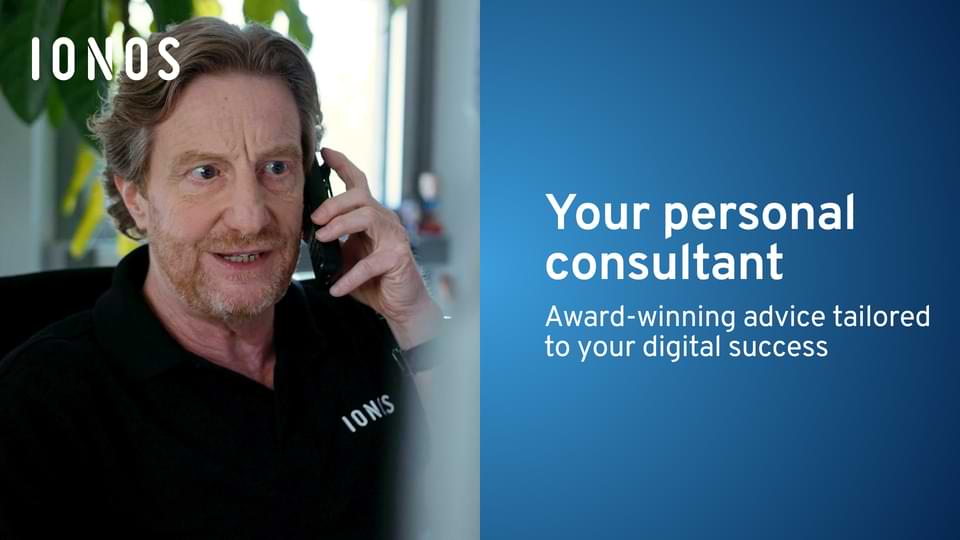 The answer to all your questions
Your personal consultant will support you with expert recommendations, easy-to-understand explanations, and uncomplicated advice on a range of topics, such as:
How can I display various products depending on the location of my visitors?
Why is my company not visible on Google Maps?
How can I automatically share and sync files with my team?
Can you activate SSL encryption for Plesk on my server?
How can I build an eCommerce website with WordPress?
Tailored, free advice
We want you to be a success online, so we offer a central point of contact: your personal consultant.
Advice on the first steps and strategies needed for online success.
Tips and guidelines on how to get the most out of your product.
Explanations for any technical jargon you may come across.
Support for any problems or questions you have regarding contracts, invoices, and products.
Reports on how your website is performing and tips on how you can continue to improve.
Tailored advice on suitable solutions that will help you manage and expand your products.
Available by phone, email, or chat
Speak with an expert who knows you and understands your needs.
Seamless service
If on the rare chance your personal consultant is unavailable, a well-informed, experienced colleague from their team will answer your call, and you will continue to receive the advice you need.
Always there for you
You can reach your personal consultant on business working days via a direct phone number, email, or chat. Alternatively, you can request a callback at a time of your choice.
As an IONOS customer, you can activate your personal consultant at any time, free of charge.
Bring your idea to life
Whether you're setting up domains, designing a website, creating email addresses, or something else, your personal consultant is here to help.
Domains
.co.uk domain + personal consultant.
Turn your name into a brand and secure the perfect domain name. Includes email, private registration, and SSL security.
Website
MyWebsite + personal consultant.
Intuitive drag and drop editor, pre-built templates, unlimited creative control, and stunning images. Includes an email address and domain.
Email
Email address + personal consultant.
Easy to remember and professional – promote yourself, your company, or your project with a personalised email address.
European Contact Centre and Customer Service Awards
IONOS customer service wins gold
Your feedback is vital – it helps us make our products and services work better for you. Luckily, we get lots of input from you. The way we use your feedback to improve the customer experience won a gold award for Best Use of Customer Insight in 2020. Thanks for keeping us informed!
We're also proud that our personal consultant service received an award for the second time, taking silver for Best Customer Engagement Initiative at the 2020 European Contact Centre and Customer Service Awards.
Live Chat
Chat with one of our IONOS experts.