Microsoft 365 Business
The Office you know, only better
Up to 50 GB Exchange email account

Outlook Web App and collaboration tools

Expert support & setup service
See packages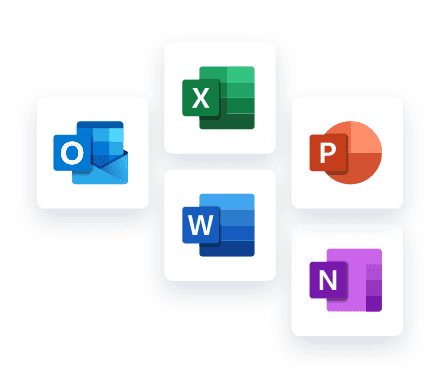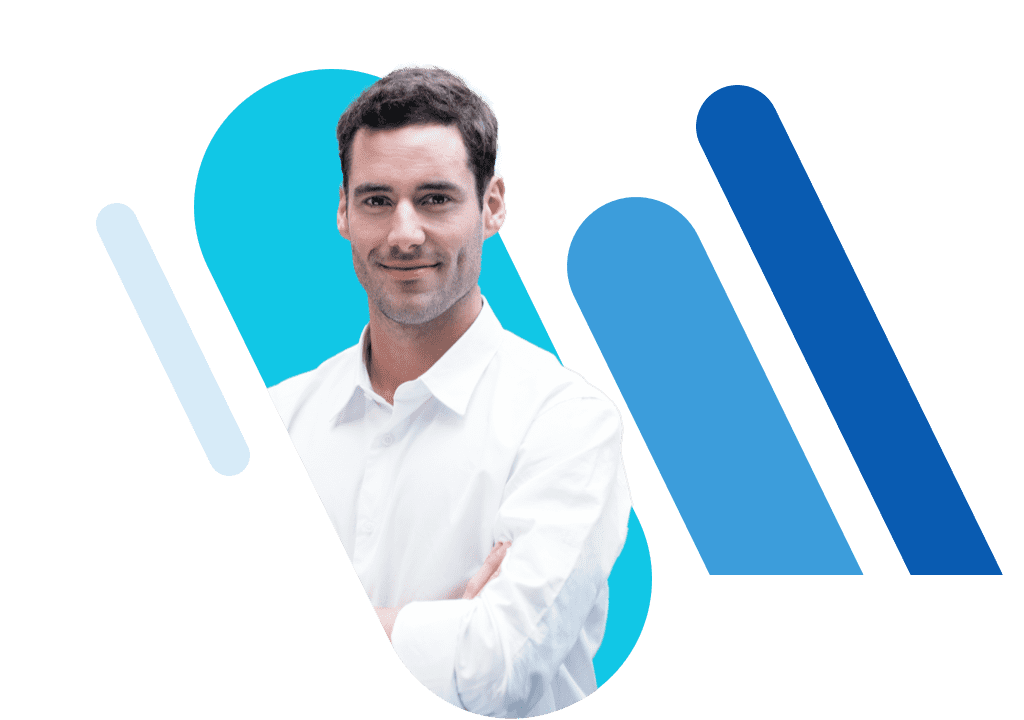 What Microsoft 365 brings to your business
The full Office package
Always the latest versions
You'll always have up-to-date versions of the full suite of Microsoft Office applications. Includes Word, Excel, Outlook, etc.
On all of your devices
Install on up to five devices per user. Work from local versions on desktops and laptops, or through apps and browsers on mobiles and tablets.
Collaboration tools
Instant communication
Keep in touch by email with large 50 GB Exchange mailboxes or instant message and video conference with Microsoft Teams.
Shared calendars and tasks
OneDrive online storage
Easy collaboration and document sharing with 1 TB OneDrive storage.
Mailbox security
Email encryption
Maintain peace of mind with SSL/TLS encryption on all of your emails.
Secure data centres
Your information is stored in data centres that are accredited with the highest levels of data safety in Europe.
All your favourite Office applications
Always with the latest features and security updates
Microsoft Word
The word processor you know and love
Write letters, document your work, develop manuals and other long-form content
Microsoft Excel
Widely used application for building spreadsheets
Analyse your data, develop models and create powerful visualisations
Microsoft PowerPoint
The world's favourite application for building compelling presentations
Showcase the results of your analysis visually
Microsoft Outlook
Industry standard for business email
Manage your emails, appointments and tasks with Outlook
Microsoft Teams
Connect with your team from anywhere
Tools for instant messaging, chat, video conferencing and screen sharing
Microsoft Exchange
Microsoft Exchange is the powerful email server technology powering your Microsoft Outlook client
Used by companies all around the world to manage their corporate email systems
Microsoft Access
Create and manage your own database applications easily
Save time with pre-built app and spreadsheet templates
OneNote
Capture your creativity and organise your thoughts with handwritten notes, drawings, screenshots, photos and videos
Collaborate on projects and documents
OneDrive
Store documents online and access them from anywhere
Share files with team members and collaborate in real time
Choose your Microsoft 365 package
Find the right option for your team and work together online.
Microsoft 365 Business Basic
Everything you need to work and meet online.
---
1

st month
Free
then
£7
/month

excl. VAT
Only
£
32
.
50
/month

excl. VAT
Cancel anytime
Continue
50 GB Exchange email account
MS Teams: Online Meetings & Chat

Online Office versions: Word, Excel, PowerPoint
1 TB OneDrive cloud storage

Virus Protection and Spam Filter with Exchange Online Protection
24/7 expert support & premium setup service
Microsoft 365 Business Standard
The complete productivity solution, including desktop apps.
---
3

months
Free
then
£13.50
/month

excl. VAT
Only
£
65
/month

excl. VAT
Cancel anytime
Continue
50 GB Exchange email account

Microsoft Outlook 2021 & Outlook Web App

MS Teams: Online Meetings & Chat

Online Office Versions + Office 2021 Download

1 TB OneDrive cloud storage

Virus Protection and Spam Filter with Exchange Online Protection

24/7 expert support & premium setup service
Free Domain incl. for 12 months Included free domain extensions: .uk, .com, .co.uk, .biz, .co, .org, .me, .online, .net, .info.
All prices exclude VAT charged at 20%. VAT may be subject to change depending on your country of residence. Terms and conditions
apply
.
At IONOS, you have a dedicated contact person for personalised advice, tips to boost your online success, and technical support. Reach them via phone, chat and email, all at no cost to you as an IONOS customer.
We're always working to improve our customer support, and we're proud to have won several awards. These include Best Customer Engagement Initiative and Best Use of Customer Insight.
What do you want to get out of Microsoft 365?
Why choose IONOS?
We are your digital partner, from registering a domain name to creating a cloud infrastructure for your business. Whether you're self-employed, a private user or business owner, we've got you covered, and our support teams are always here to help.
24/7 expert support
We provide round-the-clock support from a team of technical experts that are on hand to take your call and fix your problem.
Personal setup assistance
Our specially trained professionals will help you migrate your existing data and set up your domain names.
Customers choose IONOS because, as Europe's largest web hosting company, we not only provide everything you need to be successful online, but also best-in-class service through a free personal consultant.
Microsoft 365
FAQ – Frequently asked questions
This is a very simple transition: Office 365 business plans will now become Microsoft 365 business plans. This means it's a new name, but still the same great plan at the same price. In terms of the IONOS package changes, please keep in mind the following:
OfficeBusiness will now be called Microsoft 365 Business Basic
OfficePremium Plus will now be called Microsoft 365 Business Standard
These name changes are to display the excellent range of features and benefits in this subscription model more clearly. Microsoft 365 still has everything great about Office 365, including the useful products, cloud service, and cutting-edge security, but the name change will assist customers to find the perfect plan for the right situation. This means a business enterprise, a small to medium-sized business, or an individual, can all find the right plan faster and easier.
Despite the fact that the business plan names have changed, IONOS will keep the products and prices the same. The same deals will simply be available under a new name. If your business already has an existing Office 365 Business subscription, then the name change to Microsoft 365 still means no action is needed from you. Your Office 365 subscription will simply now be called Microsoft 365. You will be able to see the updated name via your admin portal and monthly billing reports.
Microsoft 365 will continue to be a powerful cloud-based subscription model for Microsoft Office products such as Word, Excel, PowerPoint, Outlook, and much more. This subscription means that you'll always have the latest Microsoft product version whenever it's released and there's no need re-purchase any update. Microsoft 365 is designed so that documents can be accessed from any device no matter where you are. This helps you to finish work efficiently and return to what matters most in your life. Microsoft 365 comes with the best office apps, modern cloud functionality, and top-of-the-line security.
An Microsoft 365 subscription includes the complete current range of Microsoft Office products, including individual applications such as Word, Excel, PowerPoint, Outlook and more. The latest version is 2021. Rather than having to constantly buy the latest version of Office, you only need to subscribe once. You then pay a monthly fee for Microsoft 365 and benefit from complete flexibility, with the latest versions of all applications at your disposal. Continuous updates also protect you from any security risks that leave you vulnerable to viruses and malware. Additionally, the subscription allows you to access your documents, tables, emails and files from web browsers or mobile apps, affording you maximum mobility. This brings your office to you, wherever you are; the choice of how and when to use your Microsoft 365, and from which device, is entirely up to you.
Microsoft 365 is a monthly subscription service, meaning you pay a small fee every month rather than one large initial payment, as the traditional Microsoft Office requires. As you also no longer have to purchase newer versions of Office thanks to the updates, the subscription service actually saves you money. Administrative tasks and time spent on installing and setting up new software versions are also greatly minimised. Furthermore, maintenance takes less effort as the Microsoft 365 subscription guarantees you will automatically receive the newest software available in just a few clicks. This payment structure is particularly beneficial if you always want to be up to date and need an easy, yet comprehensive solution. This makes Microsoft 365 suitable for companies and private users who need a professional office solution. Beginners can also benefit from an Microsoft 365 package with IONOS: it's more affordable, while still offering the same high standard of service from our 24/7 expert hotline.
You receive both with IONOS: a useful online version and offline installer for your devices. This means you can access your documents, spreadsheets and emails via a web browser from anywhere, and also install an offline version of the software. With just one subscription, you can install Microsoft 365 on up to five devices. If you are working from a device that doesn't belong to you without an installed version of Microsoft 365, simply use the web browser to access the online version. This means you can be flexible and productive, no matter where you are or whether you are connected to the internet or not. What's more, our packages also include the Office mobile apps, so you can install your Microsoft 365 on your Android or iOS device. The apps enable you to continue to work using up to five mobile devices, even without a working internet connection – perfect for using while travelling through regions without network connection on the train or when in airplane mode.
IONOS offers the right package for every user, from beginners to business pros with advanced requirements.
Our entry-level package includes a comprehensive suite of online Office applications such as Word, Excel and PowerPoint. Meet and chat with colleagues and business partners via Microsoft Teams. You'll get 1 TB of OneDrive for Business cloud storage as part of this package, as well as Exchange email. What is not included is the possibility to locally install Office applications on desktops or laptops.
Our high-end package is an all-round productivity solution. It includes Office applications that can be installed locally on up to 5 devices per user or used online through a browser or with mobile apps, a professional email solution based on Exchange technology as well as OneDrive for Business cloud storage and Microsoft Teams. Use your individual domain to convey professionalism when sending emails. The email software included in this package, Outlook 2021, allows you to easily manage all your emails, appointments and tasks.
Ultimately, the choice is yours. Both our packages are suitable for businesses, as well as private users and freelancers, and you'll always have access to expert support. If you still have questions about our Microsoft 365 packages, give us a call. We'd be happy to help you choose the right option.
Looking for another office solution?
Google Workspace
Get all the familiar Google tools in one handy place and work seamlessly together with your team with real-time access to documents.
Learn more
Still looking for the right product?
We may have the ideal solution for you.
Live Chat
Chat with one of our IONOS experts.