GPU Server
Dedicated hardware with a high-performance graphics card
Manage any workload with flexible GPU computing power, and only pay for the resources you use.
See servers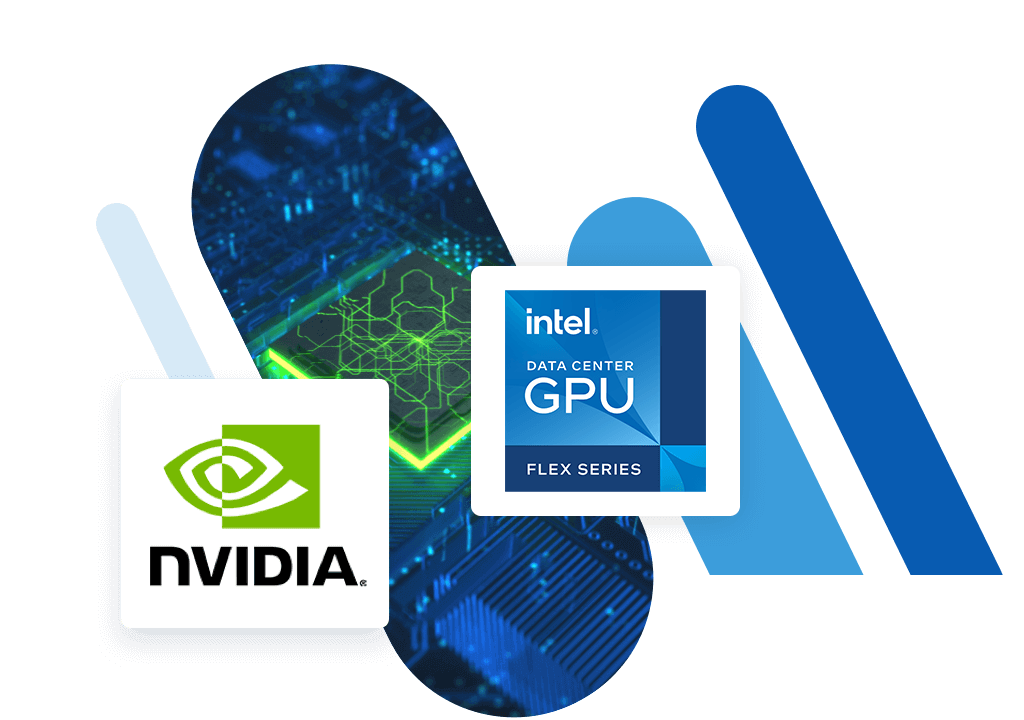 By-the-minute billing
Our GPU servers are billed on a pay-as-you-go basis. That means you'll only pay for the time you're actually using your server, to the minute. There's no minimum contract – just delete your server when you don't need it any more, and billing will stop.
Peak performance
A GPU has a large number of cores that work in parallel to complete tasks in less time. This allows it to process enormous amounts of data very quickly. It also means a big performance boost for compute-intensive tasks.
High security
Your IONOS GPU server doesn't just offer high performance, it's also highly secure. Your projects will run in our ISO 27001 certified data centres, meaning top security standards and peak reliability.
NVIDIA® GPUs
The NVIDIA® A10 Tensor Core GPU, based on NVIDIA® Ampere architecture, delivers outstanding performance for graphic-intensive workloads including AI.
Designed for multiprecision computing and based on the new NVIDIA® Turing architecture, the NVIDIA® Tesla T4 gives you optimal performance for workloads of any complexity.
Processor
RAM
Storage
GPU
Pricing

AMD EPYC™ 7302P

16 cores / 32 threads

3.0 GHz, max. 3.3 GHz Boost

128 GB DDR4 ECC

1,000 GB

(2x 1,000 GB NVMe SSD)

Hardware RAID 1

NVIDIA® Tesla T4

£0.7639 / hour

max. £550 / month

AMD EPYC™ 7313P

16 cores / 32 threads

3.0 GHz, max. 3.7 GHz Boost

128 GB DDR4 ECC

960 GB

(2x 960 GB NVMe SSD)

Hardware RAID 1

NVIDIA® A10 GPU

£0.9028 / hour

max. £650 / month
Intel® Data Center GPU Flex Series
The Intel® Data Center GPU Flex 170 supports an open, standards-based software stack and provides optimal performance for a wide range of uses.
Processor
RAM
Storage
GPU
Pricing
Intel Xeon Gold 5412U 24C/48T x 2.1GHz, max. 3.9 GHz Turbo Boost
256 GB DDR5 ECC

1,920 GB

(2x 1920 GB NVMe SSD)

Hardware RAID 1

Intel Data Center GPU Flex 170

£0.9722 / hour

max. £700 / month
Maximum performance for your workloads
A GPU server is ideal when you need more processing power than a CPU can provide.
Use case
High-performance computing
Process large and complex data volumes quickly and make informed decisions for your business. Whether it's checking user input in real time, automating recurring tasks, or incorporating better forecasts into your decision-making processes more quickly, our GPU servers provide the performance needed.
Use case
Deep learning
Optimise your internal analyses and make even large, complex data volumes easy to evaluate using deep learning. Use the possibilities of AI to eliminate typical sources of error and minimise risks in your processes. With a GPU server, you can evaluate and analyse images, texts and other data better, faster and in a more targeted way.
Use case
Big data analysis
Increase the efficiency of your business intelligence and systematically access large amounts of data. Thanks to the high performance of a GPU server, you can analyse your data in greater depth and be more targeted. Standardise all data from any source, process it centrally, and create a foundation for fast and efficient data evaluation.
You might also be interested in:
GPU Servers
FAQ – Frequently asked questions
Yes, the NVIDIA® T4 GPU used in our servers accelerates a range of workloads including deep learning training and inference. So the servers are perfectly suited for this use case.
Yes, the graphics card used is based on the new NVIDIA Turing™ architecture and therefore includes Turing Tensor multiprecision cores as well as new RT cores. This makes a GPU server the ideal solution for difficult rendering tasks.
GPU servers are a good option for graphic-intensive games, ensuring low latency and a smooth user experience.