Free SSL Certificate
Get a free SSL certificate
Secures data transfers

Avoids browser warnings

Improves your Google ranking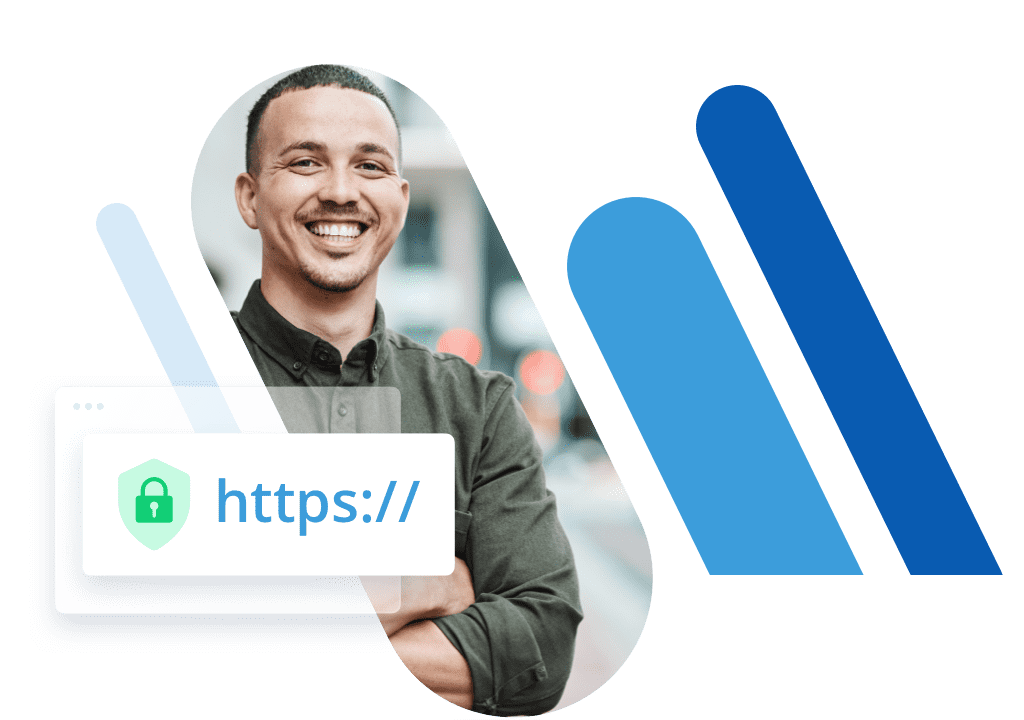 How to get an SSL certificate for free
When you opt for certain IONOS services and products such as domain registration, WordPress hosting, or the eCommerce and MyWebsite website builders, you receive a free SSL Wildcard certificate included in the plan.
SSL certificates are what enable websites to move from HTTP to HTTPS, making SSL/TLS encryption possible, and in turn making your website a lot more secure. It's important for your website to run HTTPS so that Google recognises your website as being trustworthy. Otherwise search engines mark HTTP websites as "not secure". A Wildcard SSL certificate is simply a special type of SSL certificate, which has the ability to secure websites with multiple subdomains.
Free SSL with WordPress hosting
IONOS has helped create over one million WordPress websites with its 30 years of expertise, so see what we can do for you and your website.
Option Nr. 1
A WordPress hosting plan from IONOS comes with many benefits. Not only are you able to launch your own WordPress website and receive your own personal WordPress consultant, but you can also take advantage of super secure hosting including DDoS protection, anti-spam and anti-phishing filters, georedundant datacentres, and a free SSL certificate for your website.
See packages
Free SSL with a domain
Option No. 2
If you
register your domain with IONOS
, you can take advantage of a free SSL Wildcard certificate, helping you to protect your website visitors and to increase your Google ranking. In addition to the free SSL certificate, you get a professional email address and have over 10,000 subdomains to choose from so you will find the perfect one for your website. Bear in mind that certain domain extensions such as .app or .dev only work in conjunction with an SSL certificate, which is another reason to entrust IONOS when registering your domain – our free SSL certificate comes as standard in many of our plans.
Domain with SSL
Free SSL cert with your new website
MyWebsite from IONOS has everything you need to create your own website.
MyWebsite Now is a website builder catering to all skill levels, where you can easily edit pre-designed sections. My Website Now gives you more flexibility and enables you to fine-tune the design, making it best suited for the more experienced. MyWebsite plans also include a free domain for one year, email address containing your domain, a free SSL certificate so your visitors know your website is secure, and much more. Building your own website has never been easier than with IONOS.
See all designs
Free SSL cert with eCommerce
There's a lot to consider when creating a website for your online shop. From the clear and convincing design, to tracking sales, to the shipping process. The
eCommerce website builder
makes light work of your online shop's conception as well as ensuring maximum security, making customers more likely to trust your site. SSL encryption is a must wherever sensitive information, such as credit card numbers and addresses, is being entered, which is why IONOS' plans include a free SSL Wildcard certificate. Your customers can shop with peace of mind.
See packages
Benefits of an SSL/TLS certificate
Protect your data transactions
SSL secures the browser connection between visitors and your website with up to 256-bit encryption. This means all transmitted data is protected from third parties attempting to access it.
Anti-phishing
You can protect your customers against phishing (attempting to gain sensitive data from usernames) with SSL Business/Premium. Not only will our partner DigiCert check that your company owns and has the right to use the domain, but also that your company is registered and in good standing.
Builds trust with your site visitors
You want your visitors to feel confident that you are protecting the information they submit on your website. DigiCert is a global leader in internet security, meaning you have leading SSL security standards at your fingertips.
Better ranking with Google
Google ranks websites with SSL higher compared to sites without security certification. Professionally validated sites can receive up to 6% higher rankings in search results!
Site Seal
Site Seals are tiny images that let your website visitors know that your page is encrypted and safe. Users are more likely to trust websites with this proven and well-recognised symbol for online security.
Browse the internet safely
Our SSL certificates are compatible with all major browsers and mobile devices so your visitors and customers know their data is protected and encrypted.
Free SSL - FAQs
A regular SSL certificate covers only one domain and one subdomain within that domain. This might be sufficient to webmasters that own a single website and don't plan on adding any additional subdomains.
Wildcard SSL certificates, on the other hand, are a special type of SSL certificate, and can cover websites with multiple subdomains, saving you time and money.
When you purchase the Wildcard SSL, you need to place an asterisk (*) before the domain level that you want to encrypt. This signals that all subdomain variants should automatically be covered even if some are added later.
According to Google, having an SSL certificate is the easiest thing a webmaster can do to improve their SEO rankings. Google rewards all website owners with a minor ranking boost when they switch from HTTP to HTTPS, thereby enhancing security measures. With a Wildcard SSL certificate, it's even easier to signal to Google that all your subdomains are secure, which results in more trust from your website visitors.
Setting up your free SSL Wildcard certificate from IONOS can be done directly in the Control Panel. Log in and simply follow these step-by-step instructions to issue the SSL certificate to the desired domain. Once your SSL Wildcard certificate has successfully gone through the validation process, it will be installed in your webspace, and automatically activated.
There are numerous benefits to an SSL Wildcard cert:
The main one being that you show your visitors you take website security seriously by having this maximum encryption, which in turn helps gain their trust.
The SSL Wildcard certificate enables you to secure all your subdomains under one certificate and gives you the possibility to add other subdomains later without having to re-issue your certificate. The certificate grows with your business.
A faster HTTP/2 connection isn't possible without an SSL certificate. Since HTTP/2 is becoming the new standard for websites, enhancing usability and speed, you're more than prepared with your free Wildcard SSL certificate from IONOS.
Another advantage is that you get an SSL certificate for free with certain IONOS products, and it remains free forever, meaning long-lasting security without having to spend a penny.
Couldn't find what you're looking for?
We may still have the ideal solution for you.
At IONOS, you have a dedicated contact person for personalised advice, tips to boost your online success, and technical support. Reach them via phone, chat and email, all at no cost to you as an IONOS customer.
We're always working to improve our customer support, and we're proud to have won several awards. These include Best Customer Engagement Initiative and Best Use of Customer Insight.