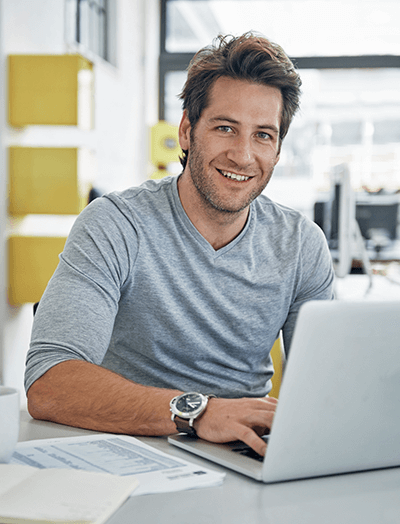 The IONOS Partner Program
WordPress, hosting and cloud products for web pros
Join free for easy client management, exclusive benefits, expert-level support and more.
Join free now
Over 20,000 successful partners worldwide
Join other agencies and web professionals who've found success with the IONOS Partner Program and get benefits, products, tools and expert-level support designed exclusively for web pros.
WordPress, hosting and cloud products for professionals
Get specially configured WordPress, hosting, and cloud infrastructure solutions for agencies, freelancers, web designers and resellers.
Manage your projects and clients centrally and gain new leads
Manage your projects from one dashboard in the Partner Portal and access your client's settings and products.
Post a listing in the Partner Network and get found by prospective clients seeking agencies, developers or web designers.
Specialist support from the experts
Partners get uninterrupted access to support from experienced specialists and product experts. Let us help you find comprehensive, individual solutions for your projects.
Exclusive free trials and activation credit
Get selected hosting products with exclusive partner benefits and put together a portfolio of the most suitable products for you and your customers.
Products and solutions for partners
Specially configured infrastructure and software solutions for agencies, freelancers, web designers and resellers.
Web hosting for agencies and freelancers
Fast and secure web hosting that offers the performance you require. Fully scalable so that you can react to individual demands and spikes in traffic in seconds.
Agency Cloud for all your project needs
Agency Cloud combines scalable, high-performance cloud servers with web hosting tools, giving you the flexibility you need for project-driven workloads.
Cloud IaaS and PaaS
Launch, manage and grow your web projects with state-of-the-art IONOS cloud services that are secure and fully scalable.
WordPress Pro
WordPress for the real heavy hitters. Includes powerful features like Multisite management and staging, AI tested Smart Updates, Varnish caching and more.
The Partner Portal
Connect, adjust settings and supplement a client's products – securely, without the password fumble.
Keep all your settings and info in one place
Manage all your project information in the Partner Portal. Then use this info to better communicate with clients and help you adapt their email, domain and web hosting settings.
You'll never have to juggle multiple client passwords. Your clients gain secure access to their contracts and they'll be able to manage their products directly through the Partner Portal.
Add products and add-ons
Add domains, SSL certificates, web hosting packages or infrastructure solutions to your clients' contracts. Your clients never lose sight of which products you've chosen and bought for them.
Join free now
The Partner Network
Connecting customers to experienced agencies, developers and web designers.
Get found by prospective clients
The IONOS Partner Network is a directory that our customers use to find agencies, freelancers and web designers.
Set up your Partner Profile to present your services and expertise to them. Pick up new projects and help entrepreneurs from diverse fields reach their goals.
Become their partner
And help them build their website and generate traffic, or support them during project planning, on security-related issues or with IT administration.
Do more than just play the role. Collaborate and foster long-term partnerships built on trust and powered by mutual benefit.
Register for free now
Support and consulting from the experts
Partners get comprehensive support during project planning, implementation and optimisation.
Helpful advice from those in the know
Even pros sometimes need help with technical and strategic challenges. Which is why IONOS partners can receive support at any time from experienced specialists and product experts.
Get support during all phases of your project. From planning to optimisation, we'll help you develop individual solutions to any questions you might have.
24/7, 365 Support
By shortening your reaction time, we'll help you ensure that your clients enjoy uninterrupted service and satisfaction. Get help on a range of issues concerning web hosting, email, servers, virtualisation, databases and the cloud, among others.
Join free now
Perks for our partners
Get selected hosting products with great benefits and build your own product portfolio.
Partner trials
Try out selected hosting and server products free of charge for three months.
Partner-only pricing
Special conditions just for partners. For starters:
No setup fees
£300 activation credit on selected servers
Flexible, monthly contract terms
And more
We're always adding special offers tailored to agencies and freelancers. Become a partner now to find out more.
Join free now
Become a partner now
Simplify your work and boost your potential.
Sign up free
Create your account.
If you already have an IONOS account, register with your existing customer details.
Connect to the Partner Portal
Create your partner profile.
Add clients for easier and more secure access to important details. You can also make purchases on your clients' behalf.
Enjoy partner benefits
That's all, well done!
Make the most of our powerful partner packages and tools, and unleash your true potential.
Need more info?
Our friendly team would love to help you find the right product, or support you with your existing products.
Live Chat
Chat with one of our IONOS experts.