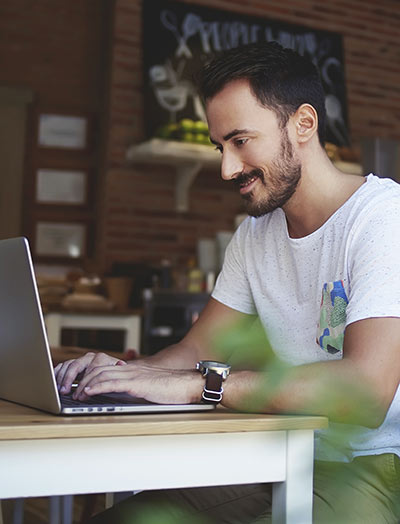 Joomla! hosting
Easily and professionally manage dynamic content
Joomla! webspace includes marketing features and much more
With comprehensive security features
See packages
Flexible and secure
What is a Joomla! hosting service?
Joomla! hosting is an internet hosting service that allows you to make your Joomla! based website available to internet users. A hosting service supplies the webspace on their server that makes your website available around the clock and takes care of all the technical aspects that ensure seamless Joomla! website hosting. Joomla! is known as a powerful web content management system (CMS) based on open source software, and is derived from the Mambo software project.
It is ideal for managing content that has to be continually updated, like text content or corporate applications. The benefit of this kind of CMS is that content can be updated separately from the layout and formatting. If you have basic word processing skills you can easily manage your content on a Joomla! based website.
Hosting package overview
All prices exclude VAT charged at 20%. VAT may be subject to change depending on your country of residence. Terms and conditions
apply
.
Partner Business
For one website or project
---
Only
£
5
/month

excl. VAT
Cancel anytime
Continue
Free domain Included free domain extensions: .co.uk, .uk, .com, .net, .org, .info, .me, .biz, .online.

Performance level 2 with up to 6 GB RAM – scalable At level 2 you have a 640 MB PHP memory limit and up to 6 GB RAM. Upgrade your performance level at any time.

Partner Expert
For multiple large web projects
---
Only
£
15
/month

excl. VAT
Cancel anytime
Continue
Free domain Included free domain extensions: .co.uk, .uk, .com, .net, .org, .info, .me, .biz, .online.
Performance level 5 with up to 19 GB RAM included This package comes with high performance 768 MB PHP memory and up to 19 GB RAM to run a large number of parallel processes.

SiteAnalytics Plus SiteAnalytics Plus helps you monitor site performance more efficiently. Activate it to track visit length, location, browser type, dwell time and more. You can also generate and export PDF reports of key metrics.
All prices exclude VAT charged at 20%. VAT may be subject to change depending on your country of residence. Terms and conditions
apply
.
Countless Features
Quick installation!
The IONOS web hosting packages provide you with the best Joomla! hosting foundation for your site, thanks to our web space being optimally prepared and configured to suit your Joomla! project. As a professional Joomla! hosting service we also supply you with the software you need free of charge in our app centre, where you can find other popular CMS apps, and much more. The software installation requires only a few easy steps and thanks to the unlimited access to the IONOS App Centre you can install numerous other open source apps without having to download them. Additionally, the IONOS Mobile Sitebuilder allows you to optimise your website for smartphones and other mobile devices. Web hosting for Joomla! from IONOS is the convenient choice for you and your website.
Modern content management
Our Joomla! web hosting gives you all the necessary technical requirements to professionally manage your website or project. Joomla! is based on a database that separates the management of content - like text, pictures, and other data - from design and layout, allowing you to edit individual text elements without affecting the entire layout.
The many benefits
With IONOS as your Joomla! hosting provider you benefit from many features: Joomla! includes search engine optimization, full-text search, performance support also for big projects, and the option to expand with components, modules and plug-ins. With the right package, you receive webspace with sufficient data volume and email accounts with plenty of storage. A variety of Joomla! templates facilitate the visually appealing presentation of your content. IONOS offers you more than just Joomla! webspace, it provides you with everything you could possibly need to build and run your project.
Tailored advice. Tips for online success. Technical support. Available via a direct phone number, chat and email. Free of charge for all IONOS customers.
We're always working to improve our customer support, and we're proud to have won several awards. These include Best Customer Engagement Initiative and Best Use of Customer Insight.
Joomla! Hosting
FAQ – Frequently Asked Questions
The biggest advantage of Joomla! is how easy it is to use. The user interface is self-explanatory and well organized, so you don't have to have any prior extensive knowledge of CMS if you choose Joomla! hosting from IONOS. Setting up your own website is uncomplicated and you can create your project step-by-step in line with your vision. Installation is quick and easy, and afterwards you will be able to enjoy the complete range of Joomla! features. Thanks to the ease of use, the creation and management of your own web project is simple, even for beginners. First and foremost, Joomla! is created for users who are not experienced in the fields of programming or content management systems, but still want to set up their own project online.
When you opt for our Joomla! hosting package, our powerful web servers are at your disposal. With IONOS, our webserver and webspace is located on the same platform, and this hybrid technology ensures high performance and faster speeds at all times. In addition to performance and speed, we also take the safety of our servers very seriously. Our diverse security measures guarantee data security according to U.S. standards. Your data is also saved in two separate data centres, which means that your data is available to you at any time. Our glass fiber connection gives you fast access to all your projects. In addition, our numerous IONOS web hosting apps, which you can use to extend your CMS with useful plug-ins, are also operated from our servers. To keep you up to date with all the latest trends, all our apps are continually updated.
The cost of Joomla! hosting varies depending on which option you choose. Our starter package offers you everything you need to take your first steps online: webspace, databases, a domain, and of course our 24/7 support service. On the other hand, our more comprehensive packages give you unlimited storage, so you can create and use large databases, various web apps and other files, giving you boundless possibilities. Our professional options also include more memory to minimize loading times. Furthermore, we offer compromises between these two options, giving you a large number of features for a small price tag. Discover our Joomla! web hosting solutions and find the right package for your project.
IONOS provides Joomla! hosting for two operating systems: Linux and Windows. You don't need to choose the option that runs on the same system as your computer, as Linux hosting works on a computer run on Windows and vice versa. The difference between the two options is the technology. For many experts Linux is the best web hosting system, partly due to the freely accessible tools and use of script languages like PHP, MySQL or Perl. The advantage of Windows based hosting is that it is possible to integrate numerous Windows apps into your website. Active Server Pages (ASP), for example, works particularly well with the system from Redmond. Both solutions are well established hosting options and are recognized for their performance-driven functionality. At the end of the day, it is your needs and demands that should be the deciding factor when choosing the right operating system to achieve the best hosting for Joomla! possible.
Didn't find what you were looking for?
We may have the ideal solution for you.
Live Chat
Chat with one of our IONOS experts.