HiDrive Share
File sharing made easy
Send up to 2 GB of photos, videos and more

No need to register

Keep your files secure
Share files now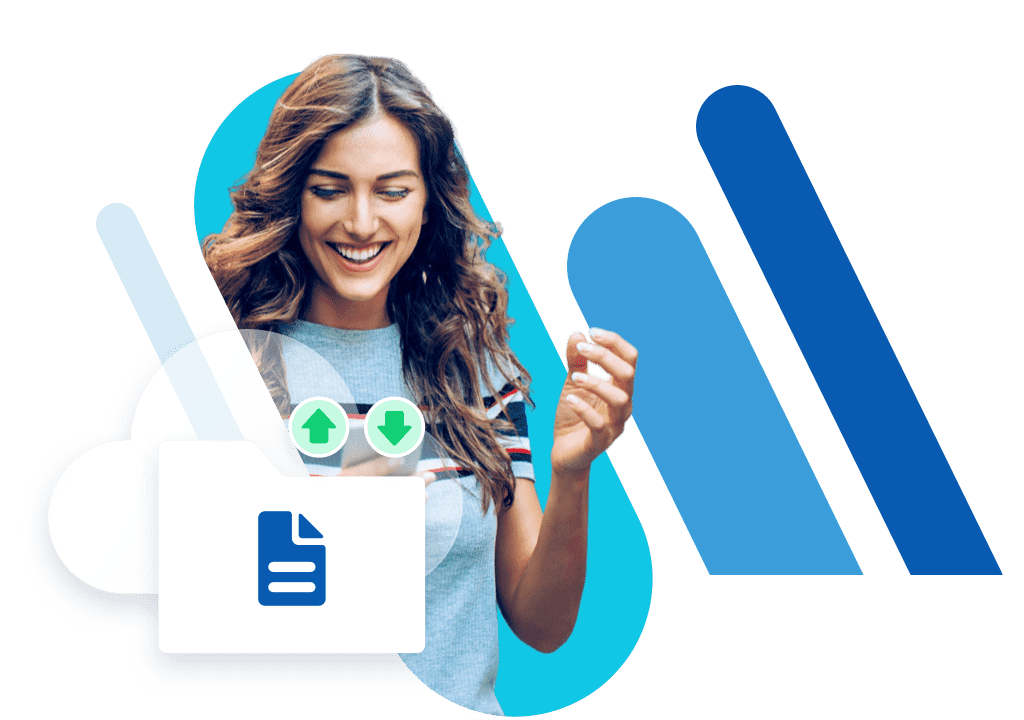 Upload and share files in no time
You'll get a link to send to clients, colleagues or anyone else.
1. Upload your files
Upload files from your browser, on any device. You can share a total of 2 GB at once.
2. Create a link
Generate a download link in one click. The link is valid for seven days – your files will be deleted automatically after that.
3. Share the link
Send the link to give people access to your files. HiDrive Share is suitable for business and private use, and you don't need to register to use it.
Send large files online
The fast and easy way to exchange files for free.
No ties
It's totally free

Use HiDrive Share from IONOS completely free of charge without a contract.

There's no registration

You don't need to enter any personal details, and neither do the people you share files with.

No software needed

HiDrive Share can be used from your browser – you don't have to download any software.
Handy features
Send up to 2 GB of files

Share photos, videos, documents and other files with a total size of up to 2 GB.

Use any device

HiDrive Share works on mobile, tablet, PC and more. So you can use it wherever you are.

No sharing limits

We don't limit the number of times you can use HiDrive or share a link.
Robust security
GDPR compliant

The data storage that HiDrive Share uses meets strict privacy standards.

Secure data centres

Any files you send via HiDrive Share are stored in ISO-certified European data centres.

Automatic deletion

After seven days, all files and the download link will be deleted.
HiDrive cloud storage
Looking for remote working tools?
With HiDrive cloud storage, you can store, share and edit files whenever you want. Files are synced automatically so your team always have the latest versions, and individual access rights keep everything secure.
Learn more
HiDrive Share
FAQ – Frequently asked questions
HiDrive Share lets you send large files quickly and for free online. You can share files via a download link as long as they don't exceed a total size of 2 GB. To do this, you upload photos, videos, documents, or other files to HiDrive Share and then exchange these files with others by sending a download link.
No, neither the sender nor the recipient needs to register to use HiDrive Share, meaning you can send large files for free without registration. As the sender, you access the HiDrive Share website and simply upload the files there. You can then share the unique link created afterwards so that others can download your files. The recipients simply have to click on the link to download them.
Many people use email to send files around the world. But most email services only allow you to send small files – often with an upper limit of between 2 MB and 10 MB. Even if your own provider allows large files, the recipient's provider may not. That's why it's better to consider external services such as HiDrive Share for large data packages, if you're not already using HiDrive cloud storage.
As an example, let's say you want to share a lot of photos. To send large files online, simply go to the HiDrive Share website. Click on the upload button and select the photos you want to share. You can select multiple files. Confirm the upload and create a link. Your photos will now be uploaded. You can then share the unique link that was just generated with friends, acquaintances, or colleagues.
Recipients click on the link to download the photos. The download link is valid for 7 days. After this period of time has elapsed, all files will be automatically deleted from the server.
With HiDrive Share, only you decide who receives the generated download link and access to the data. If you prefer to further protect the data by adding a password, this can be done quickly. Place the desired files in a folder and create a ZIP file out of it. When creating the file, you have the option to encrypt the ZIP file with a password. You can then easily share ZIP files via HiDrive Share.
You then share the password to open the file with the recipients that you have also sent the download link to via email or chat.
ZIP files have the additional advantage that your files are compressed. This reduces the file size and therefore also the upload and download time.
When you share files via HiDrive Share, they are uploaded to a highly secure server and are available for download for 7 days. After this period the data is automatically and irrevocably deleted. Only people who were sent the download link have access to the data during this timeframe.
The servers used for HiDrive Share are all located in Europe – and therefore also comply with high data protection standards including the General Data Protection Regulation (GDPR).
There is no limit to how often you can use HiDrive Share. There is also no limit to the number of people you can share the download link with. You can also make as many files as you like available for download. You just have to make sure that you don't exceed the maximum upload size of 2 GB.
No, you don't need to install any apps or desktop programs to send large files for free via HiDrive Share. You simply access the service via your web browser. It doesn't matter whether you use a PC, Mac, notebook, smartphone, or tablet. The only important thing is that you have a stable internet connection.
HiDrive Share is a simple option for sharing data online for free. The service can be used to share large files with others easily and quickly.
HiDrive cloud storage can also be used to share large files, but that's not all. While data is automatically deleted after 7 days with HiDrive Share, you can use HiDrive cloud storage for long-term data storage. This means that the online storage is also suitable for backups or as an archive. With the cloud storage, you also have the option to manage and organise files. An app is available.
For more information, see the HiDrive cloud storage overview.
Didn't find what you were looking for?
We may still have the ideal solution for you.
At IONOS, you have a dedicated contact person for personalised advice, tips to boost your online success, and technical support. Reach them via phone, chat and email, all at no cost to you as an IONOS customer.
We're always working to improve our customer support, and we're proud to have won several awards. These include Best Customer Engagement Initiative and Best Use of Customer Insight.