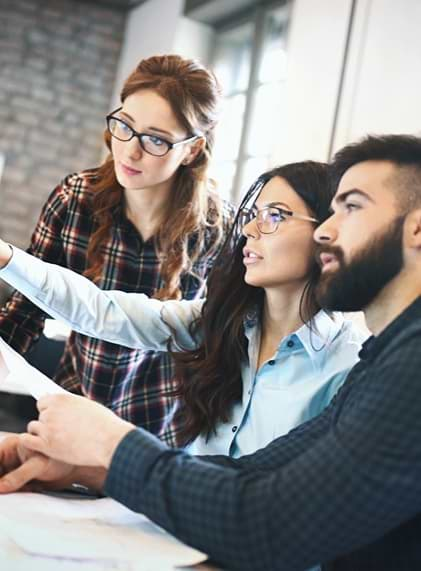 Website Maintenance
Keep your site up to date with our website maintenance service
Ensure your site is fully functional and looks great with the website maintenance service included in the MyWebsite Design Service.
Why a website maintenance service is important
Our support doesn't stop once your site is online
Once you become an IONOS customer by choosing one of our website creation packages, you'll have access to ongoing support from our website maintenance service. For example, we can edit images and text, create exciting promotions, and update contact details in a flash. Of course, you can make changes yourself anytime in the website builder.
The amount of website edits and updates we make will depend on your requirements and chosen package. Our website maintenance service saves your business time and ensures your website looks professional.
As website features can become outdated over time, it's always a good idea to keep updating the design and code. This will positively impact the user experience and ensure that your website has a better chance of increasing traffic, dwell time, and conversion rate, and decreasing bounce rates and even shopping basket abandonment in the case of online shops.
The IONOS website maintenance service includes:
Website edits
As an IONOS customer, you decide the scope of changes and design edits. We'll work with you to make sure your site is the way you envisaged. Our goal is to create and maintain a website that suits your ideas and your budget.
Monthly reporting
We'll keep you informed about what's happening with your website and how to make it better. We'll call you or you can call us! You're also always welcome to contact us with any questions or concerns you have about your website maintenance plan.
Expert consulting
We want to create an open dialogue so we know what you need from our website maintenance service. Individual customers and companies alike can discuss design options with our expert team. Every type of site can benefit from small tweaks and adjustments, from online shops to company websites to a professional portfolio.
Security updates
Our updates are made to keep your website secure against online threats. We also ensure that your site follows search engine guidelines. Another benefit is that you can use the website maintenance service to help you stay on top of industry trends.
MyWebsite Design Service
You build your business while we create your website.
Web design and text from experts
Save up to £200 on the setup fee
Design Service S
Ideal for a straightforward website with minimal edits
---
£
40
/month

excl. VAT
Setup
£199
Continue
Design consultation and a website with 3 customised pages

1 website edit per quarter
Design Service M
Everything you need for a medium-sized website with regular edits
---
£
55
/month

excl. VAT
Setup
£199
Continue
Design consultation and a website with 5 customised pages
Reduced setup fee:
£199 instead of £299
Design Service L
The best choice if you want a large website and frequent edits
---
£
70
/month

excl. VAT
Setup
£199
Continue
Design consultation and a website with 7 customised pages

Integrated video with autoplay
HTML/CSS code adjustments
(2 hours' worth) Website adaptations that require programming, as these can't be implemented using the website builder.

Reduced setup fee:
£199 instead of £399

All prices exclude VAT charged at 20%. VAT may be subject to change depending on your country of residence. Terms and conditions
apply
.
Tailored advice. Tips for online success. Technical support. Available via a direct phone number, chat and email. Free of charge for all IONOS customers.
We're always working to improve our customer support, and we're proud to have won several awards. These include Best Customer Engagement Initiative and Best Use of Customer Insight.
Advantanges of the IONOS website maintenance service
Everything you need for a professional online presence
Need a professional site, but don't want the hassle of having to build and maintain it yourself? The IONOS MyWebsite Design Service is here to help. Our expert team will design your site to suit your industry, with responsive elements that adapt to look great on any device. What's more, your website will be hosted by us, one of the fastest web hosts in the country, and our server shield technology and georedundant infrastructure keeps your site running smoothly and safely.
By allowing someone else to create and update your website, you can save time and energy that can be invested in your business or hobby. Everyone can benefit from our website maintenance service, including freelancers, small businesses, mid-sized companies, and bloggers. You'll also get bonus features like search engine optimisation assistance, social media widgets, a free lifetime domain, responsive design, and an SSL certificate. All this helps gain new visitors and improve rankings on search engines like Google and Bing.
Once your site has been created, the website maintenance support phase kicks in. We can update your site to ensure it always looks and functions as smoothly as possible, year after year. As an IONOS customer, you'll have access to a control panel where you can see all the statistics regarding site visits and clicks. This way, you can keep track of your website's performance.
Contact our expert team today and we can start work on your brand new online project or begin editing your current site with our website maintenance service.
Didn't find what you were looking for?
We may have the ideal solution for you.