Build your foundation on a .org domain
Only
£
1
/1st year

excl. VAT
Passionate about a cause? Spread the word with .org.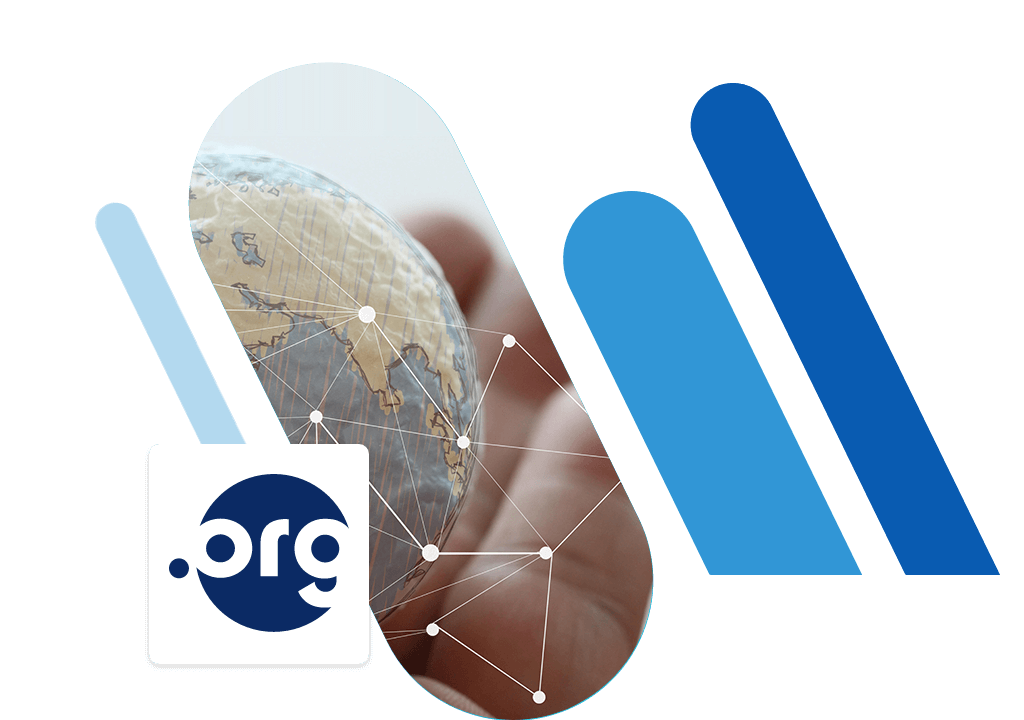 Why register a .org domain?
The home of non-profits
Whether it's a not-for-profit organisation, community group, political party, charity, environmental cause or association you want to promote, a .org domain is the natural home for your group's online presence.
.org domains inspire trust
Thanks to its association with charitable causes, .org domains provide a great launch pad for content that is unbiased and fair. Your site's domain extension will signal to visitors that your content is reputable and trustworthy.
Fast track your fundraising
Your .org provides the perfect location for your fundraising page by showing that your website is dedicated to your organisation's mission. Gain your donors' trust with a .org domain.
Get your voice heard with a .org domain
Behind the name
The .org domain extension was established in 1985, initially as the domain address for non-profit and non-commercial organisations. Since 2003 it has been operated by the Public Interest Registry. Famous organisations with .org domains include Wikipedia, the World Wildlife Fund, UNICEF and the International Committee of the Red Cross.
Dedicated to people who care
Though it's now available to everyone, the .org domain extension is especially suitable for non-profit organisations and causes. These include sports teams, schools, clubs, university societies, community activities, political organisations, open-source software projects, environmental groups and voluntary projects.
How can I register my .org domain?
Securing your very own .org domain with IONOS couldn't be easier. First, you will need to ensure that your domain name is available. You can do this by simply entering your desired name into the search bar at the top of the page. If the domain name you selected isn't available, you will be provided with several similar alternatives. For example, you might get a recommended synonym or slight variation of your chosen name. Once you've selected a domain name, it's then just a matter of following the simple registration instructions.
The .org domain is open for anyone to use — providing a powerful stage for organisations, associations, clubs, businesses and individuals to share their inspiration with the world. This original open domain is where millions of websites connect people to their shared interests and passions.
Couldn't find what you're looking for?
We may still have the ideal solution for you
At IONOS, you have a dedicated contact person for personalised advice, tips to boost your online success, and technical support. Reach them via phone, chat and email, all at no cost to you as an IONOS customer.
We're always working to improve our customer support, and we're proud to have won several awards. These include Best Customer Engagement Initiative and Best Use of Customer Insight.
Not just a domain name
Register your domain with IONOS and benefit from our comprehensive features.
Email
A professional email address (for example: me@mycompany.co.uk) connected to your domain with 2 GB of mailbox space to start. Upgrade anytime for more space.
Security
For reliable protection of your website visitors and to increase your ranking on Google, one wildcard SSL certificate is included per contract.
10,000 subdomains
Up to 10,000 subdomains to customise and structure your website, for example: news.mycompany.co.uk.
Easy setup
One-click activation makes it easy to connect your domain with email, hosting, or social media profiles.
Domain lock
The domain transfer lock ensures your domain cannot be transferred by unauthorised third parties.
24/7 customer support
Our professional, knowledgeable support team is always available for help and advice, 24/7.
Live Chat
Chat with one of our IONOS experts.