The dedicated .store domain for online and retail outlets
Only
£
1
/1st year

excl. VAT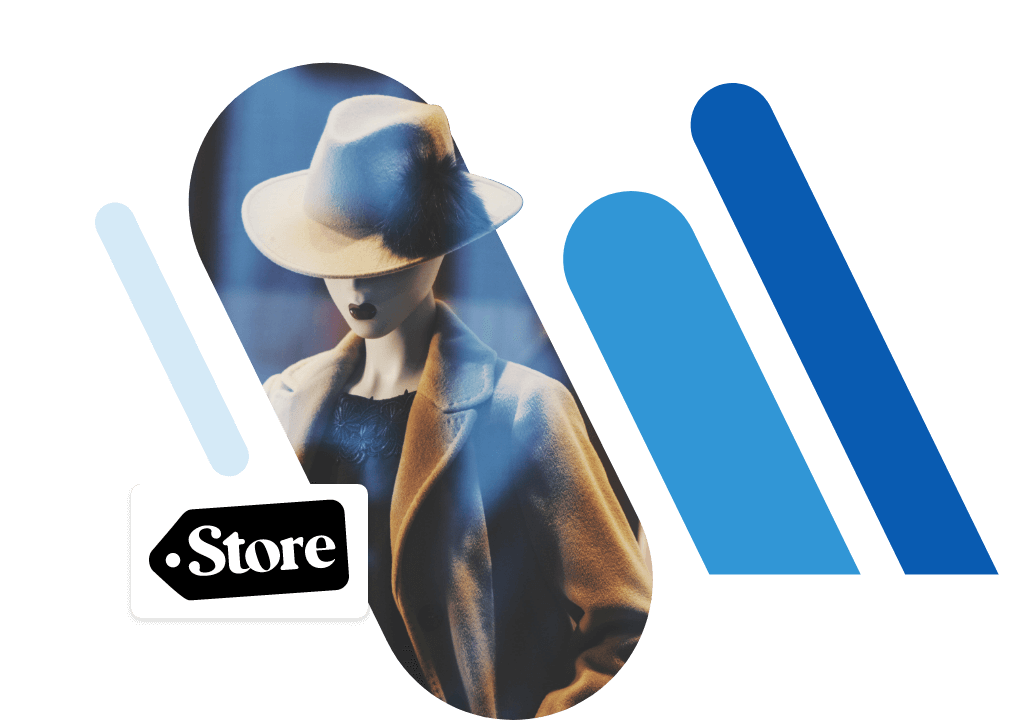 Show your customers that you're a .store
Secure your online shopping identity by reserving a .store domain name with IONOS
In the competitive world of online shopping, it pays to develop a unique identity and, when you reserve your .store domain with IONOS, you will be among the first to take advantage of the perfect domain name for your eStore. Stay one step ahead of the competition by using IONOS's simple reservation service to ensure you have your choice of the most suitable domain names for your product. Whether it is classic cars or cutting edge computers, reserving your domain name with IONOS is easy. Don't miss your chance to own a retail dedicated domain name such as www.pc.store or www.classiccar.store.
Reserve a .store domain name and promote your online shop window
Push your virtual shop window forward with a .store domain name from IONOS and benefit from a potential increase in product exposure and website traffic. Customers will instantly recognise your website's purpose allowing them to shop with confidence and a sense of security. Take advantage of IONOS's free, no obligation reservation service to ensure you have first refusal on the most suitable domain names for your eStore. The option to reserve multiple domains will give you increased control in a competitive market. Sports retailers should take a gamble on www.athletes.store or www.racing.store and be first across the finish line.
Didn't find what you were looking for?
Maybe we still have the right solution for you.
.store domain
FAQs - Frequently asked questions
Customers will quickly and easily find your eStore, allowing them more time to focus their efforts on choosing the perfect product. Register your .store domain with IONOS and begin creating your dream eStore that guides your customers exactly where you want. Once you have reserved your desired domain names, IONOS have made the registration process quick and simple for whichever .store domain you decide upon. This intuitive process allows you to focus upon your products and customers, rather than the technicalities. Budding fashion designers should head to the virtual fitting room and try www.style.store or www.hautecouture.store on for size.
Registering your perfect .store domain name couldn't be easier with IONOS and their integrated registration process. With just a few clicks you'll take ownership of a domain name that effectively speaks to your customers and differentiates your eStore from other websites. Your unique and memorable .store domain name will allow customers to find your eStore quickly and easily, and will provide an appealing platform for renewed custom and return transactions – in fact your eStore will never be far from your customers mind. Why not give your customers the chance to bag a great deal with www.discount.store or www.bargain.store. Your desired .store domain is not available? Check out our .shop domain alternative.
Live Chat
Chat with one of our IONOS experts.