MyWebsite Design Service
We create your website for you
The easy way to get a professional online presence

Build your brand with your own domain name and email

Includes maintenance and updates after your site is live
Free consultation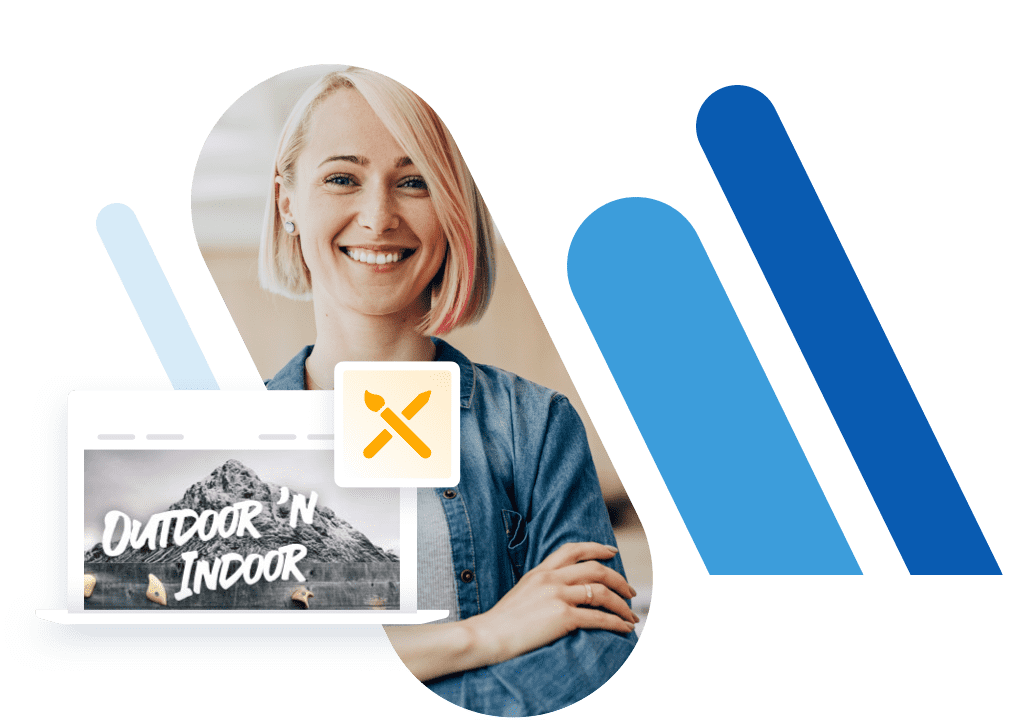 From idea to online in three steps
Discussing your vision
No need to order straight away – give us a call first for a no-obligation discussion. Once you've decided, we'll have another consultation to talk about your requirements in more detail.
Building your website
Our team is made up of specialists in different areas, like copywriting, design and search engine optimisation. They'll use their expertise to create the website you want.
Getting your site online
You'll get to see the first version of your new site within a few days. Let us know about any changes you want us to make, then your site is ready to publish.
Meet your design team
Our experts are here to create a custom website that's perfect for your business and optimised for search.
Want to know more about the team? Meet the people behind your new online presence in this short video.
Free consultation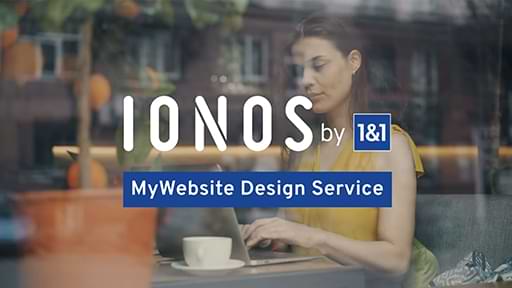 Leave it to our experts
Our design team will build you a great-looking website that matches your business, brings in customers and ranks on Google.
Our expert team
We'll build your whole website
Our designers and copywriters will create a website with up to seven subpages. These can include a home page, company profile, and product or team pages. Further pages can be added on request.
Search engine optimisation (SEO) experts ensure that your website is also easily found on Google.
We'll help create logos and find appropriate images, and if you'd like to use an existing logo, just let us know so we can implement it.
All the important details are available to download as a PDF.
The finishing touches
Your business looks better than ever
After we've created your website, we'll check the content, talk you through each page one by one and discuss the next steps. Once you've given it the OK, we'll help you put it online.
Once your website is online, you can easily edit it yourself – or just give us a call and we'll make the changes for you.
Maintenance service
Keeping your site up to date
Change is good. That's why we'll continue to be there for you even after your site has been published. No change is too small or too big.
We can update contact details, advertise current offers or exchange any of the images used on your website.
If you'd rather make the changes or add content yourself, that's no problem. Once your site has been published, you'll be given direct access to the website builder.
More than just a website
We plan, create and maintain professional websites that strengthen your brand, reach new customers and help tell the world your story.
Built by experts for your users

As ease of use is essential for successful websites, we not only optimise the design but also the overall user experience.

Stunning templates

Choose from a huge range of templates for all industries that look great on tablets, smartphones and PCs.

Domain and email

Generic free email addresses are fine for private use, but a business email matching your domain will convey much greater professionalism.
Search engine optimisation

We optimise all content for search engines (SEO), improving your visibility on Google and increasing your site traffic.

Powerful platform

You'll be able to edit your website, access your emails and add other products via the IONOS platform.

Multiple languages

Reach a global audience with automatic translation. Your website will be available in 60 languages.
Privacy built by experts

Our team will help you create a cookie notice, privacy policy and legal notice if needed.

Secure with SSL

Your website is secured by SSL and 256-bit encryption, protecting your visitors and improving your Google ranking.

Hacker-free zone

Rest assured – our systems are always up to date. Your website is protected against unauthorised access by automated security checks.
Sample websites
Check out what our team can do and get inspired.
Behind every successful website is a professional design
Get started with engaging design templates for all industries that are optimised for all devices. The responsive design means your website will look great no matter what device your visitors are using.
See all examples
Get your website built by experts
Design Service S
Ideal for a straightforward website with minimal edits
---
Only
£
40
/month

excl. VAT
Setup
£199
Continue
Website builder included Make changes to your website yourself once it's online.

Design consultation and a website with 3 customised pages

1 website edit per quarter 1 website edit made by the design team per quarter.
Design Service M
Everything you need for a medium-sized website with regular edits
---
Only
£
55
/month

excl. VAT
Setup
£199
Continue
Website builder included Make changes to your website yourself once it's online.

Design consultation and a website with 5 customised pages

1 website edit per month 1 website edit made by the design team per month.

Reduced setup fee:
£199 instead of £299
Design Service L
The best choice if you want a large website and frequent edits
---
Only
£
70
/month

excl. VAT
Setup
£199
Continue
Website builder included Make changes to your website yourself once it's online.

Design consultation and a website with 7 customised pages Request more pages any time.
Unlimited website edits Unlimited website edits made by the design team.

Reduced setup fee:
£199 instead of £399
Integrated video with autoplay

HTML/CSS adjustments
(2 hours' worth) Website adaptations that require programming, as these can't be implemented using the website builder.

MyWebsite Design Service contract details
Minimum contract duration
12 months / Contract renews for one month
Billing
Monthly
Cancellation
Cancel at the end of the minimum contract term, then anytime afterwards.
Reduced setup fee
One-off payment of £199
Option
At the end of the minimum contract term, you can choose to keep using the MyWebsite website builder for a small fee, without the Design Service.
All prices exclude VAT charged at 20%. VAT may be subject to change depending on your country of residence. Terms and conditions
apply
.
Need an online store?
Get it built by experts while you focus on selling even more.
eCommerce Design Service
Our team will build and maintain an online shop that's tailored to your business.
The service includes:
Online shop with 3 pages, 10 products and 10 product detail pages
Setup of payment and shipping methods
Facebook & Instagram Shop integration
Full training on how to use your online shop
Unlimited maintenance, edits and updates
Get started with a free, no-obligation consultation.
Learn more
Websites designed by IONOS
FAQ – Frequently asked questions
It's simple:
Letting someone else create your website will save you loads of time and creative energy. With us, you can invest your time and ideas into making your business profitable instead. Our custom-made website service is perfect for the self-employed, freelancers, small businesses and midsize companies. It's for anyone who needs a professionally designed website, but doesn't have the time or personnel to accomplish it.
You'll also get professional search engine optimisation (SEO) for your website. Your site will not only look good, but also will have the correct metadata, descriptions and SEO text that will help your site rank on Google as well.
Interested in having a website built? You can reach us at 0800 021 1693 and we'll get started after asking you a couple of questions about your needs.
You can also order directly from the website and a design service expert will contact you within 48 hours.
The best part is that you won't need to take care of anything by yourself unless you want to. Not only is your website created by professional web designers, we also advise and support you before, during, and after your website goes live on the Internet.
Here's how it works:
When you order from our website, you'll be contacted by our design service expert within the next 48 hours. You can either tell us about your website's content in this call, or you can make an appointment to discuss everything at a later date. As well as ordering online, you can call us directly. You will find our contact number on this page. You will then receive a free initial consultation.
Afterwards, an expert will go over the step-by-step procedure so you can see the basic structure of your new website and come up with a rough design using a visual mock-up on your PC or phone.
Based on these ideas, your dedicated web designer will then create your new website.
As soon as it's ready, we will discuss it with you and make any minor changes and adjustments that may be necessary.
Our goal is to create a website that fits your wishes and ideas perfectly. As soon as you tell us that you are happy with how your website looks, we'll help you publish it online and it'll be visible on search engines like Google or Bing.
Creating your new website and getting it live is only the first step to Internet success. And so your website stays up to date, we'll – depending on the package you choose – make regular edits and changes at specific intervals. You can use the intuitive IONOS MyWebsite Editor to make any changes by yourself at any time you like.
Even if you already have a website, you're in the right place. For example, we can reuse and re-purpose the content and pictures from your old site according to your needs. Even if you simply want to transfer your domain, we are happy to help and will also register a free second domain so that the transfer is fast and smooth. We can also advise you as to the best SEO domain name (URL).
You can voice all your design wishes in a personal chat with our expert. You can also choose one of our templates and thereby make use of our image catalogue with thousands of industry-specific images.
Once we start working on your custom-made website, we'll show you your first draft as soon as possible. After finding out your needs and ideas, our experts will try to achieve an optimum result for you with minimal revisions. However, how quickly your custom-made website is ready also depends on you. The faster you provide us with all the important information (e.g., for the legal notice) and your own text or pictures, the faster our professionals can build your website and get it live. If you allow IONOS to create your website, all of the doors to the web will soon be open to you.
We make sure the pages of your website are search engine optimised (SEO) so that they can be found by search engines such as Google or Bing. If you wish, we can also create texts for you – or we can upload those that you send to us.
So we've built you a professional website and it's online for the world to see. Now the most interesting phase begins, which includes optimising and updating your site. Optimising your site's text and updating your content regularly will help keep your site relevant for search engines and increase the chances that new visitors will find you and share your content.
If you need help, products like rankingCoach can teach you to do this and help you stay on top of the latest Google trends and updates. Before you know it you'll be building and optimising more websites!
Once our web designers are finished with your website, you will get access to our control panel. That's where you'll see how many visitors you've had to your website, and how this number has developed over time.
Couldn't find what you were looking for?
We may still have the ideal solution for you.
Live Chat
Chat with one of our IONOS experts.