Work together online
Smarter remote working with cloud collaboration
The right office tools can help you increase your productivity, work more flexibly and save time.
Compare the options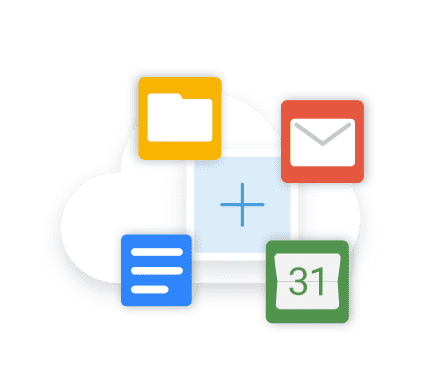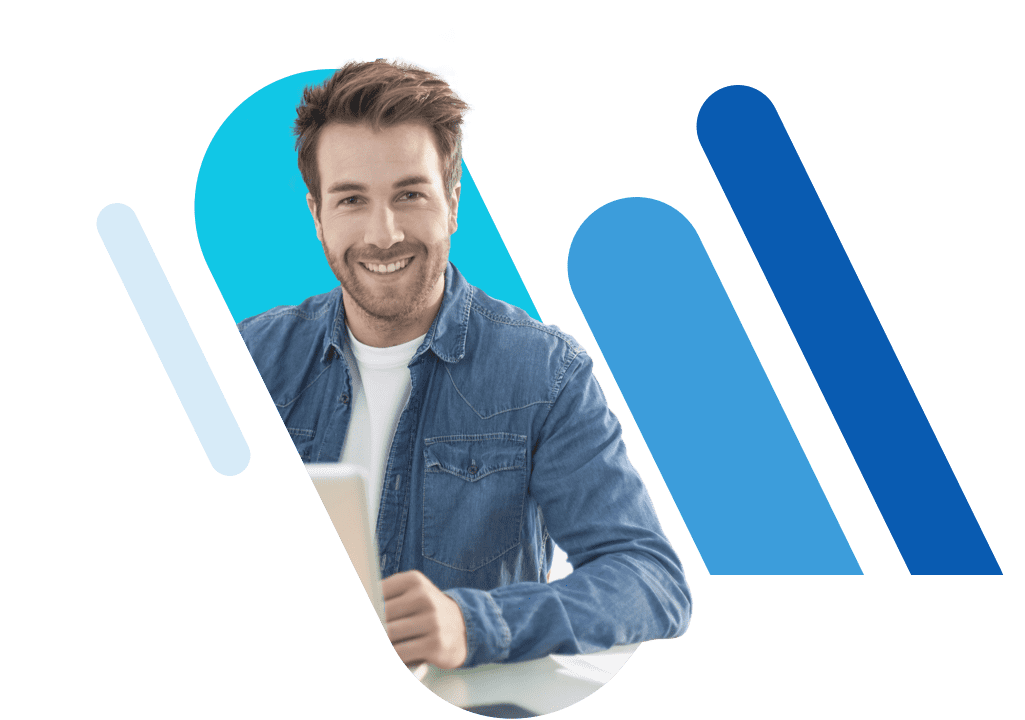 Working from home? Try cloud collaboration.
We know you love emailing, in fact we all do. But what if there was a way to take that simplicity and expand it to other ways of working together online, whether you're in the office or telecommuting. Like having one central storage location where you're always able to find, access, edit and share documents quickly. Or chat and video features that allow you to respond in real-time and share presentations online and in person. Cloud collaboration tools support you in doing this and more, plus all software updates are automatically taken care of, free of charge.
Google Workspace – collaboration redefined
Connect and communicate
Show your customers you mean business with a professional email address from the new-look Gmail. And with Hangouts and Hangouts Meet, you can keep in touch with customers and colleagues on the go via chat and video conference.
Collaborate in real time
Enjoy seamless teamwork with uninterrupted access to documents, calendars and projects, regardless of location. Real-time synchronisation keeps everything up to date and makes remote working easy.
View Google Workspace
Microsoft Office 365 – the Office you know, but better
Tried and tested tools – online and offline
Access familiar programs like Word, Excel and Powerpoint online, and store up to 1 TB of data in OneDrive.
Hassle-free communication
Keeping in touch via Outlook, Microsoft Teams or video conference is easier with the address book and calendar features.
The latest versions on all devices
Install Microsoft Office tools on up to 5 devices per user. This includes Office for PC and Mac, the latest apps for android and iOS, and browser-friendly versions.
View Microsoft Office 365
Which teleworking product is right for you?
Our office tools at a glance.
| | | |
| --- | --- | --- |
| | Microsoft 365 | Google Workspace |
| Price | Starting at £0/monthexcl. VAT | Starting at £0/monthexcl. VAT |
| Business E-Mail | Outlook | Gmail |
| Storage | up to 50 GB for emails and 1 TB for data | From 30 GB up to 2 TB for emails and data |
| Data centre location | Data stored in the EU | International (No selection possible) |
| Chat & Video Conferencing | | |
| Calendar and Contacts | | |
| Online office tools | | |
| Offline office tools | | - |
| Domain | Free domain first year | Free domain first year |
At IONOS, you have a dedicated contact person for personalised advice, tips to boost your online success, and technical support. Reach them via phone, chat and email, all at no cost to you as an IONOS customer.
We're always working to improve our customer support, and we're proud to have won several awards. These include Best Customer Engagement Initiative and Best Use of Customer Insight.
Remote working solutions
FAQ – Frequently Asked Questions
Office solutions are practical software programs that can digitise and systemise a large part of office work. Time-consuming routine tasks are made simpler and are carried out more efficiently, and some are even automated. This not only saves time and money, but also has a positive effect on productivity. However, it's not just small companies with a few employees that can benefit from office solutions like these. Even a company with an ever-growing number of employees, customers, and projects can be efficiently mapped using specialised office software – making it easier for you to keep track of everything.
Many office suites can be used as powerful and flexible team software. These programs make it possible for you and your employees to work together online in real-time, as well as enabling file sharing, mind-mapping tools, accessing shared calendars, instant messaging, email, and management features - regardless of the time of day or location. Benefit from fast and direct exchange of current data - via the cloud, for example.
Office solutions are ideal for companies and institutions of all sizes and are often advantageous for private users who value efficiency, convenience, and teamwork. They can help employees work together more easily when telecommuting,
The advantages of cloud collaboration are obvious when it comes to time, flexibility and accessibility. There is no longer any need to send emails with important attachments back and forth, which is time-consuming and confusing. The most up-to-date versions of all your files and documents are always available to all authorised users. Even large amounts of data can be easily and quickly moved between mobile and stationary terminals and stored conveniently to be accessed when required. In addition, your team can access important data from anywhere at any time as long as there is an Internet connection, so telework is no problem. This is why digital Office alternatives like these are also aptly described as collaboration software or teamwork software.
If you choose Microsoft 365, you can continue to enjoy the full functionality of popular Office apps such as Excel, Word, PowerPoint, etc. in the cloud. With this version of the complete Microsoft Office suite, you can experience networked working in a familiar environment and simply continue to use well-known features of the offline versions online as web applications, in the form of efficient and powerful collaboration software with cloud support. With Office 365, for example, you can use Microsoft Teams for chats and video calls in order to coordinate and network within your team as well as with customers.
Alternatively, you can always choose another office solution such as Google Workspace. With these option, you will find an alternative to Microsoft Word, Excel, etc. that you can use to create texts, tables, calculations, and more. In Google Workspace these are called Docs, Sheet, and Slides.
Apps such as Hangouts Chat and Hangout Meet on Google Workspace enable you to communicate via messaging and online conferences. In addition, Gmail is available as an Outlook alternative.
No matter which professional office suite you choose: with IONOS you will find the right package with enough storage space for your needs. This will enable you to create a powerful, efficient basis so you can conveniently work together with your team online.
With Microsoft 365, you have popular apps at your disposal all coming from a single source as well as a complete office suite that has set the standard in office software for decades. Web applications, PC versions, and mobile apps can be accessed when needed so you can swap around depending on your mood. The only "disadvantage": the top dog may even be too extensive for some teams.
Google Wirkspace is also a good choice for users who want a complete, platform-independent office solution and want to collaborate directly and seamlessly with colleagues and customers online - on documents, calendars, and projects.
Whatever you choose, if you opt for a professionally hosted office suite from IONOS, you can rest assured that you won't be bombarded with any advertising. In addition, you will not receive any supposedly free basic packages whose range of features is so limited that you're forced to upgrade to paid premium functions before you can even do anything. With us you receive premium services right from the start - reliably and permanently, for a decent monthly price.
Data protection and privacy are among the most important aspects and we are particularly committed to these. If you choose one of the office solutions from IONOS, you are making an excellent choice when it comes to data protection and privacy. Depending on the product, your data will either be stored automatically in one of our state-of-the-art and security-certified European data centres, meaning it is subject to GDPR and European data protection regulations, or you can choose the server location yourself. Additionally, thanks to our georedundant structures, you get maximum fail-safe performance. This means that your data is stored in several separate locations.
Didn't find what you were looking for?
We may still have the ideal solution for you.
Live Chat
Chat with one of our IONOS experts.