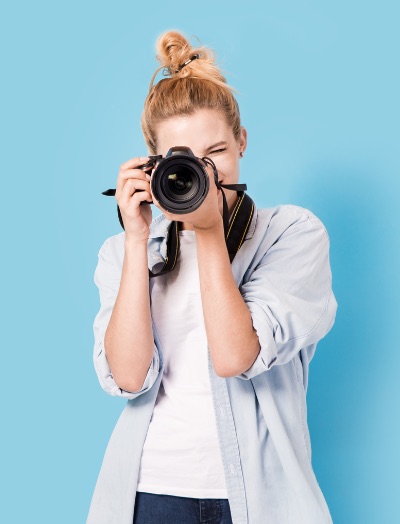 Portfolio website
Put your portfolio in the spotlight
Building your own online portfolio is easier than ever with MyWebsite Now.
Showcase your skills, get found and grow your business.
Get started
The quick way to share your work
Choose a template
Decide which template best sets the stage for your work. You can make it your own later.
Show what you do
Add descriptions and images of your work. Supplement with professional stock photos if you like.
Finalise the design
Customise your website's layout, colour scheme and typography. Check the preview, then publish.
Win over new customers
Get an impressive result with minimum effort.
A portfolio page is all about showcasing your skills so you can find new clients. This means your work needs to look its best.
MyWebsite Now makes this easy. Choose from a selection of designer-made templates and customise the sections in a few clicks.
Instantly switch between different layouts and light modes so your portfolio images stand out.
Make your descriptions eye-catching with modern fonts optimised for readability.
Quickly edit your navigation and SEO content to boost your website's search engine ranking.
Creating a portfolio with MyWebsite Now
Building a professional website for you or your business takes just a few minutes with MyWebsite Now.
Please note:
Third-party cookies are required to view this video.
Need more inspiration?
Give your imagination a springboard with designer-made templates.
Artist
Whatever your medium, spread the word about your work with your online portfolio. Perfect for tattoo artists, musicians, models and more.
Designer
If you're a designer or architect, this template is ideal for presenting examples of your projects. Add testimonials for extra credibility.
Photographer
Give your photographs a simple backdrop with this elegant template. Keep your texts short for maximum impact.
Build your portfolio with MyWebsite Now
Includes a domain and professional email
Awesome out-of-the-box websites – suitable for everybody

---
1

st month
Free
then
£5
/month

excl. VAT
Continue
New visual editor designed for easy editing. Everyone can achieve great results, fast. Create your own stunning website in minutes. Includes all the tools you need to build a site that showcases your business, portfolio, club or hobby.Close
Quickly build your website with easy-to-use sections. Apply pre-set styles to sections for instant customisation.

Create a professional-looking site, whatever your skill level.

Change the design of your site in a few clicks with ready-made colour palettes, shapes and font styles.

Free domain for 1 year First year domain offer only valid on initial purchase of a 12-month contract. Included free domain extensions: .co.uk, . uk, . com, . net, . org, . info, . me, . biz, . online.Close
Free SSL certificate MyWebsite Now includes an SSL certificate that automatically encrypts traffic to and from your website, so your visitors know your site is secure.Close
Email included Create a professional email address based on your domain. For example: contact@my-domain.co.uk.Close
Prices excl. VAT may be subject to change dependent upon your country of residence. Terms and conditions
apply
.
Didn't find what you were looking for?
We may have the ideal solution for you.
Portfolio website
FAQ – Frequently asked questions
A portfolio website is a great way to present your work online. This could be artwork from your studio, music, books, illustrations or anything else you've been working on. An online portfolio makes it easy for potential customers to find out about what you do, and contact you if they're interested in your services.
A portfolio website is suitable for anyone who wants to find new clients and showcase their work, products, services or experiences online.
You can use an online portfolio as your digital business card, and give an overview of the products or services you offer. Whether you're a photographer, artist, graphic designer or musician, a portfolio allows you to show off all your best work in one place.
My Website Now makes creating your online portfolio simple. You don't need any programming experience, so it's ideal for beginners.
Your portfolio website needs to look professional – a well-presented site will make a good impression on potential customers. For this, your website also needs to be responsive so it displays properly on any device. MyWebsite Now makes this easy with designer-made templates that can quickly be customised. Add images of your work and text in a few clicks. MyWebsite Now is also optimised for mobiles so you don't have to worry about any display issues.