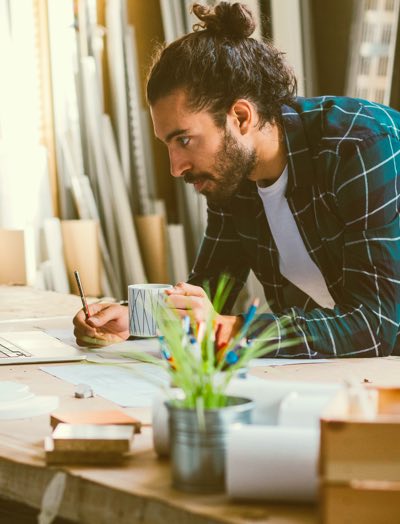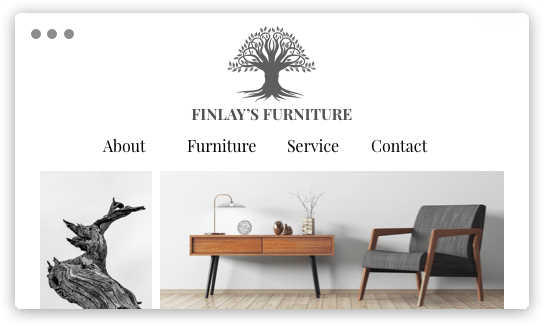 High quality, cheap websites with IONOS
IONOS' user-friendly and comprehensive website builders are designed with accessibility and efficiency in mind, so you can build and edit any aspect of your site quickly and easily.
Get the first month free , then pay just £5/month.
See packages
Can a cheap website really be a good website?
Cheap website design doesn't mean low quality!
We recognise that owners of businesses both large and small take the image and reputation of their enterprise very seriously, and rightly so, but also want their online solutions to be cost-effective. Therefore, the IONOS cheap websites for businesses are designed to be great value, but budget-friendly, for presenting your brand online.
You have everything you need to make a great impression on your customers when using our cheap website builder. The combination of templates and the website editor makes it easy to create a visually appealing site. In addition, responsive designs come as standard, so your site is automatically ready for mobile and tablet viewing.
You can also access a wide array of widgets to cater for your every need, so no external purchases are necessary to improve the features and functionality of your cheap website for business. Even an email account is included with the package, so you really have all you need to make your website a success without breaking the bank.
Select your website package
All the webspace you need
Now
For beginners who want to get online quickly

---
3

months
Free
then
£9
/month

excl. VAT
3

months
Free
then
£19
/month

excl. VAT
Create a website easily – no experience needed
Free domain for 1 year Domain free for 1 year when selected in original order. Extensions: .co.uk, . uk, . com, . net, . org, . info, . me, . biz, . online.
Email included Create a professional email address based on your domain. For example: contact@my-domain.co.uk. You can add more addresses at any stage.

Professional templates, colour schemes and sections for intuitive editing

Make design changes with one click

Creator
For experienced developers, designers and agencies
---
3

months
Free
then
£15
/month

excl. VAT
3

months
Free
then
£25
/month

excl. VAT
Powerful editor with full design freedom

Free domain for 1 year Domain free for 1 year when selected in original order. Extensions: .co.uk, . uk, . com, . net, . org, . info, . me, . biz, . online.

Email included Create a professional email address based on your domain. For example: contact@my-domain.co.uk. You can add more addresses at any stage.

Extensive customisation options for full design freedom, incl. HTML/CSS

Dynamic websites Video backgrounds, animations, parallax effects

Social media and business widgets

All prices exclude VAT charged at 20%. VAT may be subject to change depending on your country of residence. Terms and conditions
apply
.
Affordable website design
You don't have to start from scratch. Get going with stunning designs featuring imagery and text content tailor-made for your industry or idea. Individualise as you wish with ease. All templates are responsive and mobile-friendly, so you can present yourself in style – on a smartphone, tablet, and desktop.
MyWebsite widgets
Enhance your site with interactive business apps.
Maps & route planner
Make it as easy as possible for potential customers to find your business with the Google Maps app.
Multiple languages & locations
If you operate internationally, just turn on the multi-language function. Easily manage multiple locations of your business.
Customer reviews
Create a dialogue between you and your customers. The customer reviews app lets you react directly to feedback about your business.
Photo gallery
A picture is worth a thousand words: Upload event photos, document the progress of your project, or share any image that tells your story.
Opening hours
Let your customers know exactly when they can reach you with a dedicated, seamlessly-integrated section.
Online scheduling
Make your phone stop ringing: your customers can easily make reservations or appointments for your services on your website.
Why choose our low price website builder?
From choosing your domain to improving your SEO and carrying out multiple backups – we've got you covered.
24/7 customer support
Local teams of specialists provide customer support around the clock. Use live chat to contact us immediately.
Highest security
Our georedundant data centres ensure airtight security and peace of mind.
Comprehensive solution
Our all-in-one solution provides everything your business needs to be successful online.
Premium images
No more hunting for cheap stock images and having to compromise on quality — IONOS provides all you need. When you choose the Basic package, or higher, you will immediately have access to a wide selection of high quality images to bolster the look of your website. No matter what the theme or purpose of your site, the image archive will have you covered, with highly relevant images for a wide range of industries. This way, you can present the brand image you desire, without breaking the bank!
Online photo editor
Another testament to the simple but powerful editing capabilities possible with IONOS websites, the photo editor offers tools not typically found with cheap websites for businesses. All within the same website builder package, the editor allows you to adjust the size, sharpness, alignment, and many more aspects of your images. Because all this functionality is accessible in the same place, and in tandem with the IONOS image archive, a professional look and feel to your website is easy to achieve.
Optimised for every device
IONOS cheap website builder for small businesses doesn't entail cutting corners of any kind, including screen space. At a time when so many web users are browsing on tablets and smartphones, it's vitally important to ensure all your visitors have the same high quality experience, regardless of what device they use. IONOS takes care of this for you, using a responsive design, so you don't have to give it a second thought. Your site will look as great, and function equally well, on desktop PCs, smartphones and tablets.
Tailored advice. Tips for online success. Technical support. Available via a direct phone number, chat and email. Free of charge for all IONOS customers.
We're always working to improve our customer support, and we're proud to have won several awards. These include Best Customer Engagement Initiative and Best Use of Customer Insight.
Millions of customers choose MyWebsite from IONOS, Europe's leading hosting provider.
Our customers rate us:
Cheap websites UK
FAQ – Frequently asked questions
Because of how easy and affordable it is to set up a website with IONOS, even the smallest of local businesses like a café can benefit. The blog app, for instance, allows you to broadcast a very particular kind of message in order to target your audience. By blogging about topics related to your local area, you can strengthen your relevance to the region. Furthermore, this does wonders for your local SEO, meaning your small business's cheap website will appear higher on search engine results pages when customers are searching for local services. Our business-oriented widgets are also perfect for placing your business firmly on the local map, with Google Maps, Yelp, and much more.
Yes. Upon establishing your new affordable website you're given the choice of thousands of templates on which to base the design and structure of the site. These include neutral templates fit for a variety of purposes, but also a large collection of templates to match a particular focus or application. A large eCommerce site, for example, will require a very different layout and approach to a personal blog or website for a law firm. Therefore our templates are categorised according to your individual needs, and further segmented by specific industries and fields, so you're sure to find what you're looking for. These templates also feature image and text suggestions to assist you when first creating your content. The best part is that they are completely customisable, meaning you are always in charge of your business's cheap website.
Certainly. These days, the internet is the primary method of research for many people, and therefore a strong online presence is advantageous for businesses of all sizes. As for cost, we appreciate that many businesses have many more costs to budget for, particularly brick and mortar stores. The good news is, we offer a range of packages to reflect the varying amount of money different businesses are able to invest, even for a cheap website. The best of both worlds — a tailor-made site that also fits your spending power — is now a reality. For any extra information you may require, browse our Digital Guide for all you need to know about setting up your own website.
More useful options
Recommended domain & hosting solutions for you
Didn't find what you were looking for?
We may have the ideal solution for you.
Topics for website creation
Need more advice for creating a successful and beautiful website? These days, there are countless ways to create an online presence in a way that matches your expectations.
See all articles about website creation
Need more info?
Our friendly team would love to help you find the right product, or support you with your existing products.
We're here whenever you need us, 24 hours a day, 7 days a week.
Live Chat
Chat with one of our IONOS experts.