Create your perfect wedding website
Choose from stunning designs

Includes domain and email address

Easy-to-use wedding website creator
Learn more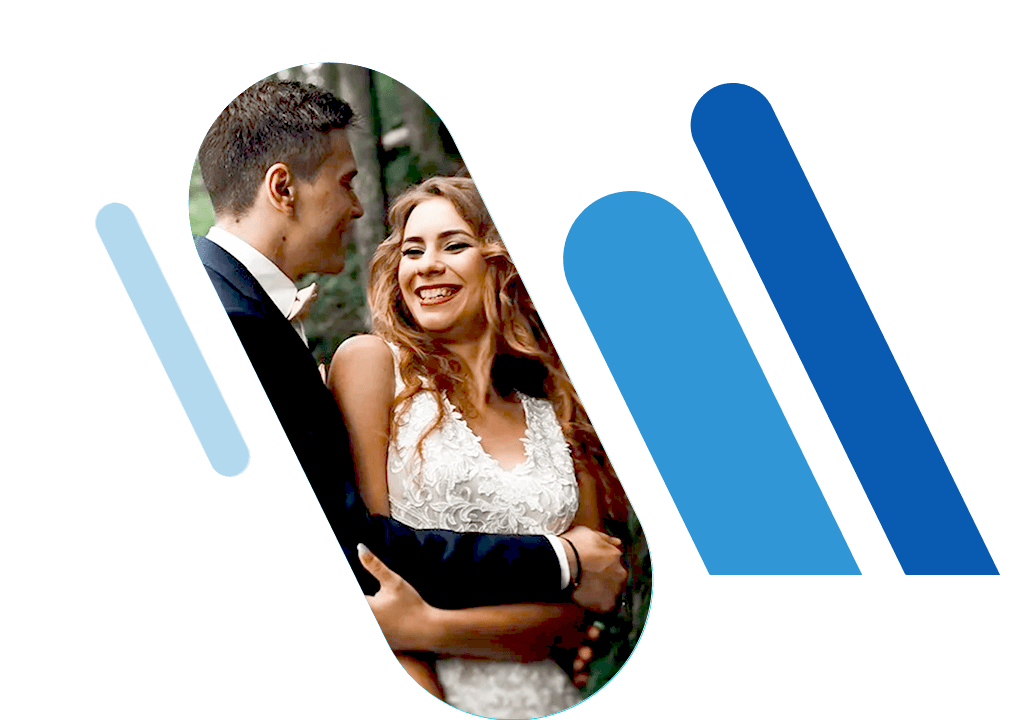 A beautiful website for your beautiful day
Share your story and keep your guests up to date with a personalised wedding website.
With IONOS MyWebsite, it's simple to create a professional website for your wedding using a website builder that contains everything you need for your perfect site. From a desirable domain and customizable wedding templates, to a wide range of useful apps that allow you to enhance your website with practical features.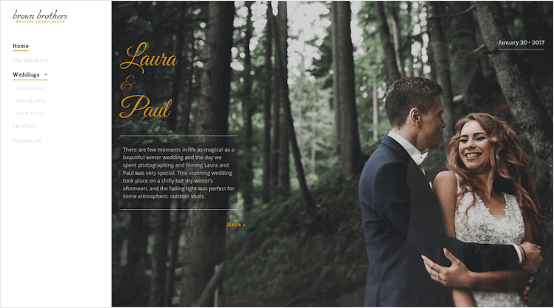 Easily customise professional wedding templates
Insert images, videos and text with drag and drop functionality
Easily integrate media and apps
Automatically optimised for desktop and mobile devices
Upgrade your package at any time
Explore design
A site that sparkles
Try our wedding website builder or call in the experts to create your site for you.
Website builder
Make your own wedding homepage
Includes professional templates like wedding themes, prefilled with text and topic-related images
Free domain for 1 year
Free SSL certificate
Email included
6

months
£
1
/month

excl. VAT
then
£16
/month

excl. VAT
Design Service
Let us do the hard work for you
Sit back and relax while our professional designers build a beautiful, mobile-friendly website that is tailored to your wants and needs.
Maintenance service
Individual consultation
Tips via email
Get started with IONOS
Everything you need for your wedding website
Set up a matching email address
Customize design templates however you like
Incorporate pictures, videos and social media
Enhance with web app functionality
Webspace, password protection and secure hosting included
At IONOS, you have a dedicated contact person for personalised advice, tips to boost your online success, and technical support. Reach them via phone, chat and email, all at no cost to you as an IONOS customer.
We're always working to improve our customer support, and we're proud to have won several awards. These include Best Customer Engagement Initiative and Best Use of Customer Insight.
Need more inspiration?
Have a look at these great ways to get the most out of your wedding website.
Your wedding gallery with photos and videos
Of course, images and videos on your wedding website should not be forgotten, and with IONOS MyWebsite it's easy to incorporate them. Simply use the editor to drag and drop images from your folders. Even your photos from Flickr and Pinterest are easy to integrate with our apps – as well as YouTube videos. Additionally, you can create a multimedia show with the most beautiful moments of your wedding.
Inform your wedding guests
When you create a wedding website, you should also have the necessary visual elements. Couples in love know that pictures often say more than a thousand words – so why not reflect this on your website? Photo albums from the childhoods of the newlyweds are a nice prelude to the upcoming celebrations for family and friends. To increase the fun factor, you could even include funny wedding videos or unusual gift ideas! When you use a wedding website template with IONOS, you have the ability to change content at any time and adjust your site in accordance with the latest developments thanks to the simple modular system. This way, your wedding website remains valid after the big day.
Gift ideas on your wedding website
Naturally, your wedding website should include your gift ideas. Tell wedding guests what you would like, for example, by referencing a blog post or wish list from which they can choose. With the right web apps, you can also publish your wish lists from Amazon or Etsy on your wedding website.
Use your wedding website after the wedding
Once you have created a wedding website, you can keep it as an interactive platform for family and friends even after the wedding. Why not expand the website to your family and share your honeymoon, your first child, and other major life events? You can even select the people you wish to give access to your photos, text, and other content.
Wedding website
FAQ – Frequently asked questions about the topic
On your website, you have several options to inform your guests of your wedding plans. The easiest way is to create a wedding website on which you can publish key dates and other plans. For example, it's possible to integrate Google Calendar into your wedding website and allow guests to view the relevant dates. To ensure that all guests stay informed, even if they don't regularly look at your wedding website, you can recommend a newsletter subscription.
Creating a photo gallery for photos and videos with IONOS MyWebsite's modular system is easy – you can create a complete gallery in just a few clicks. From the main menu of IONOS MyWebsite, select 'Insert Elements', then the sub-item 'Multimedia' and finally the type of element you want to insert; a single image, photo gallery or video. You can now simply drag the item onto your wedding website template and place it in the desired location. Now you can edit the item by assigning the images or videos you want to display.
No. However, we offer you the flexibility to design, create and securely host your individual website without any advertising. In addition, a personal consultant is available to answer all your questions free of charge.
You can also have your wedding homepage created by our design service at a reasonable price.
Still haven't found what you're looking for?
We may have the ideal solution for you.
Live Chat
Chat with one of our IONOS experts.