Register your .ai domain
Only
£
60
/1st year

excl. VAT
Free Wildcard SSL for safer data transfers

Free private registration for more privacy

Free 2 GB email account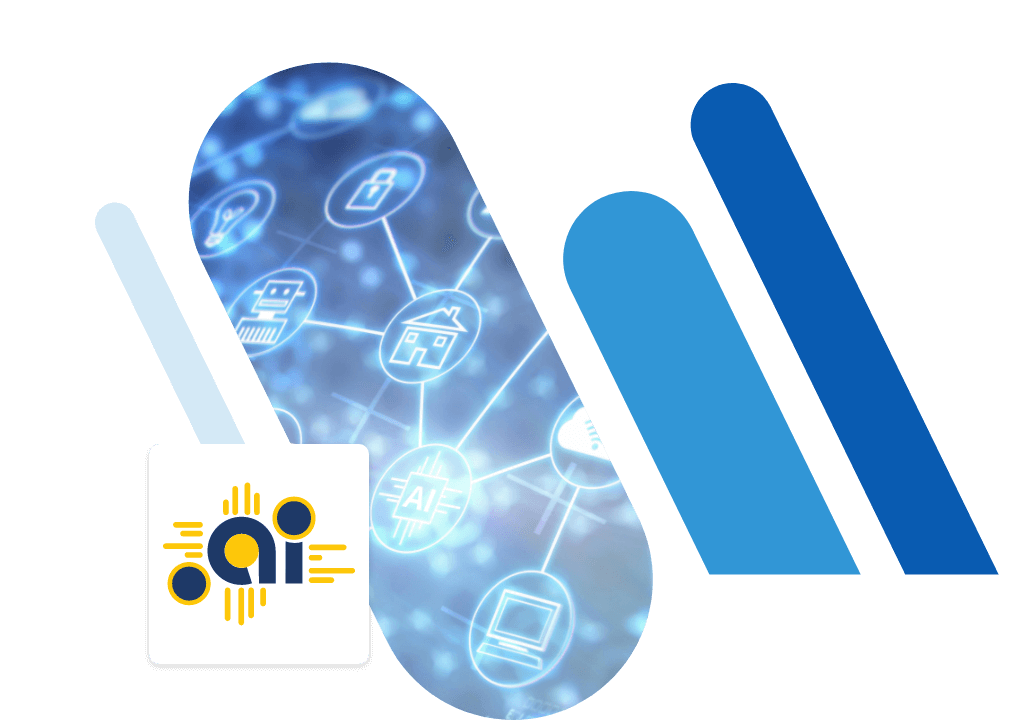 What is a .ai domain?
The .ai domain has been around since 1995 and was originally created as a country-code top-level domain (ccTLD) for the country of Anguilla.
Since AI is the acronym for Artificial Intelligence, the domain has become popular among tech and IT companies as a generic top-level domain (gTLD) and is now one of the most sought-after domain extensions.
Some country code domains require you to have a physical presence in the country in order to register a domain name. This used to be true of the .ai domain. However, since 2009, it's been possible to register it no matter your location.
The .ai domain has even been hailed as the new .com in the startup world. With a .com domain, most names have already been taken, but since the .ai domain is fairly new, it's a far less saturated tech namespace so there's still a great selection of names available.
Register .ai domain
3 reasons to choose a .ai domain
Connection to AI
A .ai domain adds credibility to your brand if you're focused on machine learning or AI technologies.
More names
The .ai domain still has plenty of available names, so you have lots of options to find the perfect domain name for your brand.
DNS API integration
Our .ai domain registration service offers seamless integration with DNS API, making it easy to manage your domains and automate your DNS operations.
Development of AI in businesses
AI is rapidly becoming part of various industries, including the virtual world.
For example, Meta's AI tool captures real-world objects and creates 3D models to use in the metaverse and ad business.
Also worth mentioning is ChatGPT, an AI language model that uses machine learning to generate human-like responses to text-based conversations, changing the way many industries create, revise, and publish content.
As AI technology continues to evolve, we can expect to see even more innovative uses in the future, making a .ai domain a smart choice for showcasing your AI-related products or services.
FAQ
Unlike .com where you usually see quite consistent pricing, .ai domain names can vary in price quite dramatically. How in-demand the domain is at the time can also play a role.
Because the popularity of the .ai domain has been rapidly increasing, many domain name investors got there first and bought as many sought-after domain names as possible in order to sell them at higher prices.
This doesn't mean you're out of luck if the domain name you want is taken – send a quick email to the owner and find out how much they are willing to sell it to you for.
Prices could range from under £1,000 to a few thousand pounds if you go down this route. Buying a .ai domain from IONOS gives you predictable and transparent pricing.
Many companies are turning their backs on the traditional .com domain extension in favour of more unique and sometimes descriptive TLDs. One reason for this is that there are increasingly few available .com domains left to choose from.
Companies that are using .ai domains include uber.ai, facebook.ai, zoom.ai, and notebook.ai. These companies have realised that it makes sense to jump on the .ai domain bandwagon due to its rising popularity – in 2018, .ai replaced .net as the third most popular alternative domain extension.
Before 2009, it was necessary to show proof of a local presence in Anguilla in order to buy a .ai domain, but that's not the case any more. .ai is now an unrestricted domain.
Your domain name must be between 1 and 63 characters long. Numbers, letters, and hyphens are allowed, but no special characters.
For .ai domain registration with IONOS, simply use the search field to make sure your desired name is available, add any extras such as a matching email address, web hosting, or WordPress, and then buy your .ai domain.
Yes. Transferring your existing .ai domain to IONOS is very straightforward. New customers first need to create an account with IONOS, then the process for transferring your domain to IONOS is the same whether you are a new or existing customer.
First, contact your current provider to prepare your .ai domain for the domain transfer and access the authorisation code. Then start the domain transfer with IONOS and confirm the transfer with the authorisation code from step 1.
Please note: It's important that the initial registration of the .ai domain name was at least 60 days ago and the domain has been with your current provider for at least 60 days.
Couldn't find what you're looking for?
We may still have the ideal solution for you
At IONOS, you have a dedicated contact person for personalised advice, tips to boost your online success, and technical support. Reach them via phone, chat and email, all at no cost to you as an IONOS customer.
We're always working to improve our customer support, and we're proud to have won several awards. These include Best Customer Engagement Initiative and Best Use of Customer Insight.
Live Chat
Chat with one of our IONOS experts.