Buy a .de domain and expand your reach
Only
£
5
/1st year

excl. VAT
Doing business in Germany? Go local with a .de domain.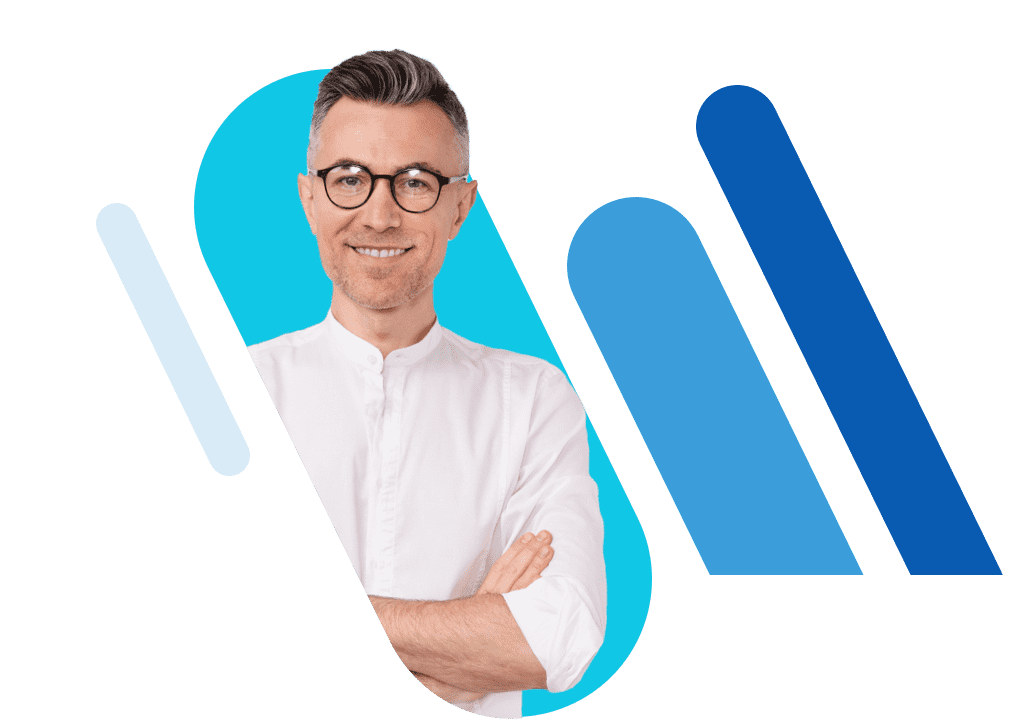 What is a .de domain?
The .de domain is a top-level domain (TLD) and country code top-level domain (ccTLD) for Germany.
Formed from the first two letters Deutschland, the German word for Germany, the .de domain extension has been registered over 17 million times since it was introduced by IANA on 5th November 1986. Its longevity and popularity mean that the .de country domain is trusted the world over and suited to companies who want to start trade in Germany.
With Germany being one of the largest online markets in Europe, it definitely isn't a bad idea to be on board. But even if you're not planning to do business in Germany, you can get creative with a .de domain. For example it can be used to form words like orangea.de, quaysi.de, and tourgui.de.
Register your .de
Which purposes are .de domains suitable for?
The .de domain is perfect for appealing to locals and encouraging them to visit your site.
If your company or website has links with Germany, then you can't go wrong with a .de domain. A .de domain name works whether you blog about the latest Porsche model, the tastiest beer, or you want to start selling your goods or services in a country with millions of online shoppers.
There is nothing wrong with a traditional TLD like .com. co.uk, or .net, but a .de gives potential visitors extra information before they even click on your site.
You can register a .de domain even if you already own another domain. Multiple domains help you secure your company name. Many international companies have already snapped up their .de domain name. These include amazon.de, Johnson & Johnson (jnj.de), and pepsi.de.
.de domain FAQ
This domain is subject to restrictions. Under certain circumstances, a German postal address may be requested.
.de domain name registration can be undertaken by anyone, not only by Germany residents. However, you do need a trustee based in the country who is prepared to receive all your official or judicial documents. Your provider (for example, IONOS) is able to do this for you. An Impressum according to German law must also feature on your .de website and this requires a German postal address.
When it comes to choosing the domain name, there are a few requirements to take into account. The name can be made up of letters and numbers, but cannot exceed 63 characters or contain any special characters. Ensure it fits your business and can be easily remembered. A .de domain search will show you if the domain name you want is still free.
The .de domain is mostly used in Germany. The letters 'de' come from Deutschland, the German word for the country. With the .de domain, you can tailor your online address to the services or goods you're offering. Perform an easy .de domain search to see which domain names are available to you.
You don't have to be resident in Germany to register a .de domain, but you are required to name a trustee based in the country. IONOS can take on this role as your domain provider.
IONOS can help you obtain your .de domain name. Use the .de domain check to see if your desired .de domain is still free or use the integrated .de domain generator to get suggestions. Ensure that your domain name isn't similar to any other brands'.
If you've met all the requirements listed in DENIC's Domain Guidelines, then there's nothing stopping you from registering a .de domain name. IONOS .de domain prices are as follows: £5 for the first year and then £10 for each following year, excl. VAT.
If you don't cancel your .de domain registration, it will renew automatically each year. With .de domain hosting from IONOS, you can create your own email address based on your domain name. It's also possible to customise your .de domain package with useful add-ons such as web hosting or the MyWebsite website builder.
Couldn't find what you're looking for?
We may still have the ideal solution for you.
At IONOS, you have a dedicated contact person for personalised advice, tips to boost your online success, and technical support. Reach them via phone, chat and email, all at no cost to you as an IONOS customer.
We're always working to improve our customer support, and we're proud to have won several awards. These include Best Customer Engagement Initiative and Best Use of Customer Insight.
Live Chat
Chat with one of our IONOS experts.