Free video conferencing
Connect your team via Video Chat
Make FREE video conference calls

Get started in seconds – no registration

No need to install software
Get started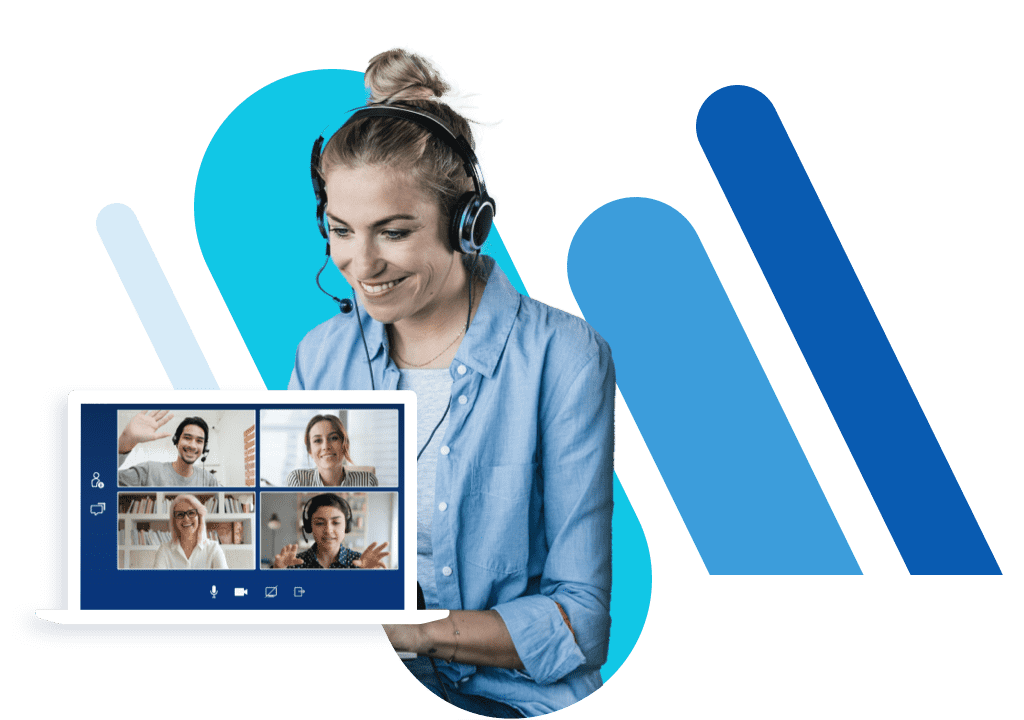 Start a meeting with one click
Web conferencing just got a whole lot easier.
Get started
Start your video call with one click – no need to install software or sign up.
Enter your name
This is the name people will see when they join the meeting.
Share the meeting
Copy the meeting link and share it with the other participants.
Video conference for free with Video Chat
Keep your team in sync with our secure video calling software.
It's risk-free.
No cost

Video Chat is completely free to use – there are no hidden costs.

No installation

You don't need to download anything. Just use the app directly in your browser.

No registration

No login details mean you can get started straight away, hassle-free.

No contract

You're not committing to anything by using Video Chat. There's no contract.
It's collaborative.
Use with up to 5 participants

The tool is ideal for small groups and teams.

Share your screen

Make work easier with features like screen sharing.

Send messages via chat

Write to other participants in the chat tool.

Stay in your browser

Use with Chrome or Edge.
It's secure.
Data privacy

Video Chat meets strict European privacy standards.

No personal details

You won't be asked for any personal details when using the tool.

TLS encryption

Your calls are protected by end-to-end encryption.

Password protected calls

Add another level of security with password protection (optional).
Available to all IONOS customers
Try out the free beta version
Be one of the first to try out Video Chat in the public beta phase. We'll keep working to improve the tool during this time.
Get started with Video Chat
Free Video Conferences
FAQ – Frequently asked questions
IONOS Video Chat is designed to be intuitive and user-friendly. It couldn't be easier – thanks to the "Click & Meet" principle, you connect directly to the video conferencing tool via your web browser, without the need to install any additional software. The popular browsers Google Chrome, Firefox and Microsoft Edge are currently compatible with the free video conferencing software. Simply visit the tool's home page on the device of your choosing, click on "Host Meeting", and off you go. Video conferences work on desktop PCs and laptops, as well as smartphones and tablets. What if you just want to join a meeting instead of starting a video meeting yourself? No problem – just click on the "Join Meeting" button and add the meeting ID or link.
IONOS Video Chat enables you to easily organise online video conferences for up to 5 people (including the moderator). The moderator starts the video meeting and can then copy and share the meeting link so that other participants can join. In addition, each participant can share their screen with other participants or send additional information via instant messaging. For a more secure video conference, you can also set a personalised password to protect the video meeting.
IONOS Video Chat is so versatile that it can be used by anyone. Those who may benefit the most from the free video conferencing software, however, are public institutions and schools, due to the tool's high data protection standards. All web-based tools used for video conferences for schools must meet high data protection requirements. This is essential for avoiding data protection and privacy concerns when teaching using video conferencing. As well as being suitable for video conferences for educational purposes, IONOS Video Chat can be used for video conferencing for small businesses, as the current maximum number of participants is 5. There is no need to waste time and money travelling to physical meetings when everyone can simply take part in a web-based video conference.
Starting a meeting via your browser on your smartphone, computer or laptop is quick and easy.
Say goodbye to all video conferencing tools that require you to install software and register before you can begin your online video conference. With IONOS Video Chat, there's no installation or registration required, neither for the moderator nor the participants. Simply access IONOS Video Chat from your web browser – Google Chrome and Microsoft Edge are supported. All you need to do is allow the tool to access your camera and microphone, and then you can enjoy your free video conference. The data transmission rate must be at least 6 Mbps for optimum quality. If the video meeting's picture and sound quality is poor despite a good internet connection, please check if there are any larger files being downloaded in the background.
Didn't find what you were looking for?
We may have the ideal solution for you.
At IONOS, you have a dedicated contact person for personalised advice, tips to boost your online success, and technical support. Reach them via phone, chat and email, all at no cost to you as an IONOS customer.
We're always working to improve our customer support, and we're proud to have won several awards. These include Best Customer Engagement Initiative and Best Use of Customer Insight.