Get a free domain
Email address and Wildcard SSL Certificate included

FREE lifetime private registration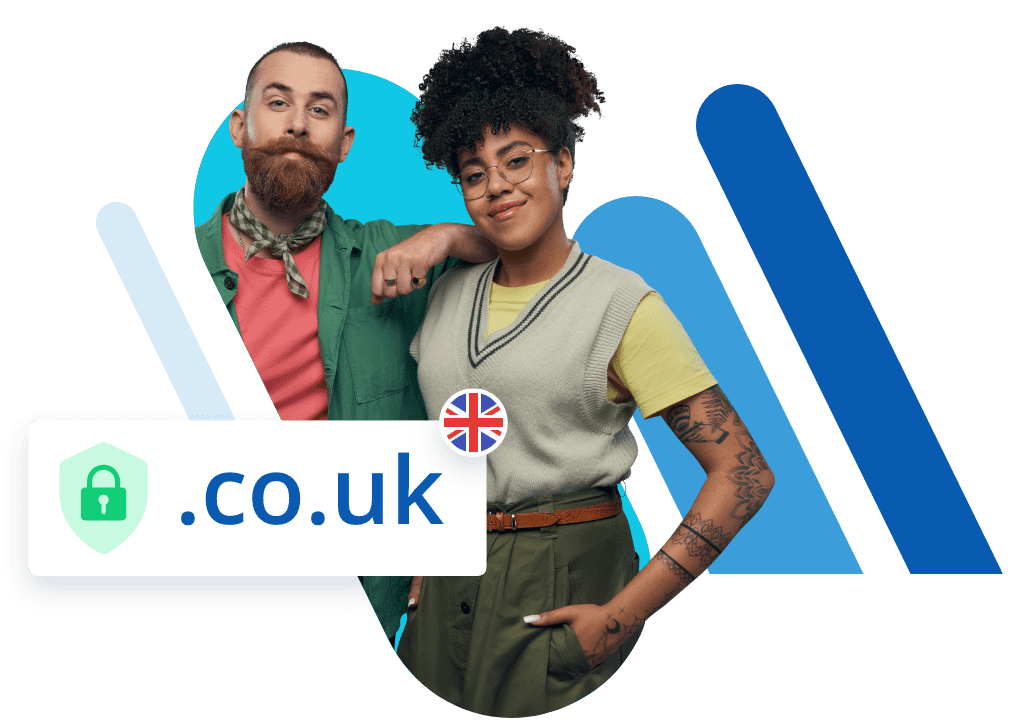 How to get your free domain
Start your project with a .co.uk domain
A domain is the foundation of every online project. If your main audience or market is in the UK, what better way to get going than with a free .co.uk domain? Whether it's WordPress, a website builder or web hosting you need, a free domain is included in most of our plans. Plus, as an IONOS customer you have access to a free personal consultant who will help you turn your vision into reality.
Find your .co.uk domain
Get your hands on a free domain with our plans
Get your hands on a free domain with selected hosting, website and WordPress packages. Supported domains include .org, .co.uk, .uk, .com, .net, .biz, .info, .me, .online.
MyWebsite
Intuitive website builder with AI assistance
If you are creating a website you intend to monetise, such as by publishing sponsored and commissioned content or incorporating advertising, then a free domain name will likely no longer be adequate for you. This is because your website will need to be optimised for search engines and should also have a catchy and appropriate URL.
Using the MyWebsite service, you will not only be entitled to a free first-year domain but you will also receive a free email address. Using this free email for business communications will ensure you look more professional for your customers.
In addition, whereas with free providers there is a possibility your site could be deleted for no reason, you retain full control of your website with IONOS.
See MyWebsite packages
Classic web hosting
For anyone looking to start their own website, picking the right hosting plan is of the utmost importance. A free domain enables a quick and easy setup process with minimal (or no) upfront costs.
There are a number of free hosts out there who can help you get started with a subdomain. However, if you find that your site is slow to load, that it's inundated with unwanted advertising, and that there is no customer support available, then you should consider a paid service.
With IONOS, you will receive a free domain for the first year, plus email and 24/7 support. Keep your project online with 99.9% uptime with our georedundant infrastructure.
Offer: Get double the storage with MySQL 5.7 – 2 GB instead of 1 GB each.
See web hosting packages
Blogging with Managed WordPress
There are many uses for a website, and not all of them require a paid-for domain registration. For instance, if you go abroad and want to keep a public record of what you are up to, starting a blog can be a great idea. In this scenario, a free WordPress subdomain is perfectly suitable.
By contrast, a free solution will not be adequate for those looking to launch a travel blogging career with accounts on social media platforms. Using IONOS's managed WordPress blog hosting, you can create a more memorable domain name to share on Instagram, while also benefiting from improved web security through maintenance features such as automatic security updates.
Your domain name is free for a year when using this plan.
See managed WordPress packages
Free domain names 2023
FAQ – Frequently asked questions
Yes, there is a list of free domains. Because we've integrated them into our plans and packages, you can get these same FREE domains included at no extra cost. Here's the list of extensions that are available:
Find out more about how to get your free domain with our current offers or plans.
By using our domain checker above you can search for which domain names are still available for you. If you choose a web hosting package or our website builder, your desired domain will be included – either for the first year or for the lifetime of your contract. Check the product details for more information.
If you have registered a free domain name with IONOS, whether a .co.uk or other TLD like .tv, there will be a charge for the second year of the contract. The exact costs for the second year will be displayed in your final shopping cart.
Often, free domain promotions are also possible due to the registries with which we work. Due to IONOS size and professional reputation, many domain registries are eager to work with us. We are also often able to establish cooperation with registries that want to gain a user-base rather quickly, without having to be solely responsible for all of the marketing and sales efforts.
These registries give us attractive offers, which we can pass on to our customers. This is often why IONOS is able to offer limited-time free domains or free domain registration.
Limited-time free domains are not meant to be deceptive, but rather are an opportunity to give our customers fantastic deals from which they can benefit. At the end of the day, however, IONOS is foremost invested in providing high-quality hosting services that our customers can rely on. Unlike other hosting services, which are focused merely on cost allure, IONOS is focused on maintaining the best possible service for our customers, which includes having top-of-the-line technology, as well as thousands of qualified employees worldwide running our data centres and supporting our millions of customers.
Yes, there are packages that include a free domain for the lifetime of the contract. Currently, this is only possible with our professional email packages.
More useful options
Recommended domain, website, email, hosting & security solutions.
At IONOS, you have a dedicated contact person for personalised advice, tips to boost your online success, and technical support. Reach them via phone, chat and email, all at no cost to you as an IONOS customer.
We're always working to improve our customer support, and we're proud to have won several awards. These include Best Customer Engagement Initiative and Best Use of Customer Insight.
Live Chat
Chat with one of our IONOS experts.